70s Rebel Style – Starter Pack
Darker than darkest, the night sky stood still. Empty but ecstatic East Coast Road, is it highway to hell or stairway to heaven? I drifted home from Pondicherry to Chennai at sinister post-midnight hours. The murky silhouettes of coconut groves moved slowly through the car glass in distance, unable to keep pace. However the magnificent moon effortlessly raced through the grey clouds to nonchalantly follow us. The world came in a billion shades of grey. The nature is not only beautiful but transfixing at its darkest hours. Comfortably Numb queued in playlist and purple haze in my brain. As songs changed & time slipped by, I watched the wasteland melt and mould itself into lit concrete structures. I sat clasping my thick faded denim shirt as my mind comprehended the cityscape that waited. Chasing the pleasures here, and treasures there, we're going fast, but are we going anywhere? It was yet another trip for the memory lane to rejoice, an exhilarating one that imparted paradisiacal awareness and other lessons for life. Eccentric experiences that I may recite but perceptions can transcend dimensions, and in those alternative perceptions is where an artist is born. An artsy mind elevates beyond the aesthetics and entertainment to make a conceptual statement. The car eventually stopped in Chennai, however the playlist never did. Couple of AC/DC tracks, Gilmour solo, KISS, more Pink Floyd, and the music went on and on. Lay down your thoughts, surrender to the music, and you see white light within.
As a 90s kid, all I got is perceptions about the 70s – be it from the initial Star Wars trilogy, from That 70s Show, from literature, from the socio-political movements and the incredible experience the 70s pop cultural videos put through. No era left me hammered like the 70s, the style, the lifestyle, the music, the lyrics and most importantly, ideas – nonconforming ideas that reinforce human consciousness. If jotted in a graph, the liberating 70s put our society through a progressive upward slope.
We may belong to the Breaking Bad generation but we're nowhere close to being the badass that 70s fashion was. A generation of millennials who slip into a pair of skinny jeans for a movie date, think flared trousers are one trend that should never come back. An entire generation was told that bell bottoms are old fashioned and ugly, skinny silhouette is what is cool. Of course, no particular silhouette itself is ever ugly. The notion of beauty is a social construct dictated by films, pop culture, magazines, advertisers and materialistic brands. If fashion magazines made you stock your wardrobe with lace dresses by calling lace the "IT" trend of the year, they'll now tell you how lace is dead and you gotta buy the next big trend which obviously won't exist already in your wardrobe because they want you to buy more. That cycle is the key for business of fashion to flourish.
Somewhere down the road, personalization and individualism are largely consumed by popular notions but that won't stop a bunch of misfits from rebelling. I owe it to retro music. There's something genuinely unique about the personas of yesteryear rockstars. May be because, their style wasn't driven by a massive team like how it's now. It was personal, more of an individual choice than what a stylist dictated. Their lyrics were personal, not written by a team of song writers. Their lyrics conveyed honest emotions they related to. They were themselves when they wore their bell bottoms. Even as a silhouette, there wasn't a more rebellious silhouette like a bell bottom – the most unflattering silhouette that not everyone can pull off. For those style tribe who like a little challenge in life, how about than adding a tinge of rebellious 70s flavour to the wardrobe? I put on a pair of bell bottoms and teamed it with faded denim shirt to evoke the 70s rodeo film vibes. The powder blue blazer completes the retro head-to-toe monochrome colour palette. A knitted tie in contrasting red breaks the monotony of blues and the outfit is completed with a pair of round frame suninies.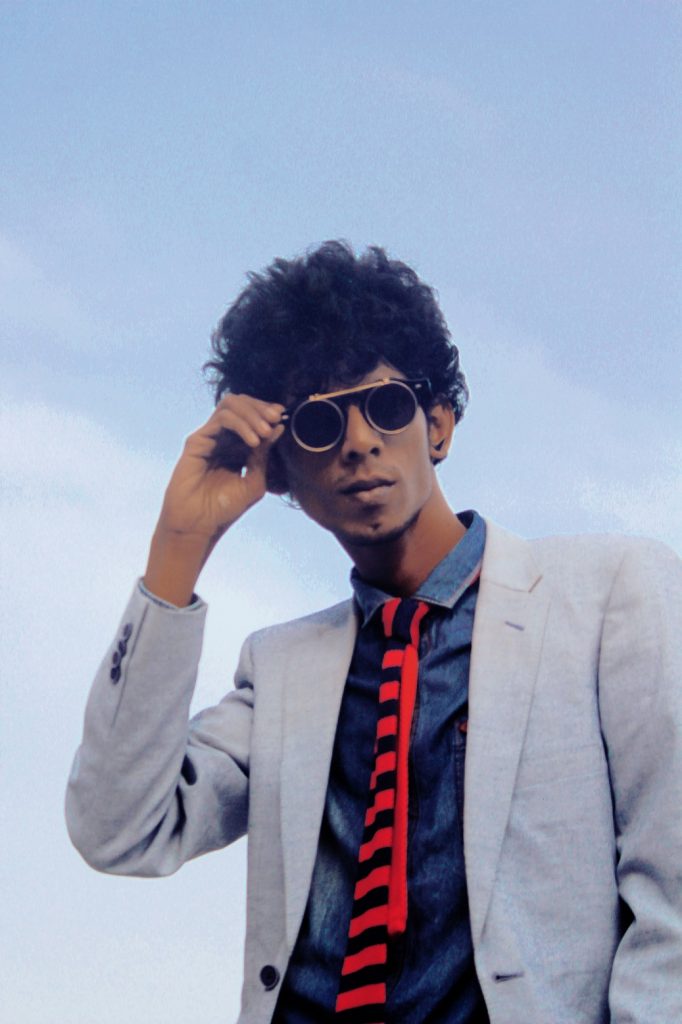 Those with strong personal values, often compose a unique customized style. A myriad of accessories, colours and silhouettes come together to customize yours 70s inspired wardrobe. What's next? Another adventurous road trip to New Year eve destination is on cards for me. And just in case you'd want to customize your car to suit your personality and values, Maruti Suzuki's latest offering iCreate helps you customize Vitara Brezza, perhaps a wonderful choice for a long road trip. The iCreate experience offers up to 90 customization options including both exterior and interior accessories. A personalized wardrobe, a customized car, the same old 70s rebel and a New Year knocking the door, I'll surely have plenty more tales to recite in this blog in coming months!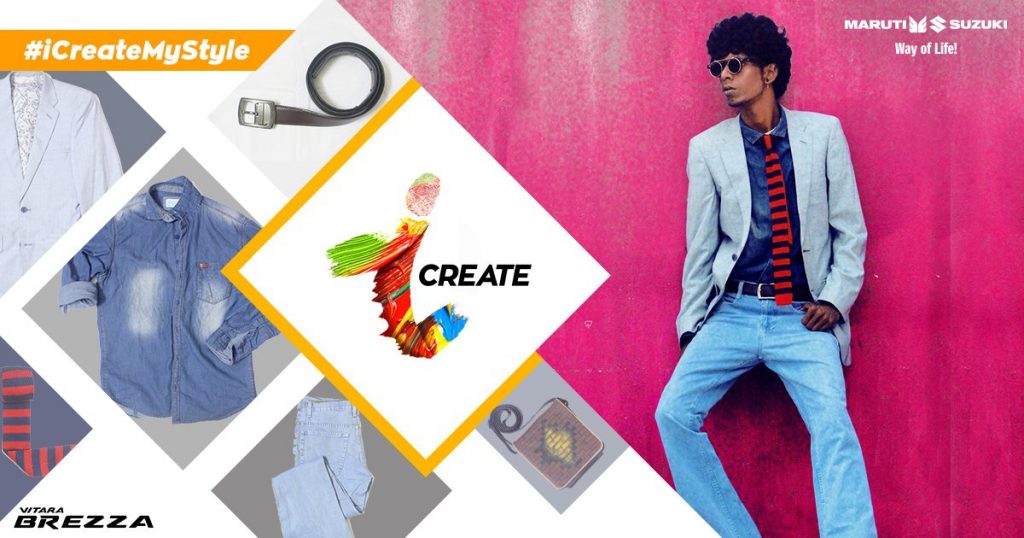 In the mean time, check out Vttara Brezza's iCreate experience in the video below. More details on website, Twitter, Instagram & Facebook.