25 reasons why tablets are a better way to fashion blogging
With my reliable laptop around, I was never really keen on investing in a tablet. It's only after spending couple of years in fashion weeks that I made up my mind – sooner I invest in a tablet, the better. Bloggers who have heaved around with charger-clad-laptops and battery-down-smart-phones at fashion weeks will know that tablet is the undisputed better way to go ahead. So, why invest in a tablet? Here are 25 reasons that I could think of –


GIVEN THE MAGNITUDE OF A TABLET'S NEED, WHICH ONE IS REALLY WORTH YOUR MONEY? I HAVE DECIDED TO GO WITH LENOVO YOGA BOOK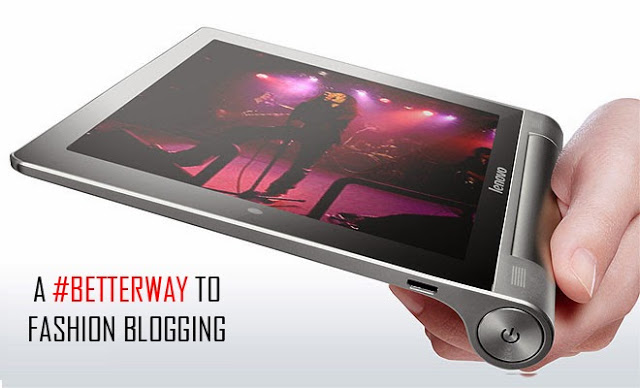 BETTER GRIP
To start with, the tablet has a cylindrical battery offering you a better grip. It's more like holding a folded magazine making it exceptionally comfortable to use while running haywire at fashion events.
BETTER BATTERY LIFE
One of the salient features of Lenovo yoga book is that it has an extensive battery life. Thanks to the cylindrical hinge which provides battery life till up to 18 hours!
HAS A FEET OF ITS OWN
The tablet can be used in stand, tilt and hold mode – a significant feature that save you from back-neck pain.
STYLISH
Fashion is not just about the clothes we wear, but the accessories and attitude that we carry. The Lenovo yoga tablet completes you stylish and trendy ensemble.
ON THAT NOTE, DO LET ME KNOW IN THE COMMENTS IF YOU WERE REQUIRED TO INVEST IN A TABLET AS MUCH AS I DID & WHAT WERE THE ADVANTAGES AND SHORTAGES (IF ANY) OF THE TABLET.