Diversity Report: Representation of Women in Indian Fashion Magazine Covers in 2017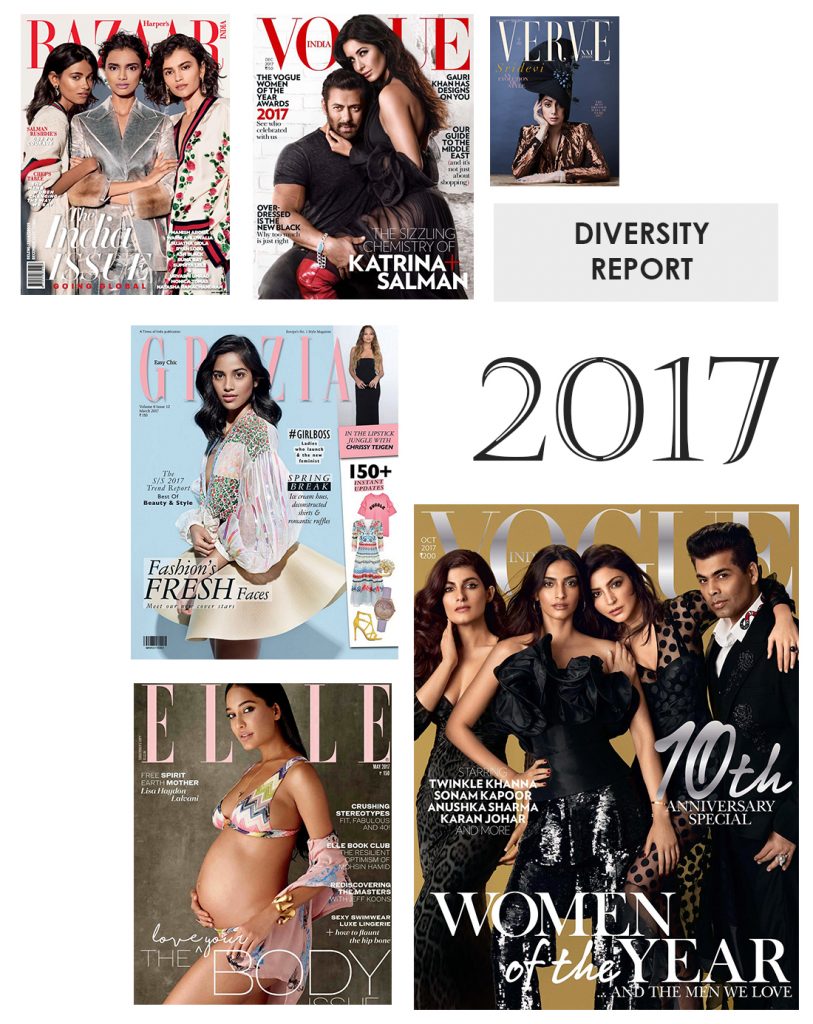 Fashion magazines, guilty of a very ugly past have appropriated empowerment & ethics in recent years. Back in April 2010, Vogue India's cover titled The Dawn of Dusk was covered in large-scale media as the most prominent voice in India against beauty ideals and prejudice. "ELLE stands for: diversity, inclusiveness and empowerment" reads the magazine's description. How well has the leading Indian fashion magazines fared in putting their words to action? Here's the diversity report of representation of beauty and women in Indian fashion magazine covers in 2017.
Magazines Analysed: ELLE, GRAZIA, HARPER'S BAZAAR, VERVE & VOGUE
TOTAL NUMBER OF WOMEN REPRESENTED: 72
VOGUE: 21 Women / 5 Men
ELLE: 12 Women / 0 Men
GRAZIA: 16 Women / 1 Man
HARPER'S BAZAAR: 12 Women / 0 Men
VERVE: 11 Women / 1 Man
AVERAGE AGE: 33
YOUNGEST 5:
Madhulika Sharma, Model, Age: 19
Navya Nanda, Grand-daughter of Bollywood actors, Age:20
Lottie Moss, Model, Age: 20
Urvashi Umaro, Model, Age: 20
Kendall Jenner, Model, Age: 22
OLDEST 5:
Iris Apfel, Businesswoman & interior designer, Age: 96
Jaya Bachchan, Actor, Age: 69
Sridevi, Actor, Age: 54
Nita Ambani, Businesswoman, Age:54
Padma Lakshmi, Model turned TV Host, Age: 47
REPRESENTATION OF DARK/BLACK SKINNED WOMEN: ZERO
COLONIAL WHITE SKIN HANGOVER?
Light Skin

Brown Skin

Dark Skin
Light Skinned Women: 46 (of total 72) or 64%
Brown Skinned Women: 26 (of total 72) or 36%
Dark Skinned Women: 0 (of total 72) or 0%
PERCENTAGE OF LIGHT SKINNED WOMEN
100% of the foreign origin women were white skinned.
INDIAN FASHION MAGAZINES CHASE GORA MEMSAABS WHEN THE COVER STAR IS FOREIGNER OF NON INDIAN DIASPORA.
UNREALISTIC BODY IDEALS
50-60% WOMEN ARE PLUS SIZE IN REAL LIFE WHEREAS 78% INDIAN FASHION MAGAZINE COVER GIRLS FEATURED SLIM/SKINNY/PETITE BODIES.
0% PLUS SIZE WOMEN WERE FEATURED IN INDIAN FASHION MAGAZINE COVERS IN 2017.
Slim

Medium

Plus Size

Pregnant Body
ONLY VERVE MAGAZINE FEATURED MORE WOMEN OF MEDIUM BUILD BODIES (6) THAN SLIM/SKINNY/PETITE BODY (5).
ELLE
GRAZIA
HARPER'S BAZAAR
VERVE
VOGUE
ARE SUCCESSFUL STYLISH BEAUTIFUL INDIAN WOMEN FOUND ONLY IN BOLLYWOOD?
PROFESSIONAL MODELS, THE REAL BODY & FACE OF FASHION INDUSTRY (REPRESENTING A MEAGRE 26% OF THE COVER GIRLS) WERE SIDELINED TO BOLLYWOOD LOBBY (62.5% OF ALL COVER GIRLS).
Bollywood

Model

Actor (Non-Bollywood)

Sportsperson

Businesswoman

Architect
REPRESENTATION OF BOLLYWOOD WOMEN*
*Includes daughters & wives of Bollywood stars featured on the cover.
VOGUE: 76% 
ELLE: 58%
GRAZIA: 69%
HARPER'S BAZAAR: 33%
VERVE: 63%
NEPOTISM MUCH? 1 OF EVERY 2 BOLLYWOOD WOMEN FEATURED ON VOGUE COVER ARE STARKIDS BORN INTO BOLLYWOOD FAMILIES. 
REPRESENTATION OF NON-BOLLYWOOD INDIAN ACTORS: ZERO
REPRESENTATION OF WOMEN FROM NORTH EAST INDIA: ZERO
UPDATE: The following article was shortlisted among the top 20 fashion blogposts of the week Feb 8th, 2018 by Independent Fashion Blogger community. Read the stories below:
Links à la Mode, February 8th, 2018:
SPONSOR: Shopbop, Rachel Comey, Tibi Tops, Alexander Wang Bags, Flora Nikrooz, LGR, F.R.S For Restless Sleepers, Fanny Packs, Sequin Dresses, Mixed Metal Jewelry, Men's Salvatore Ferragamo