Gucci's New Direction Is Bad News For Fast Fashion
Madness is like gravity. All it takes is a little push.
Ask anyone who's working in fashion industry, they'll tell you how fashion is madness. The meaning lies beyond the temperament of language… But fashion is madness and all that fashion needs is a little push – to survive stagnation. The industry has survived to boast a history because one or the other creative genius constantly gave fashion that timely push and Gucci's Alessandro Michele is the latest phenomenon we owe our gratitude to.  Gucci's latest reinvention of aesthetics is probably the brand's biggest contribution to fashion industry since the 90s sexual revolution under the creative guidance of Tom Ford.
Luxury fashion labels are struggling to post positive revenue figures. Store expansions have slowed down. Designers are quitting top jobs. In contrast, by churning out runway rip-offs at throwaway prices, fast fashion brands are expanding territories and enjoying splendid sales figures.
Luxury segment dug the ditch for its own downfall when the great design abandonment happened nearly a decade ago in late 2000s. The economy was hit by recession and luxury labels mirrored the socio-economic conditions by moving away from all that futuristic jazz of mid-2000s. The extreme minimalist approach of luxury labels in late 2000s dangerously blurred the aesthetics between luxury and mass retail labels. Many top luxury brands cut down on design details and made more "wearable" clothes to woo buyers and retailers. In 10 odd years, fashion struggled to find direction and forayed around minimalism, 80s revival, colour blocking, peplums, Asian influences and nude cut-out dresses till athlesiure and normcore laid platform for a relatively long-lived trend cycle. By the time athleisure and normcore happened, there wasn't much difference between the aesthetics of luxury and fast-fashion labels. Today, NYFW features labels like Yeezy whose clothes are easy to make DIY projects.
The great design abandonment from luxury brands made it effortlessly simple for fast fashion labels to copy and mass-manufacture their designs.
The problem here isn't the design theft itself. Designs were always copied from an exclusive hierarchy (Couture >> Prêt >> Connoisseur >> Premium >> Economy). The problem is with how rapidly the copied design is manufactured and sold. There's ideally a 6-month time period for consumers to lay hands on high-end designs showcased in runways.  Fast fashion labels copy, manufacture and make the product accessible for the consumer in more or less the same time in which high end products hit the retail outlets. Brands like Burberry tried to address the issue by offering consumers the option to buy straight from runway. However, the fact that mass manufactured knock-offs are retailing at the same time kills exclusivity of luxury fashion. Luxury brands face the threat of losing their target market to fast fashion if luxury isn't exclusive at that given point of time.
Unlike fashion which is actually inclusive of diverse sections of society, luxury in contrast aims to attain exclusivity. Luxury is meant for a select bunch of elite and unattainable or undesirable for the masses. While fashion is about sartorial expression of a culture or sub-culture, luxury is about the exclusive product boasting a unique silhouette, fabric or aesthetics.
While brands like Burberry & Vetaments are reinventing the process in which luxury fashion is sold, Gucci's new design direction has reinvented the product itself. Gucci's Alessandro Michele rejected the see-now-buy-now approach and stuck to traditional process where the consumer needs to wait to wear the product. However, Alessandro has reformed the Gucci product by taking cue from the art history. Fashion loves to look back at time and it looks like Alessandro Michele carefully studied the extravagant clothing of royals from the glorious past.
Gucci's runway is now all about rich silk embroidery, foil prints, intricate patchwork on delicate lace, embellishments on bomber jackets and many many more colours, textures and material exploration. Gucci has broken away from the minimalist aesthetics and made it not only difficult for fast fashion brands to replicate their extravagant designs in cheap price but ensured it will be a time consuming process to do so. By doing so, Gucci has bought back the exclusivity in luxury fashion.  Gucci has reported its strongest growth figures in three years and the numbers are expected to strengthen with time.
BEFORE
Gucci: A denim dress with sneakers inspired opening
Fast Fashion: I am copying it
NOW
Gucci: Okay, copy this….
Fast Fashion: Why you do this Gucci 🙁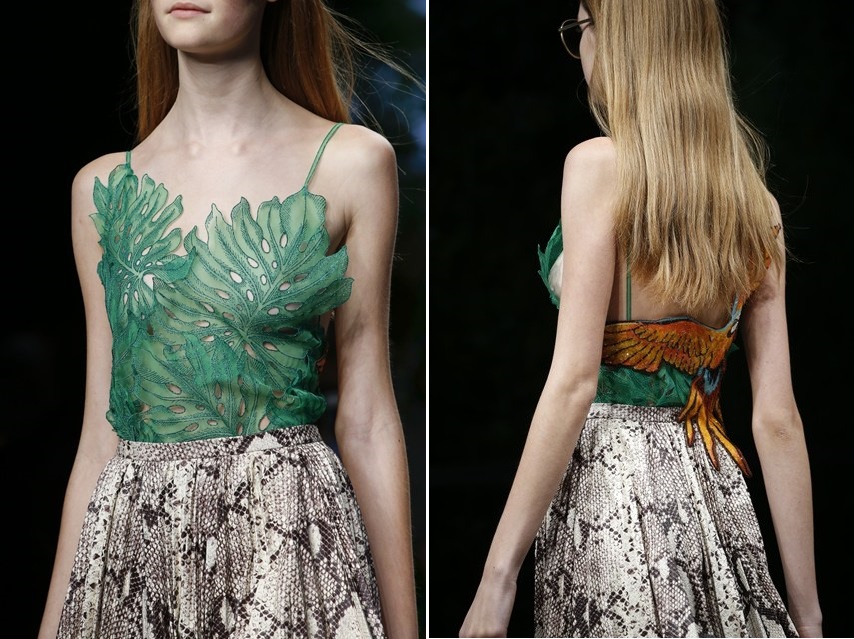 Craft was what originally demarcated luxury products from that of mass-retail. Alessandro Michele placed the emphasis back on craft and it's a tight bitch-slap on fast fashion culture. While luxury brands take this new maximalist approach, fast fashion brands may have to realign their design strategies. Is this where the fast-fashion culture slows down? Hopefully! The Normcore tribe are cribbing about how fashion is moving severely close to 2000s. Luxury is not meant to be desirable for everybody. The Normcore tribe of Instagram need not like luxury fashion. High fashion is meant to be disconnected with masses, at least till the styles trickle down to the nearest fast fashion outlet, where they pick it up at a sale…. and posts it online with hashtag #OOTD. Whether you like Gucci's reinvention or not, Alessandro Michele has promised fashion industry a glorious new beginning.
FOOTNOTES: BREATHTAKING CRAFT AT GUCCI RUNWAY