Diwali Style Lessons
The nip in the morning air, November rain, scintillating fireworks and festive shopping — signs that Deepavali is knocking on our doors. The rich and vivid colours of Deepavali are not restricted to dazzling crackers and twinkling lights alone. It's a lot to do with shopping for the festival as well. Lehengas, Anarkalis and Patialas may have ruled in the past few years; this time, the eminent fashion pundits are hinting at leaving behind the ethnic dressing clichés. "I am bored of seeing clothes that look like wrapping paper. They are glittery, poky and not too comfortable," says fashion designer Nachiket Barve. He hints that one can unleash the fashion diva within, without dazzling brighter than the fireworks.
Kochi-based fashion designer Sreejith Jeevan feels that while a few long-lasting style rules should be embraced, there are some that just need to change. "Sporting bright and colourful traditional hues bring in the festive mood, but wearing them in the regular traditional silhouettes can be altered. The mindless bling needs to go," he adds. Even the kitsch-queen of India, fashion designer Nida Mahmood, has taken a stand against ethnic dressing clichés. "I am tired of seeing the regular, traditional silhouettes in clichéd combinations with the same kind of embroidery," she says. The menswear department isn't devoid of clichés either. "For men, kurta-pyjama has become a standard go-to for festivals," says menswear designer Paresh Lamba. The message is loud and clear — the clichés are out, experimentation is in. If you're planning your outfits for get-togethers, we suggest you take notes, as these designers tell you how to look beyond the regular and still bask in the festive magic.
NACHIKET BARVE
Fashion designer Nachiket Barve suggests 'India Modern' as a sartorial theme for Deepavali. The idea is to look traditional, yet interpret it in a fresh way. "It could mean a beautiful silk sari worn with a shirt blouse, or teamed with an unexpected colour or draped differently. It could be a long kurta with palazzos in a traditional textile, paired with an heirloom dupatta.
A draped solid colour could be paired with statement jewellery and fresh flowers. I also love the idea of incorporating zippers, colour blocking and asymmetry into the clothes, to make them contemporary and yet festive," he says. The rules have changed, and no more does one feel the need to be ultra-traditional at such festive parties. Nachiket Barve suggests that a long jacket-style layered ensemble, an ombre, draped zipper kurta, a cape-style jacket paired with palazzos, can all work for a party.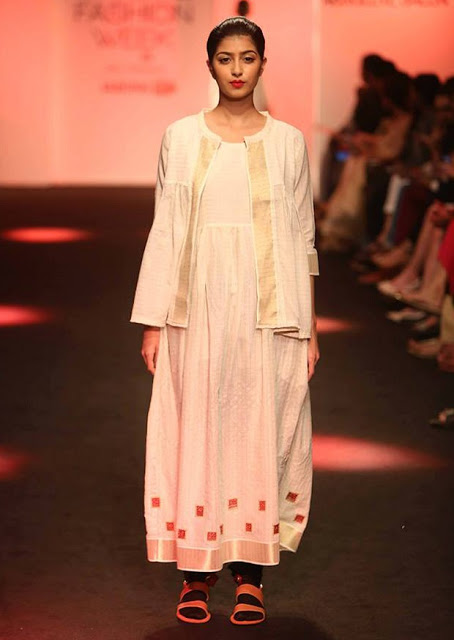 SREEJITH JEEVAN
Known for his minimalist and modern aesthetics, fashion designer Sreejith Jeevan wants you to embrace the modern version of Indian silhouettes. "I would say stick to traditional fabrics, but get into modern Indian silhouettes. Embrace the modern version of the tunic, play with the proportions of the churidar, and add an unstructured blazer in hand-woven traditional fabric," he suggests. Elegance never goes out of style. Go for a sleek and clean cut. Wear bold patterns, but do that thoughtfully. "I think it's time people realise that it's the person who deserves the attention more than their clothes," he adds. Some interesting separates from Sreejith's Lakme Fashion Week collection make for quirky add-ons to the wardrobe. Our picks are the jacket which says "To dear with love", a blazer with golden birds and white-and-gold maxi dresses.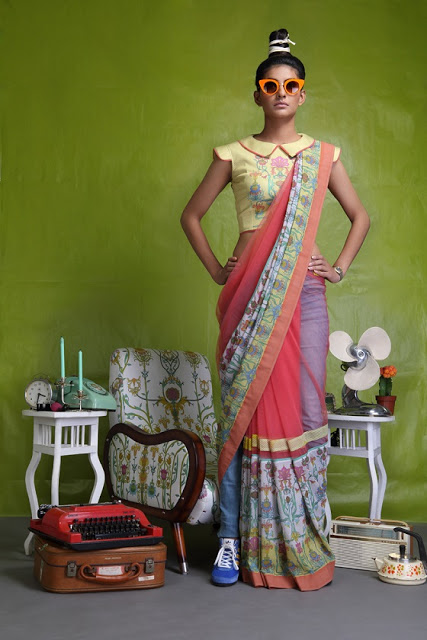 NIDA MAHMOOD
Steal the spotlight by flaunting discharge prints instead of the usual phool-patti embroidery. Fashion designer Nida Mahmood suggests wearing offbeat detailing to look chic with a traditional touch. "Try mixing modern and contemporary silhouettes with quirky details. A discharge-printed silk kurta teamed with a long crinkled skirt, or a Bagru-printed silk tunic teamed with loose pyjamas, is a great alternative to the regular blingy Anarkali," she says. As for jewellery, she says, "Go for just the earrings or the neck piece, and give your look a boho finish by adding flowers to your hair."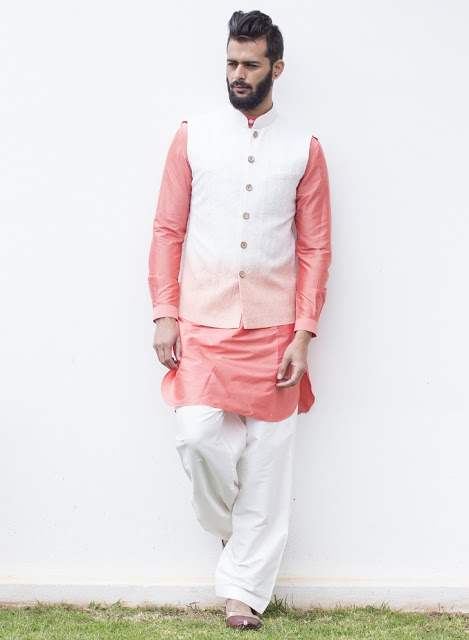 PARESH LAMBA
Bangalore-based fashion designer Paresh Lamba dares men to look beyond the regular kurta-pyjama – embrace the festive spirit by indulging in prints and bright colours, but experiment with silhouettes. "Try out sherwanis, bandhgalas and achkans," says Paresh Lamba. Paresh is all for layering sharply-tailored classics in opulent hues and textures, to look the best throughout days and evenings. "Men who are ready to experiment with their sartorial choices can always add a bundi on top," he adds.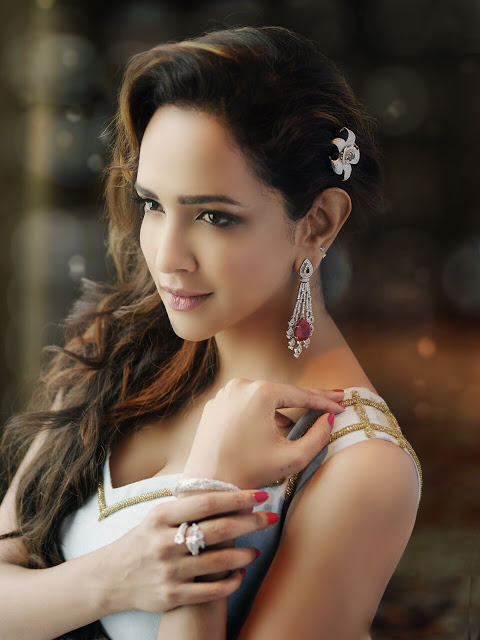 SANDY – MAKE UP
Celebrated make-up artist Sandy insists on keeping the look minimal. "A little bit of sheen can bring a lot of glow to the face, especially when there are plenty of colourful lights in the evenings," he says. As for the hair, he says that women are better off tying it into an elegant braid. Not only is it trendy, but it also protects from pollution.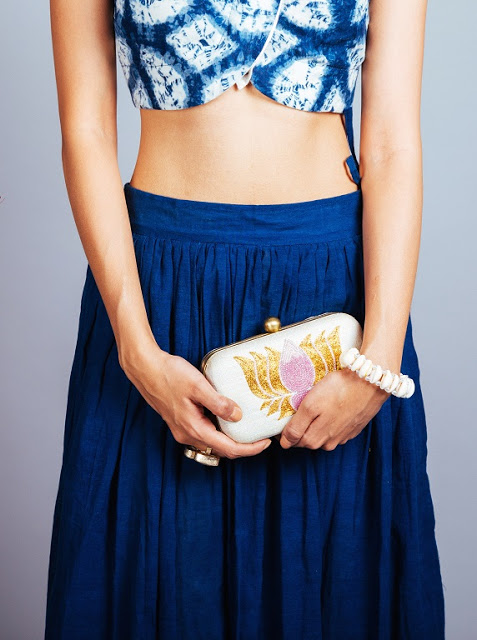 TARINI NIRULA – ACCESSORIES
Accessory designer Tarini Nirula feels that Indian women often shy away from statement jewellery because of the floating perception that they're not as versatile as ones in classic gold, silver and black. "If styled properly, even bead or metal jewellery can prove just as versatile as the classics itself. I don't see a point in carrying a golden clutch with a kurta featuring golden embroidery. Accessories aren't meant to blend in. I believe that an accessory should be a conversation starter. Wear printed accessories or beads with an embroidered outfit. Try chunky metallics with a printed ensemble. Wear bold and rustic stones with Indo-Western outfits. Mixing and matching the accessories with an outfit is the key to a balanced outlook," she says.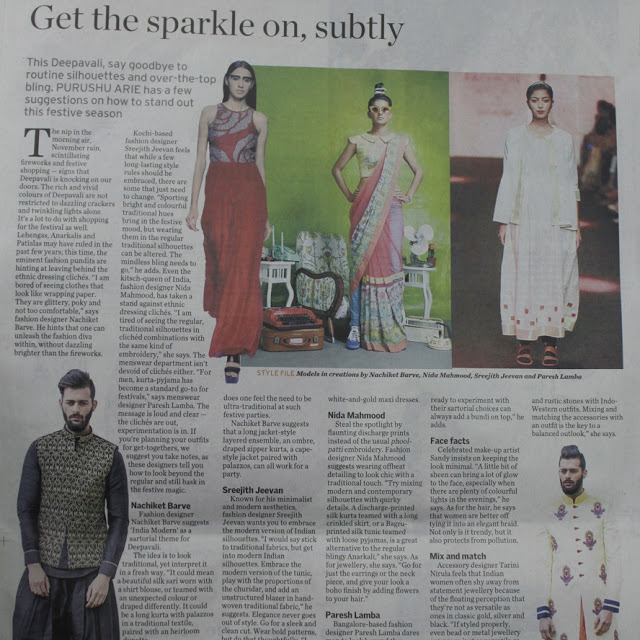 The words in this article first appeared on
The Hindu Metroplus
on 7th November 2015 in my article titled "Get The Sparkle On, Subtly".