Men & Bags? Take Style Lessons from Cristiano Ronaldo
It happened almost a year ago when I posted a bag from Chimp and a friend commented on Facebook asking, "Are you carrying a handbag :O". Well, of course… I am carrying a bag. I often carry sunnies, tablet and a notebook and I need a functional accessory to carry them. Fuck the social stigma associated with men and bags, for most folks… from a regular high school grad to public figures they're all choosing functionality over silly social constructs. And if you can't look beyond the age old briefcase or messenger bags, well… let Cristiano Ronaldo teach you how carry a bag with style and swag 🙂
CRISTIANO RONALDO SINGLE-HANDEDLY POPULARIZED WHAT'S NOW DUBBED AS MAN'S PURSE. WE MIGHT AS WELL, NAME IT AFTER HIM (THAN GENDERING A PURSE).. CR7 BAG?
CR7 BAG (PURSE) IS HANDY TO STORE COMPACT ESSENTIALS LIKE SUNGLASSES, IPAD, TABLET OR EVEN A SMALL NOTEPAD AND PEN.
DO NOT OVERLOAD THE BAG WITH TOO MUCH OF JUNK. INSTEAD INVEST IN A BAG THAT'S LARGER SIZE TO FIT YOUR LIFESTYLE NEEDS.
EVEN GARETH BALE'S GOT ONE TOO!
AND IF YOU CAN'T LET YOUR HAND BE OCCUPIED WITH THE BAG, GO HANDS-FREE BY INVESTING IN A SMART CROSS BODY BAG.
OPT FOR A SLEEK TOTE IF A PURSE OR CROSS BODY BAG ISN'T LARGE ENOUGH. AT THIS HOUR, A TOTE IS AMONG THE TRENDIEST ACCESSORIES AVAILABLE FOR MEN. CRISTIANO'S BLACK LEATHER TOTE IS RELEVANT EVEN IN A CORPORATE SPACE.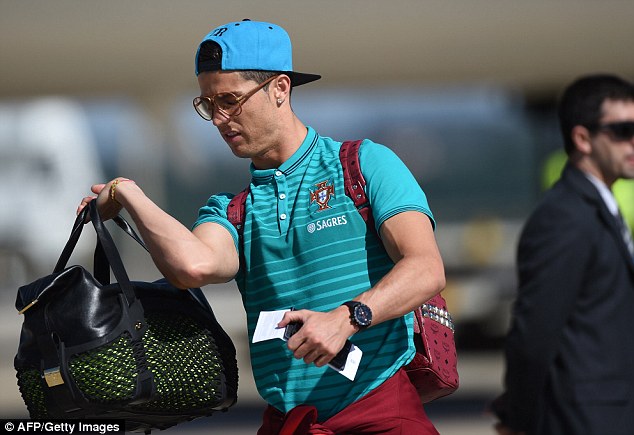 A DUFFLE BAG IS YET ANOTHER SMART ALTERNATIVE. THE DUFFLE BAG CAN ACCOMMODATE YOUR LAPTOP, DOCUMENTS, IPAD AND THE ALL THE TROPHIES BARCELONA WON THIS SEASON (OUCH. JK!) BASICALLY, IT CAN ACCOMPANY YOU ANYWHERE, FROM THE GYM TO YOUR OFFICE.
BACKPACKS ARE HAVING THE 'IT' MOMENT IN FASHION RIGHT NOW, COURTESY: INSTA CROWD. WORK THE BACKPACK WITH YOUR CASUAL ATTIRE TO STORE YOUR ESSENTIALS WHILE TRAVELLING. AND, WHILE YOU'RE AT TRAVELLING, WEAR COMFORTABLE WHITE SNEAKERS!
A BAG CAN BE AN IMPORTANT FUNCTIONAL AND STYLE ACCESSORY TO ANYONE IRRESPECTIVE OF GENDER. AT LEAST, NEXT TIME WHEN YOU'RE DANCING AT A CLUB, YOU DON'T HAVE TO ASK YOUR GIRLFRIEND TO STORE YOUR SUNGLASSES &  PHONE. SOMETIMES, EVEN THE GIRLFRIEND LEAVES, BUT A DURABLE BAG IS MEANT TO STAY 😛