Raymond Father's Day Contest
There are not many fashion brands in India which has withstood global competition and carved a niche for themselves in menswear segment like Raymond has. Raymond, the name is synonymous with the values of trust, heritage & excellence. The brand reflects the persona of a confident, discerning, classy and an intelligent man. A person who is well educated, well traveled and above all is sensitive and caring. Virtues like these make him the complete man in true sense of the word.
My earliest memory of the brand takes me to vintage and classic Raymond advertisements in yellow-tinted pages of Reader's Digest magazine from 1980s that my dad had collected. I would avidly read those magazines back in my growing up days in 90s and almost each one of those would come with unique Raymond ad campaigns that simply stand out from the rest. Those vintage ad campaigns would not only have stunning imagery of men clad in finely tailored suits but would strike a connection and make you feel good with fabulous quotes and text-content that usually revolves around humanly bonds and connections like friendship, love and family. I would even go to the extent of cutting the ad clips and pasting them in my diary (Ha ha… how many of us still write in a diary? Nostalgia!) And then, every time I watched cricket match with my dad, one of those those memorable Raymond TV commercials would pop up, bestowing the idea of 'a complete man' as I grew up.
Raymond whose tagline reads 'A Complete Man', today celebrates the first 'complete man' we all looked up to – the man who you wanted to grow up to become, the man who taught you things you'll never forget, the man who'll never let go of your hand and will always be there for you – FATHER.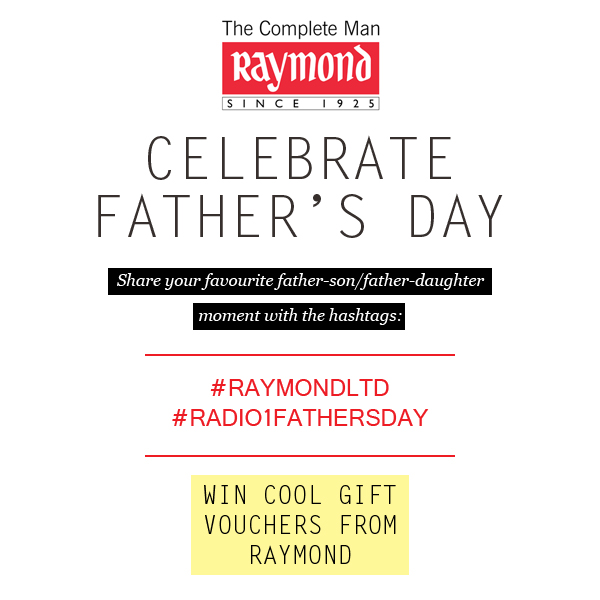 Close your eyes and go back in time to recollect your favorite father-son/father-daughter moments and share it with me in Twitter or Instagram or here using the hashtags:
#RaymondLtd
#Radio1Fathersday
You stand a chance to win cool gift vouchers from Raymond. Your stories can be anything from watching cricket match with your dad to a memorable holiday outing, but remember to use the hashtags.
ABOUT RAYMOND
Raymond is a name that has over eight decades epitomized consumer's trust into its offerings into the company's unflinching faith in the quality of its product. Raymond is a premium formal wear brand which is positioned to offer classic garments with impeccable fits and inviting styles to the Global Indian. Needless to say that the product is made only from premium Raymond fabrics.

The Suits, Shirts and Trousers are made out of finest fabrics with superior construction and sophisticated embellishments that give a rich feel and super fit. Superior craftsmanship and attention to detail makes the product a pleasure to wear.