Class & Caste Politics of Ponnadai/Thundu (Shawl/Towel)
THE GOLDEN CLOTH
PONNADAI
noun
A traditional silk weave wrapped over shoulders to honour dignitaries.
Origin: Thamizh, Ponn (gold) + Adai (cloth)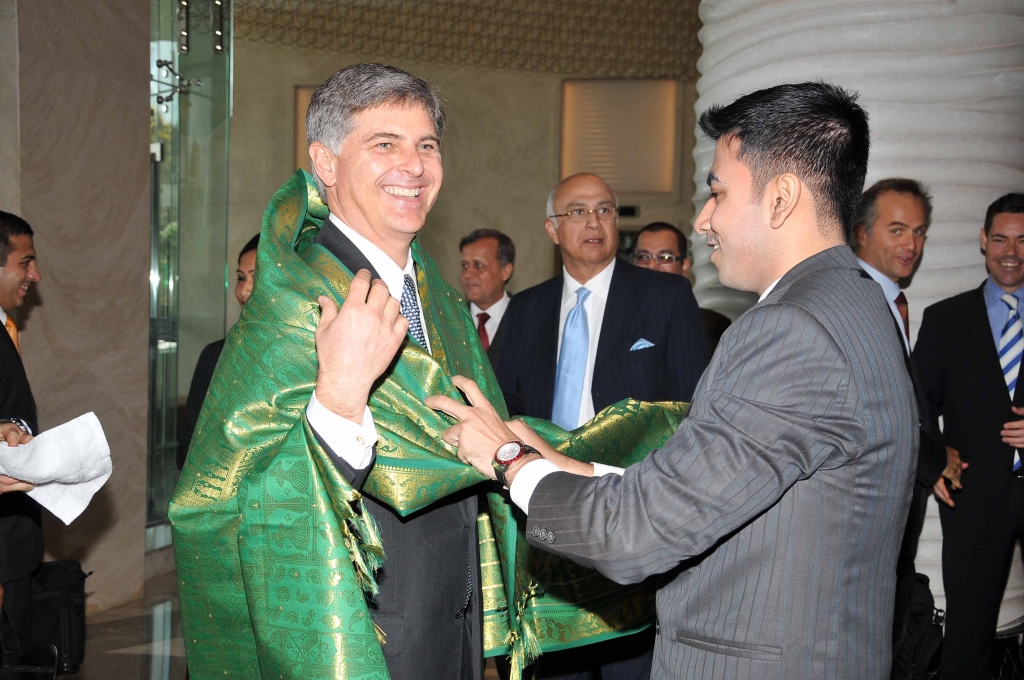 Christopher J. Nassetta, president and CEO, Hilton Worldwide with the Ponnadai to honor dignitaries at Hilton Chennai. Image: ©Hilton Honors
So far, the ponnadai (teamed with bouquet) has been the numero uno choice to welcome dignitaries in Thamizh Nadu. From politicians to musicians and even businessmen, any guest worthy of warm respectful welcome poses for the shutterbugs in bling struck silk ponnadai, often featuring elaborate brocades. A ponnadai can cost anywhere from few hundred rupees to thousands. Several lakhs are spent on ponnadais during election season alone in Thamizh Nadu and a similar stellar budget is allocated for these shawls by sabhas during music season in the state. According to The Hindu, Sri Krishna Gana Sabha, for instance, spends, on an average, Rs.20,000 for the season alone and another Rs.60,000 for the events it conducts round the year.  What happens to these shawls once the dignitaries are done posing for the photographs? "They're probably sent back to the store," laughs off Shabbir Ahmed, TN Bureau Chief, Times Now.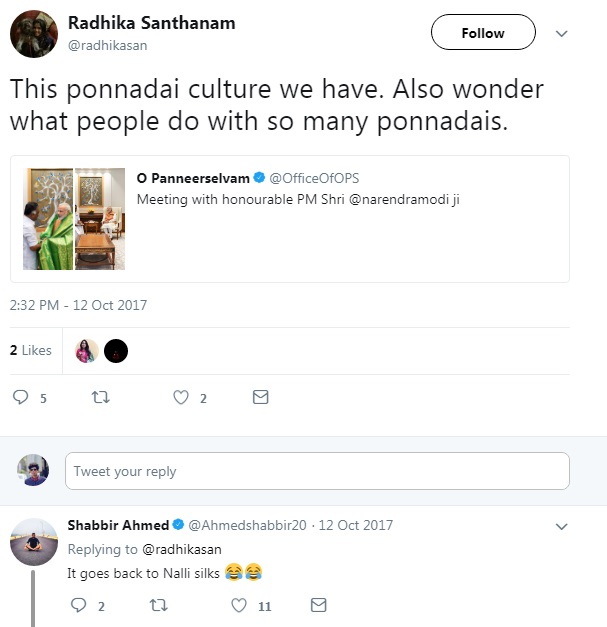 "There was a theory some years ago that the shawl draped around you today is perhaps a second hand one, something an earlier recipient disposed of in the flea market. I am informed by a very reliable source that this is standard practice in the film industry," cites a Deccan Chronicle report. Handing out used shawls without the knowledge is an atrocious insult to the innocent guest. Even otherwise, what use can the ponnadai be put to other than the receiver giving it away? Chennai's former Mayor M. Subramanian reportedly distributes all the ponnadais to slum-dwellers before Pongal. Violinist Kunnakudi Vaidyanathan has said in public forums that he makes kurtas out of ponnadai.
The ponnadai is rather new addition to the glorious Thamizh culture which spans over several thousand years. For a large part of history, men and women in India predominantly left the upper body uncovered owing to comfort in hot and humid weather. The concept of covering the torso was prominent only among the elite upper caste individuals who could afford the clothing. In history, the elite Brahmins of Thamizh Nadu wrapped their shoulders with a single piece of cloth known as angavastram (body-garment). Like in many other cases, the costume was reserved only for select upper caste sections till modern Indian history.
CASTEIST ELITIST ROOTS
The thundu/ponnadai culture didn't gain prominence in Tami politics till social reformer Periyar Ramaswamy publicly called out the caste dichotomy involved in the clothing practice:
In the 1940s, Dravidian movement founder EV Ramasamy was invited for a music function. The artist who was playing the Nadaswaram was sweating profusely and was wiping his face often with a towel that he had kept by his side. After some time, the Nadaswaram player got sick of picking the towel and placed it on his shoulder for pure convenience. Now, the sponsor of the show, an upper caste zamindar of the area, was offended by this defiant act of the lower caste nadaswaram artist. He openly and loudly ordered the musician to remove the towel from his shoulder.

EVR, a social reformer, condemned the zamindar's attitude and walked away. The next day on, Ramasamy requested all Dravidar Kazhagam members to wear a thundu (towel) in protest against the upper caste attire of angavasthram (a long ornamental towel).

Excerpt from India Today
Following this instance, Periyar and fellow Dravidian ideologues chose to wear the common man's thundu, a traditional cotton towel with kara borders in protest against the elitism inherent in angavastram clothing. From there on, towels/thundu emerged as the raging iconography of Dravidian politics that vehemently opposed Brahmanical supremacist hegemony. Everyone from Periyar, Anna, MGR, Kalaignar to contemporaries like Vaiko have worn kara veshi and kara thundu.
LOST IN TRANSLATION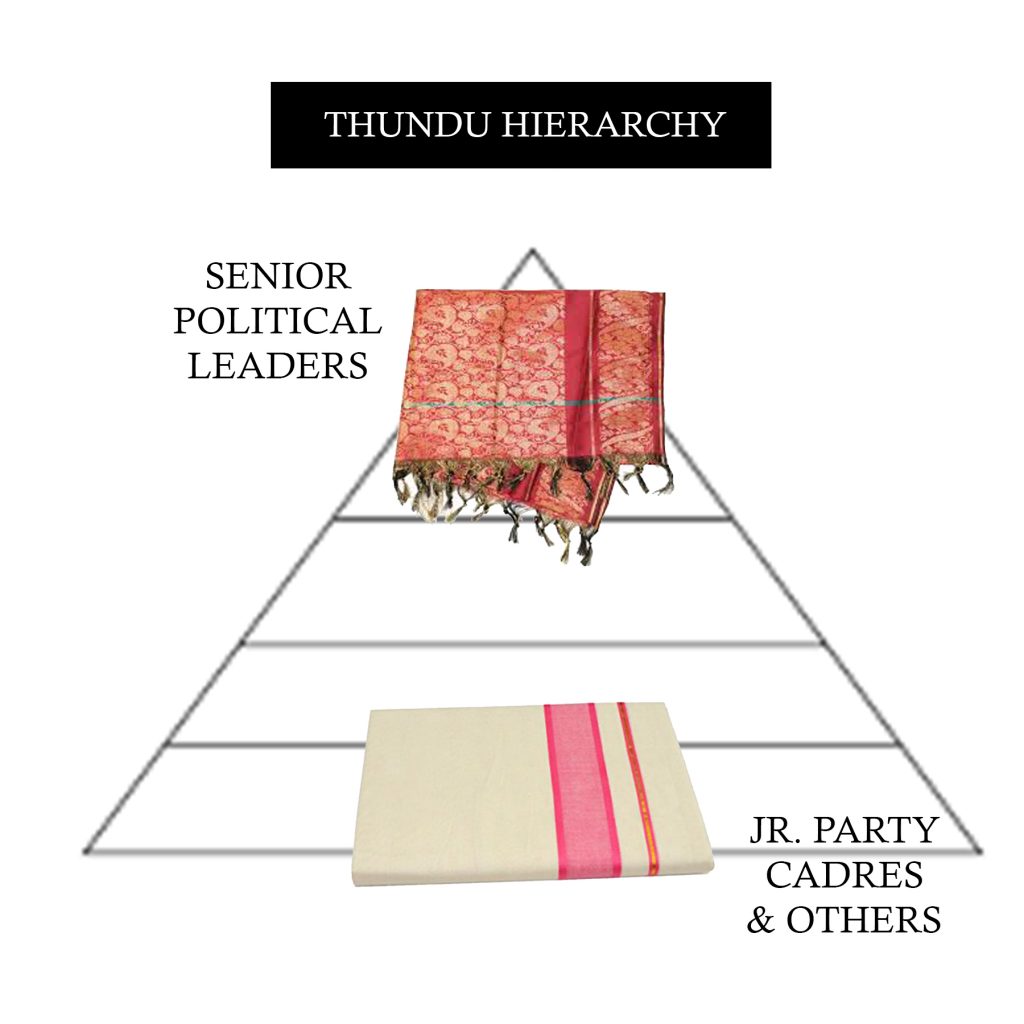 The thundu which once stood for equality was soon unfortunately hijacked by political class elitism. The humble towel became a tool to acknowledge political class hierarchy where party cadres and workers were given simple cotton warps whereas the top leaders and dignitaries were welcomed with expensive silk variations – the ponnadai. Today, the ponnadai culture is increasingly perceived as an inglorious celebration of political class hierarchy in Thamizh politics.