Finding Gucci Turbans & Hijabs offensive? Breathe in, breathe out & CHILL!
Tom Ford's Gucci offended people back in late 90s for excessive skin & sexuality. In twenty-something years time, Gucci continues to offend people, this time for doing the polar opposite – covering up even the hair & neck. The turbans and hijabs at Gucci FW18 took the Twitter by storm on myriad of charges ranging from hurting religious sentiments to appropriating cultures. The range of criticism was almost as vast as the cultures that went into Gucci's winter 2018 range that dealt with reconstruction of identities and self-regeneration in the tech-savvy era.
HIJAB & TURBANS – NOT JUST EASTERN
The custom of wearing turbans or veiling the head precedes the origin of both Islam and Sikkhism itself. Orthodox Jewish women & Christian women veiled their faces & covered hair even before the practice gained significance in Islam.
However hijab & Sikh turbans aren't any other head-covering, but a cultural costume with religious significance. Amena of Fashionopolis states that Hijab is not just Eastern, it is Islamic. "Islam as a religion may have originated from the Middle East but it is spread across the globe," she clarifies. Amena, a non-hijabi practising Indian Muslim makes it clear that Hijab doesn't just belong to brown skinned Middle Eastern natives but to Muslims of every nationality, ethnicity & colour – including white.
I don't believe that a Punjabi Sikh girl wearing hijab or Muslim man wearing Sikh turban will raise eyebrows but Alessandro Michele's Gucci vision – white people in turban – That has offended the internet. It almost sounds like even at least two actual Sikh models could have actually balanced the model casting with styling. But what if Alessandro Michele's vision was to actually showcase WHITE people in turbans/hijabs and NOT brown people? He has every right to his artisanal vision.
OFFENSIVE TO RELIGIOUS SENTIMENTS?
In fact, I couldn't help but wonder if Alessandro Michele just included a bit of every religion to see which religion is offended the most? For those who are still clueless, Hindu Goddess Kali used severed head as an accessory for photo-ops much before Gucci did. The third eye was yet another reference to Hindu origin philosophies. Drawing elements from clothing of Sikkhism, Islam, Judaism, Christianity and Hinduism, there was a bit of every religion at Gucci.
Religion has always influenced fashion. We have Shiva tshirts, Om pendents, (Hindu) Swastik print kurtas selling as uber cool mass-fashion in India. Religious art and iconography has inspired numerous collections on runways in West.
And let's not forget, even here, Valliyan's styling was made to look like sexy nuns and hijabis for a LFW show. I don't remember anyone saying anything 🤷🏽‍♀️ pic.twitter.com/1URuBb8rDF

— Roxanne D'souza (@Head2Heels_) February 23, 2018
"Dear @gucci, the Sikh Turban is not a hot new accessory for white models but an article of faith for practising Sikhs. Your models have used Turbans as 'hats' whereas practising Sikhs tie them neatly fold-by-fold," Tweeted a Sikh user.
The actual question however is: Does Sikkhism boycott white people from wearing the Turban as hot new accesory that aren't worn neatly fold-by-fold? I've never heard such claims before.
LOST IN TRANSLATION?
Not giving the necessary credits to the respective indigenous cultures or misrepresenting that particular culture is one way to not appropriate culture. Hijab for instance represents modesty, not just physical aspect of how much skin is to be covered but psychological aspects too – simplicity in general. "A lot of hijabis do lead simple and modest lives. Women of all classes would buy them in different ranges. What acted as a unifier is the way they would wear it and their religious reasons," explains Amena.
Ideally, expensive extravagant designer hijabs just don't exactly represent the philosophies going into hijabi lifestyle. The core meaning of the religious costume is lost in translation. But is Gucci to blame? Nope, the hijab was distinguished on basis of class & price even before Western designers picked up the trend of minting money on Eastern cultures. "Even before D&G and other brands created hijab lines a wide variety of hijab in different price range were already available. Designer hijabs were always available. It is only now the global fashion industry wants to cash in on it." says Amena.
GUCCI'S GENDER NEUTRAL VISION
It was a breath of fresh air that Gucci envisioned a gender neutral approach towards turbans & head covering as opposed to the sexist-disparities inherent in application in ground reality.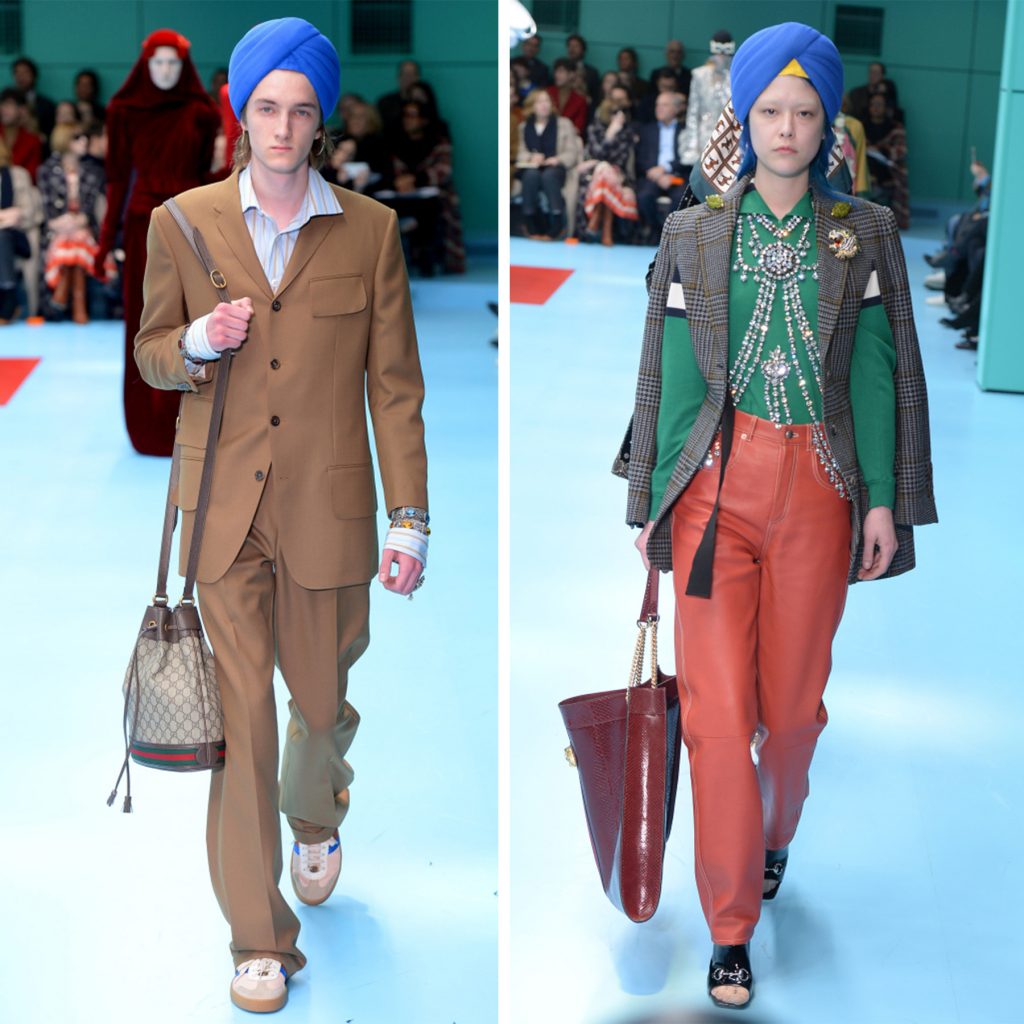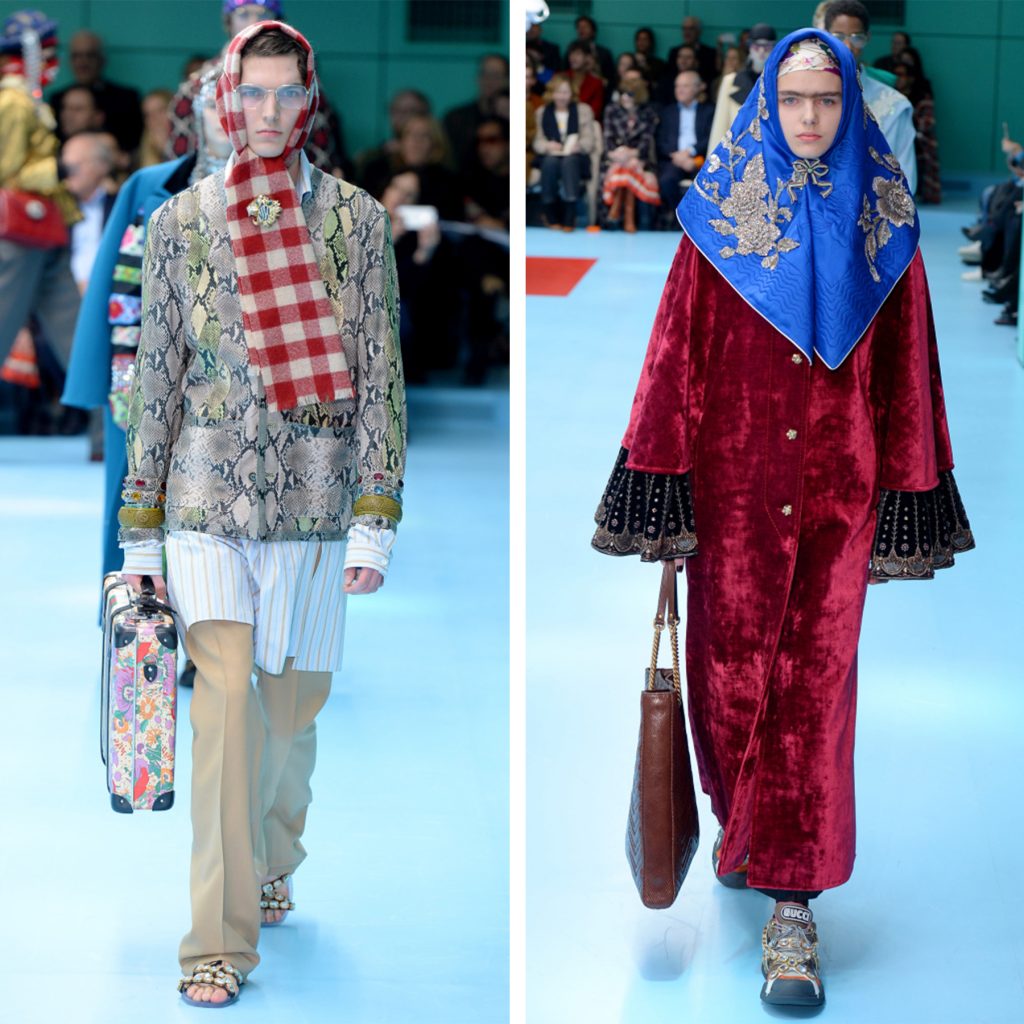 CULTURAL APPROPRIATION ISN'T ALWAYS INAPPROPRIATE
Cultures were always exchanged, and will be exchanged even more vigorously than ever before in Twitter era. Western brands need to learn to draw the line between representation & misrepresentation. People of colour need to chill with white people's inclination towards our cultures.
Amena welcomes inclusivity of cultures like in case of Hijabi Barbie. "I welcome it. I feel representation is important and this goes a long way in helping normalise a culture that may have looked like alien for a long time," she explains. Amena however quickly points out how it's also important to not misrepresent the cultures. "With brands like D&G creating hijab lines, it makes hijab more mainstream and on some levels it does get misrepresented by elite section of fashion industry, especially by those who have no knowledge and understanding of Islamic culture. Yes, there is a lot of cultural appropriation of the hijab by western media and organisations. The worst is how they use it to stereotype a Muslim woman. I think they need to stop using hijab as an only symbol to show Muslim women," she adds.
No single individual owns a culture but we all inhabit the cultures. However, misrepresenting cultural history is a tool to erase or alter cultural knowledge and expressions. It is important for cultural exchanges to happen on an even playground. Cultural Appropriation is portrayed in negative light owing to the plundering and exploitation of colonised cultures.
Roxanne D'Souza of HeadToHeels states, "I get the part where brown people especially in turbans are racially profiled and have faced problems because of their turbans, but I see this move as normalising it by putting it on a runway."
NRIs/Indians might as well stop pretending like Western world is the only place where Sikh people or Muslims face discrimination. Crimes against Muslims have dangerously increased in recent years in India.  Bollywood has under-represented & made bigger caricature of Sikh people in past than Gucci ever did. There were more turbans on Gucci's FW18 runway than the number of lead actors who ever donned one in Bollywood. To me, Gucci's turbans are just as offensive as Ranbir Kapoor's turban in the Bollywood flick Rocket Singh – no offence taken.
Eventually what every individual wants is personal freedom to live life on their terms. We achieve that personal freedom by standing up against cultural moral policing, not by dictating what a white person should wear or not wear. I am an Indian who is glad to be an individual raised with multi-cultural values. And white people, please don't hesitate to wear the sari if that's your choice, pretty much the way I wear shirt & trousers, because: my choice. In a world where we are building walls, it is art and culture that binds us together.
UPDATE: The following article was listed among Independent Fashion Bloggers community's top 20 blog posts of the week March 1st, 2018. Find all the links below:
Links à la Mode, March 1st, 2018
IFB BONUS! Shopbop is having a SALE! Shopbop – Buy More, Save More – Save Up to 25% With Code: GOBIG18
Restrictions apply. See Details: https://www.shopbop.com/ci/3/lp/discount-promo-coupon-code.html
SPONSOR: Amazon's Shopbop, Yumi Kim, Self Portrait Dresses, Tory Burch Totes, AO.LA, PH5, EDIT, Circle Bags, Slip On Sneakers, Hoop Earrings, Men's Fred Perry