What If Kanye West's VMA2015 speech was about Yeezy Collection Displayed at NYFW
What if Kanye West's VMA2015 speech was about his Yeezy Season -2 collection displayed at New York Fashion Week SS16? Read the transcript of Kanye's VMA2015 speech below with edited lines in bold text.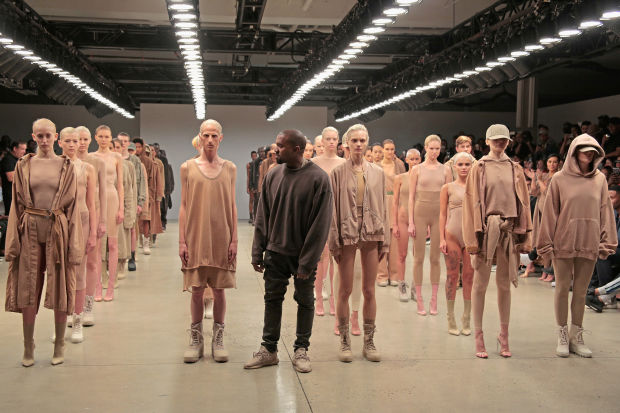 "Bro. Bro! Listen to the kids. First of all, thank you, NYFW, for being so gracious and giving me this slot this evening.
And I often think back to the first time I showed here. You know I think about when I'm in the grocery store with my daughter… Would people bother about my collection, if it was made by someone unknown? It crosses my mind a little bit like when I go to a baseball game and 60,000 people boo me. Crosses my mind a little bit.
And I think if I had to do it all over again what would I have done? Would I have made those tights, leggings and tops in spanx? Would I have displayed the same dull & worn-down basics to the audience? Ya'll know I'll probably show them again next season too! If I was serious about fashion would I have grabbed the show slot & limelight from someone else's? You know, this arena tomorrow it's gonna be a completely different setup. Some concert, something like that. The stage will be gone. After that night, the stage was gone, but the boring effect that it had on people remained.
The … The problem was the contradiction. The contradiction is I do want to be known as a fashion designer, but in that fight I somehow was disrespectful to creativity and basic human intelligence. I didn't know how to make the right clothes, the perfect clothes. I just … I sat at the fashion shows and saw Haider Ackermann and… You know, and I was thinking, like, I want to create something similar and call myself a fashion designer…
Look at that. You know how many times fashion websites & blogs have written about my collection again & again? 'Cause it got them more pageviews? You know how many times they announced my wife Kim & daughter North, Anna Wintour, Riccardo Tisci, Seth Mayers, Lorde, Kourtney and Kloe Kardashian were going to grace the front row 'cause it got them more pageviews? Listen to the kids, bro! I still don't understand fashion shows. I don't understand how they get musicians who worked their entire life in entertainment industry.. with legendary designers who sold collections, sold exhibition tickets to come stand on the ramp and for the first time in their life be judged on the chopping block and have the opportunity to be considered a loser! I don't understand it, bruh! I am a fashion freak, a fashion leader at best, not a fashion innovator!
I don't understand when the biggest trend, or the biggest streetstyle… I've been conflicted, bro. I just wanted people to like me more. "But f–k that, bro! 2015! I will die for my clothes! For what I believe in. And the clothes ain't always gonna be innovative! Ya'll might be thinking right now, 'Did he smoke something before he came out here?' The answer is yes, I rolled up a little something. I knocked the edge off!
I don't know what's gonna happen tonight, I don't know what's gonna happen tomorrow, bro. But all I can say to my designers, to my fellow fashion designers: Just worry how you feel at the time, man. Just worry about how you feel and don't NEVER … you know what I'm saying? I'm confident. I believe in myself. We the celebrities, bro. We are celebrities & we'll make headlines & even sell, even if my collection is drab. This is a new mentality. We're not gonna control our kids with brands, we'll control them with popular names. We gonna pay big advertising money to magazines and let them teach our kids that they can stand up for poor aesthetics too! We gonna teach our kids to believe in Kanye's Yeezy!"
If my grandfather was here right now he would not let me back down! I don't know I'm fittin' to loose clothes after this. It don't matter though, cuz it ain't about me. It's about ideas, bro. New ideas. People with ideas. Make people believe that something as basic as ill fitted clothes, nude colour palette and lot of spanx are new ideas. And yes, as you probably could have guessed by this moment, I have decided in 2020 to run for Anna Wintour's post."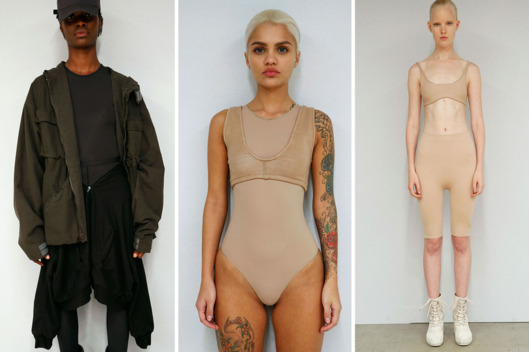 Kanye West's Yeezy – Season 2 at NYFW SS16