Diet Influencer Is Calling Out Paid Influencer Bot Following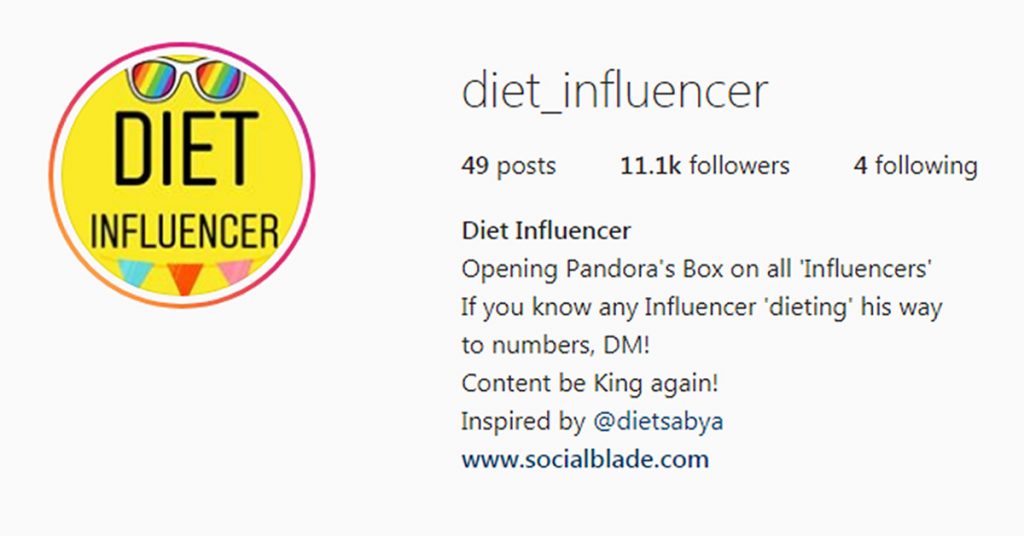 From Diet Prada to Diet Sabya – calling out mediocrity on web is totally IN. Diet Influencer who credits their inspiration to Diet Sabya, is calling out the fake paid bot following scams of Indian influencers in general. Several noob influencers pop out every new day with five digit pre-paid bot following. Several established influencers are buying four-five digit bot following in matter of few weeks. The ugly truth attached to those numbers is pretty much lying on the surface, waiting to be uncovered.
Few years ago, I had exposed fake 100K following of a Delhi blogger with numbers, screenshots and detailed statistical analysis. I've exposed plagiarism of top fashion designers like Diet Prada or Diet Sabya is doing now in the early years of my blogging. I openly tweeted how Elle India's condescending article targeting Diet Sabya was an act of cowardice given they otherwise promote those gandi copycats. Much recently, I've even called out the neo-elitist attitudes at NIFT. I stirred up the hornet's nest without concealing my identity and that approach came at a cost. Exposing copy cat designs on India's top runway platforms, calling out the bot following of a POPxo approved fake superstar influencer, bluffing the Elle story targeting Diet Sabya (instead of gandi copycats,) and writing in detail on NIFT's elitist Dronacharyas – these stories were met with polarising views – it was received with either absolute support or absolute disapproval – nowhere in-between. In response to such articles, I've had an army of fake profiles flocking on my blog to discuss my skin tone, appearance, and even race. On the other had, I've had bloggers & journalists supporting me.  Apart from those who participated in the conversation, there was another large section who silently but very carefully followed up on these stories but neither clapped nor slapped. By calling out these names in open (and not anonymously), you face ostracism from within the fashion industry which is pretty much controlled by many undeserving products of nepotism – it gets that simple.
"Tujhe naam banana to yeh sab likh, long run mein survive karna hai toh diplomatic ban" said a beloved well-wisher. Translation: "What you're writing will give an identity but to survive on long run, you'll have to be diplomatic." What they said was absolutely true in current scenario. We've normalised mediocrity to such an extent that calling out mediocrity itself is more offensive than the act of mediocrity to the mediocre people controlled by other mediocre people occupying positions of power through sheer means of mediocrity. In contrast, writing anonymously gives you immunity from such powerful mediocrities. Despite being rated among top Indian fashion bloggers or in spite of receiving some of the highest fashion blog traffic figures in India few years ago, I knew very well that I cannot continue very long as a full-time fashion blogger while I keep writing these articles in open. As per the plans, I've transitioned from being a fashion blogger to fashion designer. I've even deleted most of the old articles which no longer aligns with the theme, tone, and tenor of this website which has evolved over the years. In case you still didn't realise, commercial fashion blogging is clearly on death bed. In past few years, influencers have exactly done to fashion bloggers what fashion bloggers did to the readership of print magazines. But those were times when celebrities still didn't fully take charge on Instagram. It's only a matter of time that celebs take away the larger chunk of commercial deals from the influencers, unless the influencer has already worked their way to celebrity stardom.
Many genuine influencers are losing out on money because random profiles are throwing up 100K+ bot following. Today, influencer marketing is designed such that profile with 100K following, genuine or fake, takes the money whereas profiles with 30K following even if genuine are often limited to barter deals with no commercials involved. WTF! There are more fads than trends in fashion at this hour. At least as of now, the influencer marketing scene is putting up the exact same trends as fashion blogging scenes did a few years ago. It's only matter of time that next big fad consumes the influencer marketing platform. I was always more of a blogger than a social media influencer. I am simply not a social media person. With money on the influencer table, I am happy that fashion blogging is slowly going back to what it was once upon a time – genuine views unaltered by paid advertising.
On the other hand, I am happy that Diet Sabya and Diet Influencer are actually doing what was long due. Diet Sabya or Diet Influencer may not always be right. Their language is probably overtly offensive to some sensitive souls out there (who somehow aren't irked by the gandi copycats or no-influence influencers). But if the so called fashion editorial pioneers, marketing pundits, and related agencies did their job well, we'll never have required Diet Sabya or Diet Influencer having to do their homework!
On that note, few of my fashion illustrations were featured as part of Independent Fashion Bloggers community Links a la Mode round up. View all the top links below:
Fall is in full effect. Seriously, can you believe we're in bootie season? Us neither. And so we're soaking in all the advice from transitioning wardrobes to the best teas for your bodies. You'll find yourself rejuvenated by the think pieces and all around style.
Links à la Mode, Sept 27th, 2018