Who Buys These Runway Clothes?
ONE QUESTION THAT NEVER SEEMS TO DIE…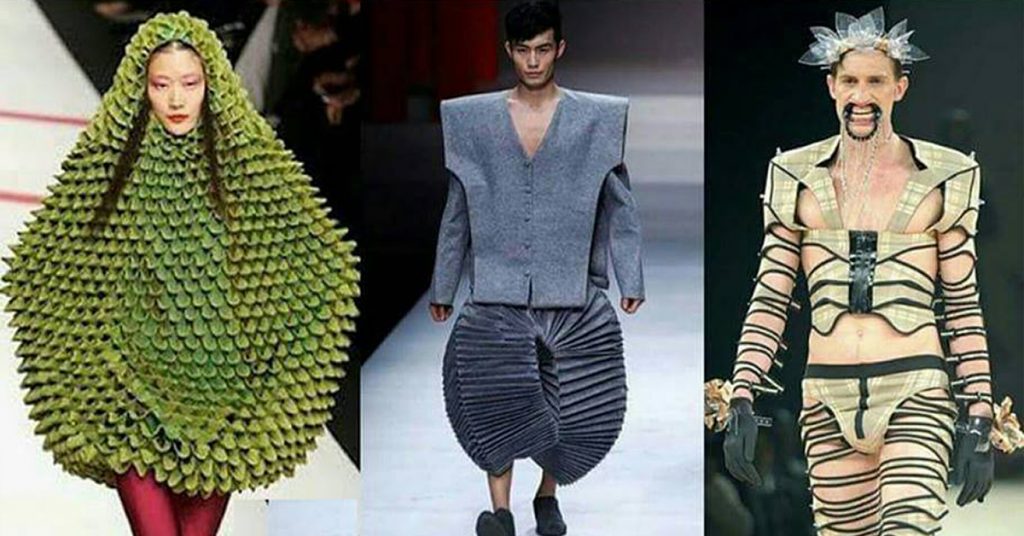 WHO BUYS THESE RUNWAY CLOTHES?
This is among the most circulated fashion memes in FB groups. Do only Nicky Minaj & Lady Gaga step out looking like oddballs or are these clothes sold off on Halloween sale? Not every style you see on the runway makes it to boutiques; some of them land in museums instead. There are infinite possibilities with fabric and some looks are merely a testimony to a fashion designer's skill or meant to challenge the established notions of aesthetics.
FASHION SHOW AS AN ART EXHIBITION
Unlike the run-off-mill clothes that you wear on a daily basis, these outrageous runway styles involve innovative techniques and are painstakingly created for even up to several months. Sometimes, the clothes showcased on ramp are merely exaggerated artisanal expressions that narrate the creative direction, inspiration, theme, mood, fabrics and other techniques involved in the collection. These styles are artisanal display of both creative & technical skill but don't completely write off the wearability yet. Several celebrities have worn outlandish styles directly off the runway.
Rihanna wore a Kawakubo straight from the runway…
Katy Perry wore a John Galliano creation for Margiela to MET Ball…
EXTRAVAGANT RUNWAY CLOTHES FOR MARKETING PURPOSE
These styles not only elevate a fashion show into an art exhibition but also bring in media attention. This theatrical display of creative and technical skill on runway helps in getting press coverage, brand awareness and positioning. The exaggerated runway styles are extensively marketed or sold as art – as a private collectable or for museums and magazine photo shoots.
RUNWAY CLOTHES PROVIDE INSPIRATION TO RETAIL STYLES
The exaggerated runway styles are translated into subtle design elements on the styles that are meant for retailing. .
RISKS THAT DESIGNERS CAN GET AWAY WITH
Designers often get away with the risks they take on the runway. Unlike film critics, fashion magazines barely write anything negative about fashion shows. Massive advertorial income of fashion media flows in from high-fashion brands and therefore, even the most badly executed outfit and even copy-cat designs get a thumbs up from several fashion editors. Apart from mockery in form of social media memes, there isn't much criticism of clothes on runway within the fashion world itself. Hence, designers fearlessly experiment with the styles presented on runway.
FASHION AS A MEDIUM OF AVANT-GARDE
Avant-Garde is a French term for "advanced-guard". The term is used to denote any art form that pushes boundaries of accepted norm and questions status quo. Avant-garde is based on innovation, risks and thinking forward. Constant change and innovation is the key to progress. Avant garde sits on top-echelon of creativity ladder thereby contributing to some of the greatest artistic and cultural achievements have been made. In 2018's see-now-get-now model of sales, fashion shows are lot more about the clothes itself than art. Several industry veterans claim that fashion is no longer a form of avant garde. However, few designers like Rei Kawakubo, Rick Owens, Viktor & Rolf, Yohji Yamamoto, Gareth Pugh & John Galliano have continued to reject manufactured thought and shape the future by wandering into unexplored territories of fashion.