Desperate Letters To NIFT New Delhi
My previous account on the dark realities of neo-elitism at NIFT was met with polarised opinions. Firstly, quite a lot of students who identified with the article shared and thanked me for writing it. A few others who had more comfortable ride went on to comment their privileges and told how I made a mountain out of mole hill. Everyone's entitled to their opinions and expressions. The average Joe says, don't judge me until you walk in my shoes. I say, go ahead and spit out your judgements for you can never walk in my shoes.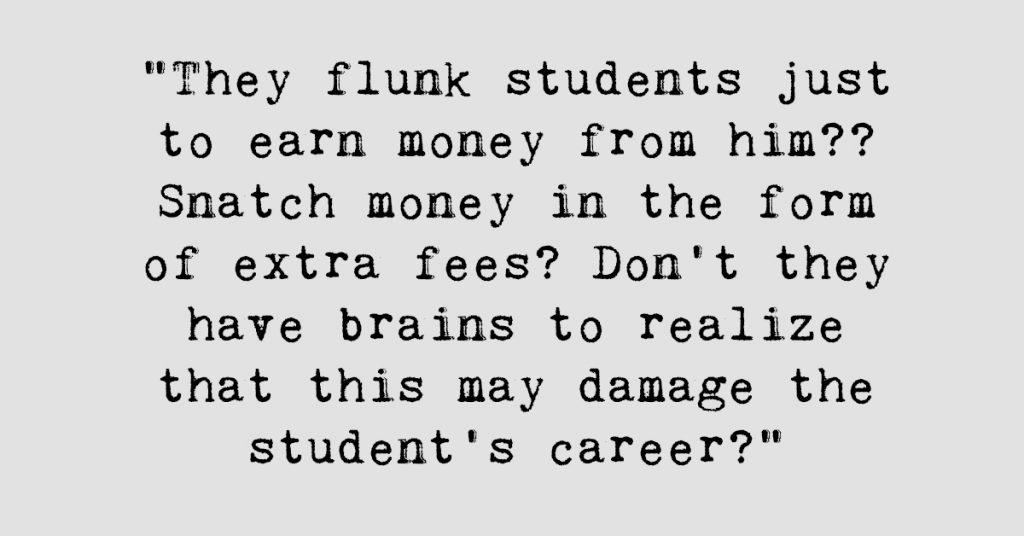 After writing several sane & formal unanswered letters in paper to officials at NIFT, I happened to write this one last letter over email (dated: 2009) – A total emotional mess – infuriated, suicidal & helpless – DESPERATE AF but HONEST.
**
from:

PURUSHU.R.V

 *********@gmail.com

to:

dg@nift.ac.in


date:

Wed, Jul 15, 2009 at 3:22 PM

subject:

Iam blindly given RE-SEM for NIFT's mistake!

mailed-by:

gmail.com
Sir/Madam
Iam R V Purusothaman, studying in Foundation Programme, Batch-5, NIFT New Delhi. I have no mistake from my side. Iam blindly being punished with a REPEAT SEMESTER for the semester Jan 2009 – May 2009. I had written numerous letters to the Director General. I have received no reply from him till date. I'll have to take LEGAL ACTION, if this injustice prevails.
SERIOUS ILLNESS
I am a 6 ft tall man, who is 30 Kg underweight. I wasn't like this earlier. I suffered from serious Typhoid and Chicken Pox back to back during the period January 2009 to March 2009. During January, I used to intake 12-15 tablets a day! I had to just feed on plain rice and bread. There were times, when I used to faint on the way to college. I slowly recovered from the typhoid during the end-February. But, I once again suffered from serious chicken pox where my health was rotten this time, as I had just recovered from typhoid. I was completely out of energy. Hence I could not attend many classes during the period as my health was f**ked up. But, still I was at least regular in all my submissions. I submitted all the assignments that i missed out during my absence.
ATTENDANCE SHORTAGE IN EOD (Elements of Design)
Due to the illness, though my overall attendance was up to mark, I fell 8% short of attendance than required in Elements of Design subject. Shortage of attendance would lead to many problems. Hence I submitted all my medical certificates. Still I coped up with all the submissions and exams including the MID-SEM exam that I missed during the period of my absence.
ROLE OF MRS. USHA NARASIMHAN
Mrs. Usha Narasimhan, my centre coordinator asked me not to attend few classes doubting that I may not be fit enough to attend the classes. Though she promised me that she'll give me attendance in my absence, she never did so.
I produced all my medical certificate and documents to her, and she kept promising that I can cope up with my attendance as I have a genuine medical reason. She promised and reassured me of giving attendance in EOD, as fell short of attendance in it.
I asked her to give me EXTRA TUTORIALS, as she didn't give me the attendance till the end. She again denied that citing that I had medical reason, and no one can stop me from giving my final exam.
The lady finally ditched me, denying everything. She asked me to wait, wait and keep waiting. The results are out now. Even today when I called her she asked me to keep waiting.
FOOLISNESS OF NIFT
I was granted hall ticket in spite of shortage of attendance as I had a genuine serious medical reason. I was finally granted attendance in EOD. I spent hell a lots of money and finally gave every exam, one by one. But, the thunder struck before my ITP(Integrated Term Project) Exam! My hall ticket was confiscated from me!
The college authorities announced in the LAST MINIUTE that my medical certificate has been rejected by the Director General. Hence, I cannot give the exam, and what else?? They wanted me to REPEAT THE SEMESTER!
IAM PUNISHED FOR NO MISTAKE FROM MY SIDE
All the money that I spent went in vein. I wrote numerous letters to many officials including the Director General, Registrar etc, explaining my situation that I was innocent and did not deserve to be punished. But I did not receive any reply from any officials.
I didn't do any mistake.
Falling ILL isn't my mistake!!
I was just 8% short of the required attendance without the medical credits, that too in one subject. My overall attendance was up to the mark even without the medical credits!
AM LEFT HELPLESS!
I hail from a middle class family and study with educational loans. If this stupid RE-SEMESTER decision taken by the college is finalized, then the banks would stop funding me. I cannot continue my education any longer!!
I had given all the submissions that I had missed out during the period of my absence. I even gave the MID-SEMESTER exam that I missed out. I have one of the best hand, work and talent in my batch. What else does a college need from me? Is shortage of attendance a justifiable reason to flunk a student?? They flunk students just to earn money from him?? Snatch money in the form of extra fees? Don't they have brains to realize that this may damage the student's career?
They have punished me for no mistake from my side!
It's college's mistake in fact!
MY QUESTIONS THAT COLLEGE SHOULD ANSWER
How can my centre coordinator promise me and reassure me that I'll get attendance for medical reasons, and now finally backing out?
How can my centre coordinator ask me not to attend the classes and mark me absent?
How can a college change its rule, just one day before the examination?
How can a college reject my medical certificate just one day before the examination?
How can college give me a REPEAT-SEMESTER for falling 8% short of attendance in one subject??
I had given all my submissions. I even gave the mid-semester exam that I missed out. What else does the college want from me?? What does the college expect from an ill student who is seriously diagnosed with dangerous communicable disease?
Why didn't I receive any reply to any of my complaint letters?
I want answers to all these questions. Let the college justify that I should be flunked and not given a chance.
***