5 Types of Plagiarism in Fashion Explained Through Diet Sabya & Desi Dior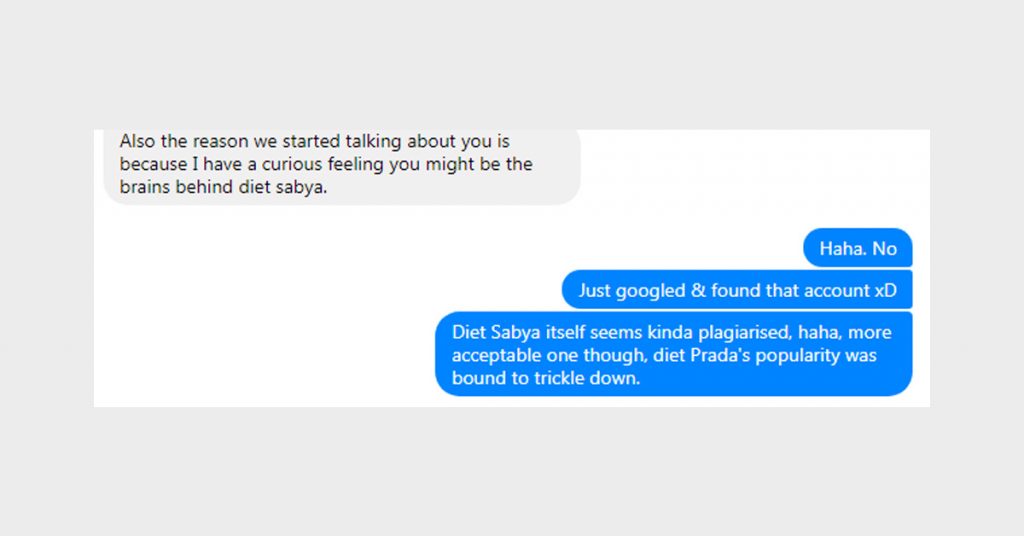 I was literally laughing out loud reading the captions of Diet Sabya. Only a week in prior, I had stumbled on Desi Dior calling out plagiarism in fashion. Given the popularity of Diet Prada, it was bound to be a trickle down phenomenon hatching into similar accounts in both nomenclature style (remember how every blog after Style Rookie happened was named "Style-Something") & the idea of calling out knock-offs in general – that's the natural flow of trend cycle. Unlike the copy-cats they call out, Diet Sabya and Desi Dior are much needed knock-offs (of Diet Prada itself) especially given the dilapidated state of domestic laws tackling plagiarism in fashion.
The narration styles of the two accounts vary – Desi Dior is authored from a more design perspective, where the witty commentary invokes production angles, like in this post "But just to not get caught they be like "Master ji lining nude nahi white de do, aur chote mote changes kardenaa". 💁🏻‍♀️"  Possibly someone with first hand knowledge of production?
The sarcastic interview styled commentary and references to sourcing requests assures me that the minds involved in Diet Sabya are clearly aware of scenes in fashion editorial/styling and perhaps lot more. Regardless of my own irrational curiosity driven guesses (and the highly possible inaccuracies), the two accounts have induced freshness to desi Instagram fashion which was stagnant on #ootd clones for some time now.
Given my own history of pointing out copy-cats, it came as no surprise at being asked the question: Are you Diet Sabya?
No, I am not Diet Sabya.
Seriously, NO 😀
*Although I wish to send flowers to whoever they are 😀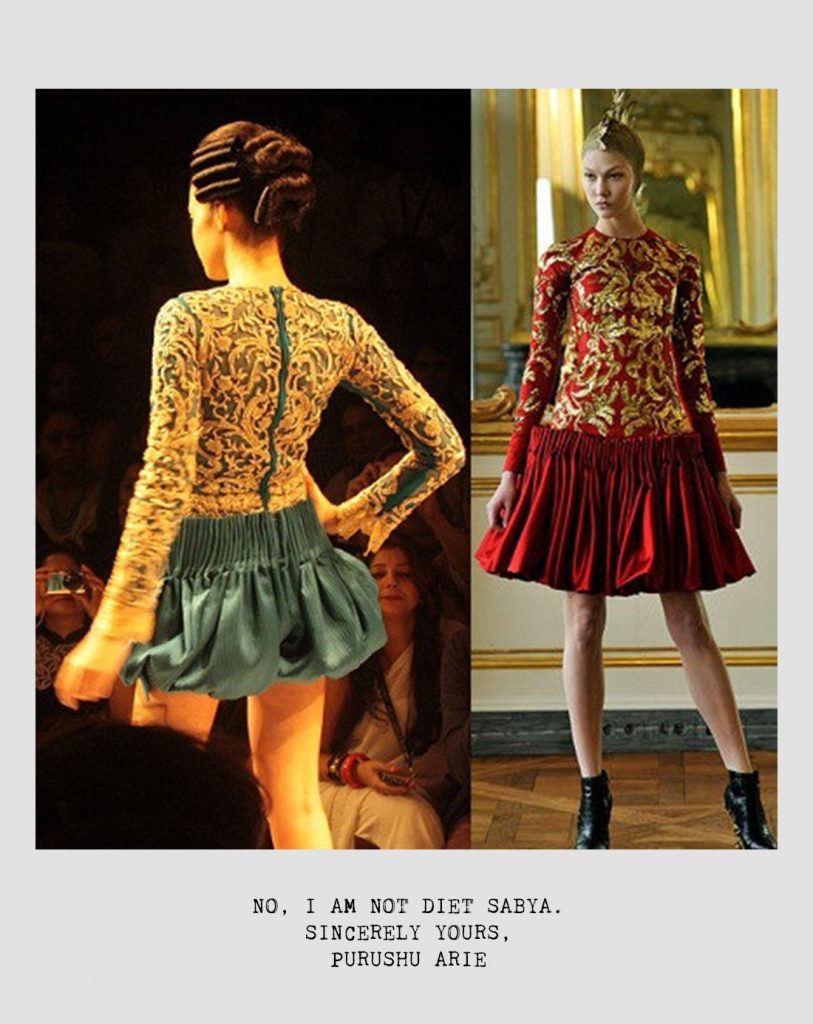 When I tweeted images comparing Shantanu Goenka to Alexander McQueen, live from the show venue in 2011, a local Delhi media reported it was  a mere inspiration. Of course, merely changing the colours or slightly altering the existing motifs or merely subtracting out the elements they're unable to recreate is how most patrons of plagiarism define "inspiration".
MOSAIC PLAGIARISM IN FASHION
Mosaic plagiarism is a strategically done plagiarism where elements are tweaked around a bit like in Shantanu Goenka's McQueen rip off which merely alters the colour palette while retaining the silhouette, placement of trims and embellishment.
Here's a case of mosaic plagiarism where the colour & neckline is tweaked.
DIRECT PLAGIARISM
Probably the most shameful and laziest among the lot involving a point-to-point copy like in the case of this trench dress which happened when three Bollywood stars collaborated to convince the world of their fashion design skills.
More from the department of direct plagiarism…
SELF PLAGIARISM
Self-plagiarism can be unintentional repetition of signature style or intentional getaway when one feels lazy or probably runs out of ideas. Self plagiarism in fashion is apt in this Desi Dior post where Param Sahib who happened to work at Manish Arora ended up repeating the same Manish Arora x KOOVS motif for his signature label.
PATCHWORK PLAGIARISM
Patchwork plagiarism is very similar to mosaic plagiarism, just that the designer tweaks elements from more than one already existing designs. In case of patch work plagiarism in fashion, elements are often borrowed from archives of brands(.) This Huemn look which re-imagines from two different Margiela dresses: Tweak 1: Fasten the Margiela shirt collar on fabric of another Margiela reconstrucetd dress. Tweak 2: Substitute the voluminous Margiela sleeve twist (around waist) with slimmer band. Tweak 3: Add a voluminous collar to avoid viewer suspicion.
ACCIDENTAL PLAGIARISM IN FASHION
Accidental plagiarism is what everyone claims when they're found guilty of plagiarism… NOT. Kidding. Accidental plagiarism is what it is if I don't credit this article for helping me structure this part of the content. Accidental plagiarism occurs when the artist unintentionally missed out on citing the original source of inspiration. Aditi Gupta's element-to-element knock off turned out to be a "design-team" endeavour without the owners realising it was plagiarism.

Every design is inspired from something or the other. Nature is the mother of every inspiration. The tangible aspects of every single design sold out there are ALL primary made of the most basic elements of nature – point, line (angular/curved), shape (geometric/organic), colour (only so many colours our eyes can sense) and so on. Every designer combines one or more these elements using the principles of designs like proportions, balance or rhythm to eventually arrive at the final design. It is very much possible that sometimes a design resembles another on basis of sheer coincidence.
There is always a possibility that Huemn's Margiela look alike was mere coincidence. Because playing with shirt collar and sleeves is somewhat common especially with regards to deconstruction as a technique in fashion design, but the resemblances otherwise is too good for a coincidence.
In the era of trend books and organised fashion establishments, design process itself has become much like a common code programmed on robots. They all study and refer to more or less the same trend books and manufacture the same trends and you'll see similar designs selling at the same point of time – which is what makes them trends at that point of time and fashion media will tell you to buy them because it's trendy. Fashion is merely a reflection of the society, perhaps a society of unoriginal clones abusing resources with easy manufacturing facilities.
UPDATE: Links a la Mode, April 26th, 2018
This article was listed in top fashion blog stories of the week curated by Independent Fashion Bloggers community. Read all the blogs below –