Decoding Rick Owens Spring Summer 2018
My first reaction was: Wow! Comme des Garcons looks are out? But the BOF FB update read Rick Owens. Duh! We'd have seen vivid and rich textile textures and more importantly unorthodox construction techniques had it been on Rei Kawakubo's runway. Unlike the raw seam finishes we're accustomed to on Comme des Garcons runway, neatly finished gray knits bandaged duvet forms on Rick Owens Spring Summer 2018 runway. From the the dark world of drapes and sharp lines, Rick is now dealing with the utopian world of voluminous stuffy forms.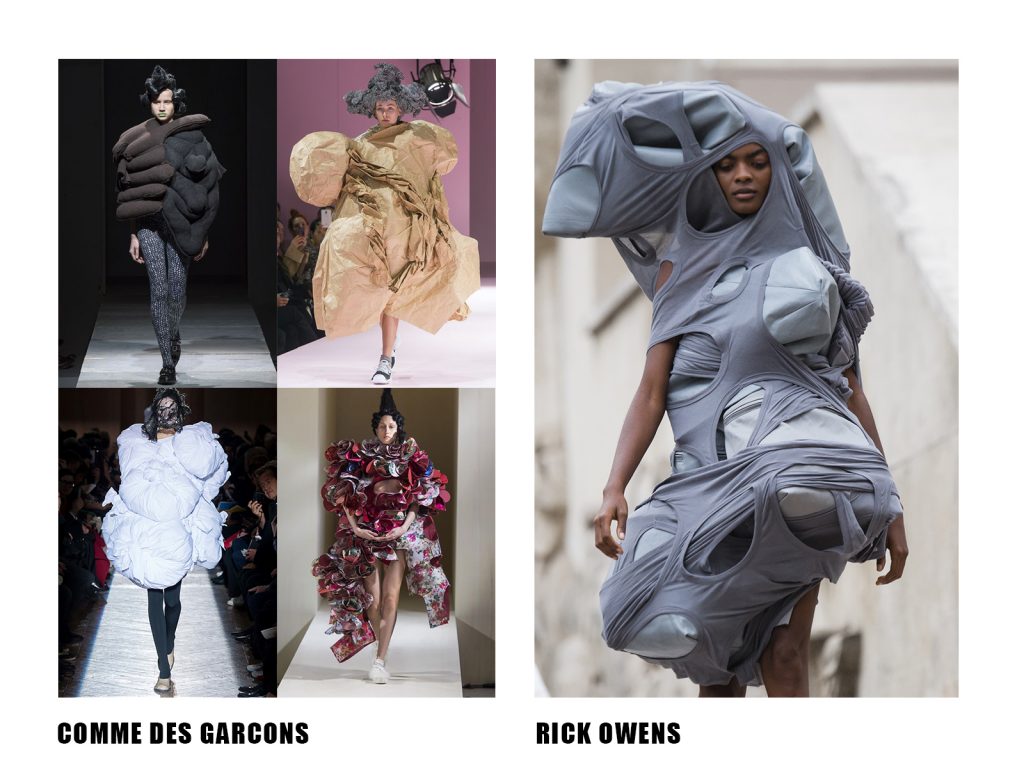 Nobody has polarised opinions in fashion in recent times like Rick Owens and the top comment on BOF's update compared the look to effortless cool of Parisian pigeons. By large, disapproval for the look was rooted in where-and-who will wear the creation. Rick's though process begins where most people's end. Why should anyone wear it? Why should clothing presented on runway always be "wearable" for your taste? Why does it irrationally discomfort your senses when somebody else's taste isn't same as yours? When can one respectfully accept a few others who don't see the world in the same eyes as you do?
Rick Owens has caused major discomfort to controlled imaginations of what's beautiful and ugly. The cocoons probably depict the metamorphosis – a change in approach, in a changing world. Those shapes are drawing boundaries away from reality and duvets are cushioning, protecting and constricting at the same time. It reflects the present reality of living in denial of reality, building walls, hide under a duvet, and lazily wait there for a change. Who is ready to take the lead? Rick Owens always took the lead to make a deeper statement with clothing as the medium.
The show's title "Dirt" is worth the mention. Dirt invokes the fear of causing disgust to other humans. That primitive emotion of fear was instrumental in establishing the norms of modesty that dictates what's appropriate and what's inappropriate. Only two years ago Rick Owens questioned the absolutist notion of sexual modesty with clothes that evidently flashed male penis. Penises were never really the point of the show but quite evidently it became the talking point. But that was the whole point of those garments. Why does it bother you? Why should someone else have the same sense of shame as you?
Paris Fashion Week is as much of a platform for ideas and innovation than just what trend you should be wearing next season. Rick's creations may or may not be wearable by your standards of personal style, but extraordinary fashion design skills went into narrate tales of discomfort, rejection and hope. And it is probably because of his ability to skillfully craft clothes while redefining aesthetics with unheard ideas that Rick Owens makes everyone go WTF. His clothes might ring a bell only for a niche few, but his ideas ignite EVERYONE.
Duvet like forms were only part of the show, but predictably all eyes were on them. Those shapes probably make up for a wonderful alternate styled editorial fashion shoot but for me, the real heroes of Rick's show were the beautifully cut out dresses which didn't compromise on relevance of theme in process of achieving wearability. Crisscrossing shapes, melange of drape and structure, asymmetric tailoring – all signature Rick Owens elements wear a new outlook of hope while still stressing on worldly affairs – from climate and conservation to ugly syndrome.
Footnotes: Beyond the duvet look, Rick Owens SS2018 (via Business of Fashion)