Thanks to Paid Media, Kanye West Made the Art of Fashion Design Look YEEZY AF!
By YEEZY, I mean easy and amateurish.
"Brooooo!!! Broooo, brooo, brooooo!!! Every nigga can sing but that doesn't imply anyone with vocal cords can perform at Grammys bro. That takes skill bro. Talent bro. You see, Beyonce performs here, not you bro."
That's probably how Kanye's speech would sound if Marc Jacobs performed at Grammys. It is very much possible that Marc Jacobs the singer is probably even more skilled than Kanye West, the fashion designer.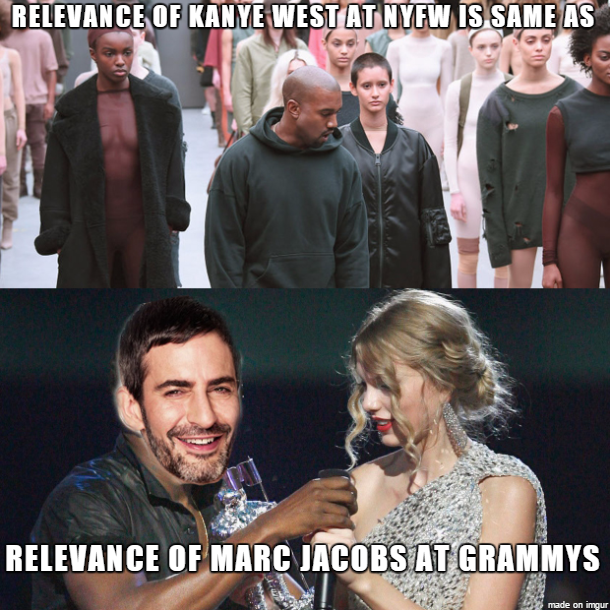 Kanye is a lucky inexperienced beginner who gets to showcase his amateur work in a platform meant for world-class talent. Kanye West's technique of ripping every piece of clothing resembles the approach of that new graphic design student who just learned about Photoshop and decided to use swirl & splatter brushes in every graphic.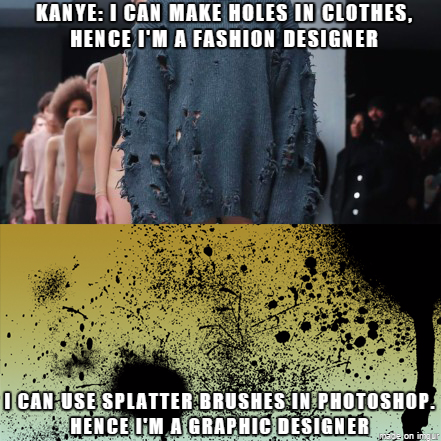 Displaying Kanye's collection at NYFW is not any different than displaying a cliched close up portrait of that wrinkled old lady at world photography fair.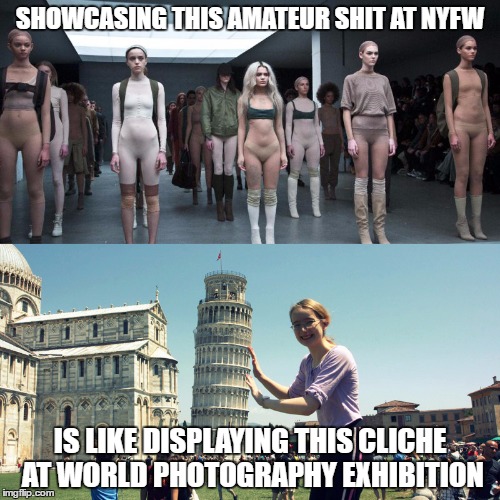 Kanye West's Yeezy Season 4 was same amateur throwback to previous seasons – tasteless rags masquerading as high fashion with socio-political theme. Paid media validating Kanye West's status as a fashion designer is an insult to the art of high fashion. Yeezy making big headlines is only echoing the popular notion that it takes money & contacts than talent or skill itself to make it big in fashion industry. Kanye showcasing at NYFW is maltreatment to the qualification, passion and talent of other designers showcasing at the event.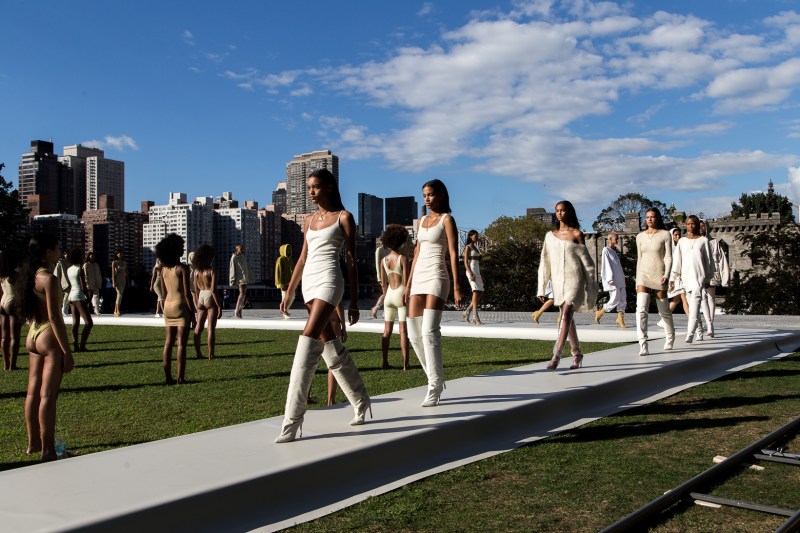 If Kanye West genuinely has any respect for the art of high fashion like he claims, he should quit showing at NYFW ASAP & begin from the scratch, probably intern under his inspirations like Haider Ackermann and learn a thing or two about fashion before he decides to hit the ramp as a fashion designer ever again.