Success of Vetements has exposed a generation of fashion victims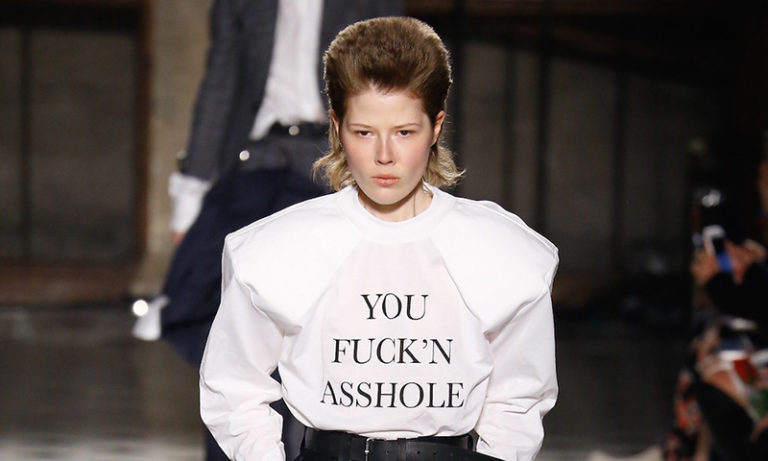 Vetements is one of the smartest fashion brands to happen in recent years. The brand's anti-fashion philosophy may not be completely new but the brand's approach is quite fresh. Vetements has managed to target a generation of fashion victims who want to be a part of fashion but barely understand fashion. From patchworked denims to bold logo play, in many ways, Vemenents is a throwback to iconic Margiela of 90s. The reconstructed seperates are not only creative but functional too. Vetements safely borrows from the past and yet has cleverly commanded the involvement of the present generation of millenials. The information era is dead and millenials live in the dumb marketing era. Fuck quality, our generation is about quantity & hype. Young millenials have successfully done the marketing job for the label with endless conversations & photo shares in social media. In the social media era, a troll meme can easily fetch 100 likes when shared and your own original artwork might get buried in your timeline with barely 10 likes. A generation of fuck'n assholes couldn't help but get all amused when Vetaments runway featured derogatory messages like "You fuck'n asshole." The duck faced Instagram generation went gaga over the yellow DHL logo printed t-shirt with a WTF $330 price tag. Are you NUTS? Quite predictably, Vetements got bloggers talking and has created a stir in the streetstyle segment.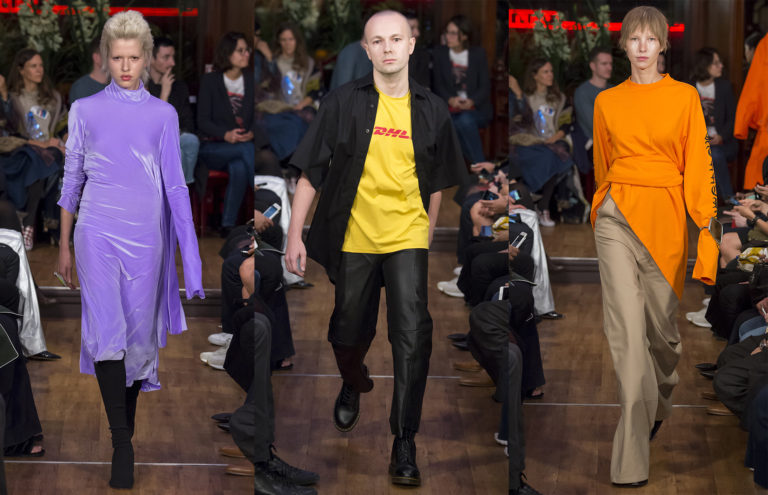 Vetement's smartest move however is the much discussed staggering price range itself. The bafflingly high price range of the brand has created exclusivity out of anti-fashion design philosophy. The STATUS is what matters to the fashion crowd. The garments with Vetements nametag gets attention and announces your financial status – exactly what the fashion victims of 2016 want! Our generation's vulnerability to faddishness and materialism has rather blurred the vision towards art, craft, quality, innovation or design. The names matter more than the design of clothes now. Hence, the endless celebrity lines taking over fashion weeks. Most millenials are a bunch of wannabes who will wear a blazer with pocket square to grooming salon just because the selfie of getting a pedicure is going on the Instagram page. Millenials are a bunch of superficial dumbos to whom expensive clothes signal quality when in reality the Vetements sweatshirt priced higher than $1000 is made of polyester-cotton! Fashion victims don't understand textiles or craft for that matter. They have no individualistic identity and blindly run behind what's trending on Instagram.
At this hour, fashion cycle is at its most random & unpredictable juncture. At times when brands are reporting drop in sales figure, how did Vetements win the game? Well, they smartly identified their audience like no other brand did in recent past. Vetements acknowledged the fact that the majority of this generation slavishly follow trending styles with limited understanding of the product or fashion's commercial interest. They've tapped that market segment by placing a whopping price tag on ordinary but attention grabbing designs which make a great fodder for a trending hashtag. The success story of Vetements has exposed a generation of fashion victims out in open.