My Response To Namrata Zakaria 's Article on Indian Fashion Bloggers For Mumbai Mirror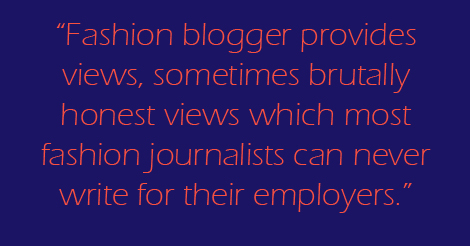 A fashion columnist and consultant, the girl with front-row invite, Namrata Zakaria penned an article titled "Virtual Realities" for Mumbai Mirror dated 8th September 2015. I was left with raised eyebrows the whole time I scrolled through the article which discussed fashion blogging phenomenon in India. As a fashion blogger and a fashion columnist myself, I decided to decode the myopic views proclaimed by the experienced fashion columnist. Red text indicates words by Namrata Zakaria.
I perceive bloggers to be those who do not or cannot get published.

As a fashion blogger who also writes fashion columns for The Hindu and on behalf of several fashion blogger friends of mine whose articles are published in various leading magazines and dailies, I say a big hello from the other side.
***

But my problem is this: Every single fashion site I've seen in India is a PR stooge.
Most fashion blogs don't copy paste press releases like several media agencies do. The fashion columnist clearly hasn't seen all fashion sites in India.
***
Fashion bloggers have to be "nice" to designers to be invited to their shows. No chance of reading a sincere point of view here.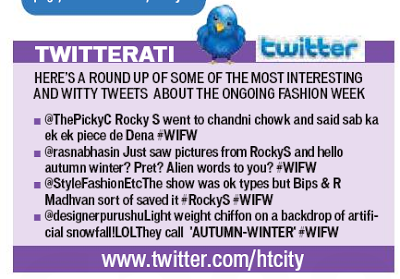 Nope, there's no need for us to lick a designer's ego to win front row passes. The image above portrays some brutally honest tweets sent live from fashion shows by fashion bloggers and later made its way in Hindustan Times. Fashion bloggers provide views, sometimes brutally honest views which fashion journalists can never write for their employers.
***
Successful bloggers have built their businesses such that you have to pay them to attend your show or event, to write about it on their blogs, and promote you via their tweets. These entrepreneurs charge you per tweet. Do you get the news you want or do they get you by your eyeballs?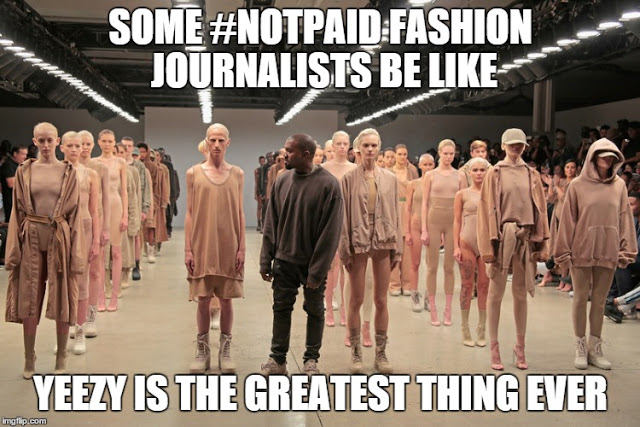 Almost all established fashion bloggers are transparent about their brand collaborations. There's lot more transparency to blogger-brand collaborations than the nepotism, high-end freebies, jazzy party invites and ad revenues which often influence what few fashion journalists publish. Some of them go on to glorify even Kanye West's Yeezy like it's the greatest thing that happened in fashion. Glorifying Karan Johar, Kangna Ranaut and Deepika Padukone, the fashion designers? What do they get in return? Selfies at parties? On flip side, a fashion blogger cannot afford to fake his/her voice which built the very readership.
***
Fashion bloggers suddenly post the new razor in town (courtesy a shaving company pay check), or a hotel and its beautiful swimming pool (courtesy a free staycation) or why Australia is the most beautiful country in the world (yes they were on a freebie junket here).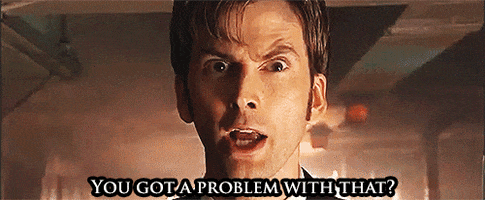 I fail to see the problem here since Namrata's very own articles fluctuate from a Raymond's store review to another on Nishka's wedding announcement. Fashion bloggers are their own boss. An editor isn't eating their brains and bloggers are free to choose what suits their financial needs as long as it doesn't affect audience behaviour.
***
They occupy front-row seats at fashion weeks in India too. Designers vie for their attention too because the world lives on Facebook and Instagram these days.


In the very same article, Namrata Zakaria also states that India is still mostly a print-reading country. We're still print-reading or live on Facebook & Instagram these days? #ConfusingAF
***
The biggest bugbear with blogs is that there are scarcely any that specialise in something. Like us journalists call "domain knowledge".



What domain knowledge is Namrata Zakaria talking about when she herself lacks one when it comes to fashion blogging in India? The biggest bugbear with her article is to claim that there are scarcely any blog that specialise in something. Those words come straight outta half-baked research.
Manou of Wearabout is a trained fashion communication student. 
Akanksha Redhu is a trained fashion designer. Image: Naina
I am a fashion design graduate from NIFT New Delhi. Roxanne of Head2Heels, Dimpy of DelhiStyleBlog, Amena of Fashionopolis and several other Indian fashion bloggers have studied/worked and specialize in fashion before choosing blogging as a platform to express themselves.
***

Tavi Gevinson and Chiara Ferragni are so popular, one has collaborated with The Gap, while the other has graced the cover of Lucky magazine.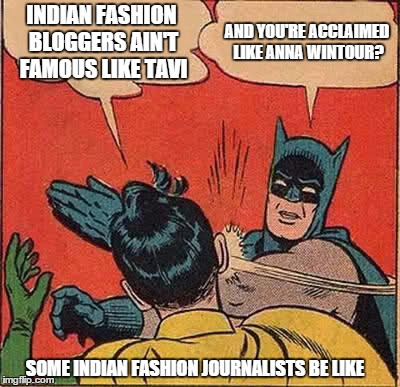 Every time an Indian fashion insider complains about lack of million-following blogs in India, my mind voice goes like… stop pretending like you are Rachel Strugatz or Grace Coddington or that your media website's stats is parallel to Vogue US or Guardian Fashion. The digital stats of Indian fashion media houses in spite of primarily focusing on Bollywood stars is no where in comparison to international counterparts. India is still an upcoming market with relatively low readership inclined towards fashion in particular. In fact, it is commendable that most Indian fashion bloggers have made a mark by focusing on just fashion, fashion designers & fashion brands over Bollywood. Even Namrata's very article for a popular newspaper website barely has the number of views or comments that articles written by few Indian fashion bloggers get.
***
What Indian bloggers lack is a point of view.
Just like how few journalists write well researched articles while others write misinformed trash, there are bloggers who have a genuine point of view and there are others who happen to lack one.