Video: Top 5 Summer Fashion Trends For Men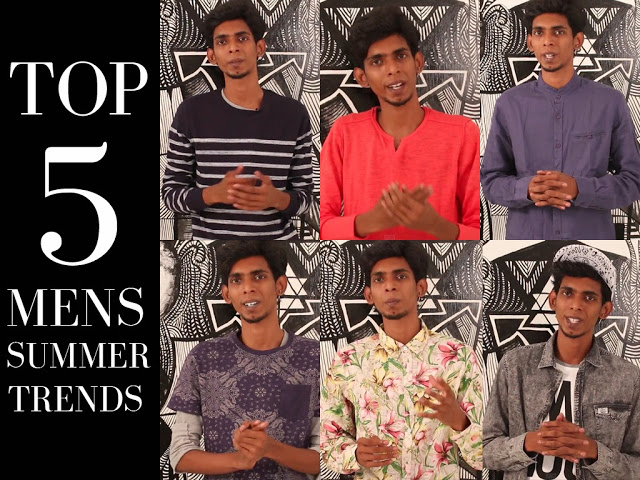 Fashion fades but style is eternal. This classic quote by Yves Saint Laurent explains why you don't need to follow trends blindly. Wear the ones that suit you. Wear the trends that you're comfortable with.
From vibrant orange hues to funky floral prints, 2015 has been a year for breaking new grounds in menswear. Here is my third video, aimed at highlighting the five key menswear trends you need to be familiar with for summer 2015. The top 5 summer fashion trends for men include – statement stripes, orange, floral prints, denim on denim and combination of navy and green.
OUTFITS
LOOK 1: Striped Jumper – Celio
LOOK 2: Orange Jumper – Celio
LOOK 3: Floral T-shirt – Celio | Floral Shirt – Flying Machine
LOOK 4: Navy Shirt – Celio | Trousers – Ruggers
LOOK 5: Denim Shirt & T-Shirt – Flying Machine
Statement Stripes
Consider opting for a thicker block-stripes or bold coloured motifs in order to bring a modern twist to this timeless pattern.
Also, it's worth remembering that different stripes will have different effects on your overall size and shape. Horizontal stripes tend to make you look wider, while vertical give an illusion of length/height. With this in mind, avoid wearing the former if you're short and stout, a gentlemen with leaner frame like myself would do well to stay away from the latter.
Double Denim
Denim on denim is a big trend for this season, a trend that most men should be comfortable in wearing. Combine denim in different colours and washes for a tough, macho and ultra modern outlook.
Orange is the new black
Bold, vibrant and bound to get attention, orange is the definitive hue for SS15.
Often considered a tricky hue to carry off, orange is best kept to one statement-making element – giving a punch to both casual and smart looks. For example, try a simple orange t-shirt with simple navy trousers.
Floral Prints
If you are among the men who think floral prints are meant only for women, then you're drastically mistaken. Floral prints are one of the most popular pattern for men this summers. Whether you prefer to stand out or blend in, finding a floral motif that fits your personal style is now easier than ever.
Green And Blue
A combination of green and blue is the hottest separates trend for summer 2015. The key to carrying off this pairing of these two masculine hues is to limit the number of other colours you add to the mix.