Links a la Mode Feature – April 30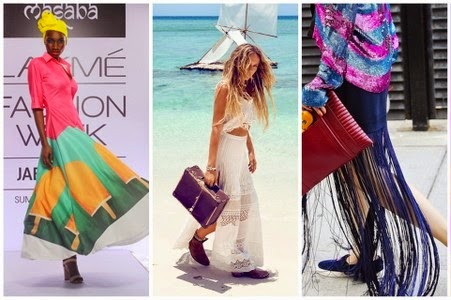 Summer Ready
IFBers are ready to bring on the heat, with posts about maxi dresses, summer vacation dressing and lighter makeup looks. Warm weather is beckoning! And as always there's plenty of variety. Read on to find out how to help in Nepal, thin your closet, become a better blogger, and lots more. Want to be included in the round up next week? Read the guidelines below and submit by next Wednesday! And if your post was chosen, don't forget to post LALM on your blog. On to the links!
Links à la Mode: April 30
Amethyst Honey: Zodiac Dresser: Aries by Moschino
Attire Club: A Fascinating List of Fashion Firsts
Beautify My Life: Taking on the Conscious Closet Challenge
Femme Violet: Queer Fashion Week
Foxy Oxie: How to Get Along With Other Women
Funky Jungle: Five Things That Helped Me Become a Better Blogger
Ginger Side of Life: Galapagos Cruise Style
Hello, Handbag: Nepal Earthquake: How to Help
Seeing Stripes: How To Remove Pilling From Sweaters
Les Assorties: Paris Je t'Aime: An Interview With Iconic French
Nicole's Lifestyle Lounge: Top Makeup Brands for Brown-Skin Girls
Purushu: Men's Summer Holiday Essentials
Rising Colors: 5 Short Hair Misconceptions
Savoir Style: Time Management Tips for Moms With Toddlers
Sheela Writes: It's a Barbie World
Splash of Teal: How to Wear a Maxi Dress When You're Petite
Style Diary by Osy: Sibling Burgundy
That Paki Blog: Complete Coverage of Pakistan Fashionweek
TLV Birdie: White + Elm Natural Skincare + Earth Day Giveaway
We Are Ready Made: The Starman
SPONSOR: Shop Style at Shopbop: Ruby Mint, Rollie shoes, Beyond Yoga, Golden Goose shoes, Line Dry, A.V. Max, Mulo, Lace Flats, Tie Neck Blouses & Metallic Pumps
Want to be featured in Links à la Mode?
1. Read the clarified rules and submit your links on this page: Links à la Mode.
2. If your link was selected and you need this week's code, visit this page: Links à la Mode Code.