Hand Painted Fashion From RangRage
Everybody is in lookout for clothes that are stylish and exclusive. It gets even better when the clothes not just offer the unique spin but also reflects your own personality. As an artist myself who spends all day making illustrations and designs, I was extremely thrilled and delighted when I received an interesting and unique pair of hand-painted jeans and sling bag from Rang Rage.
RangRage.in is an online shopping portal with a stunning array of products ranging from home-decor to accessories and apparels. But what makes them unique is that each of their products is painstakingly hand painted by an artist! The team of artists at Rang Rage comprises of housewives, art students, teachers and even film poster painters. Hand painted clothes require lot of patience to make since the design requires the artist to paint some parts, then pause so it could dry and start painting the rest again. Amazing isn't it? It's a great way to add a signature product to your personal style repertoire.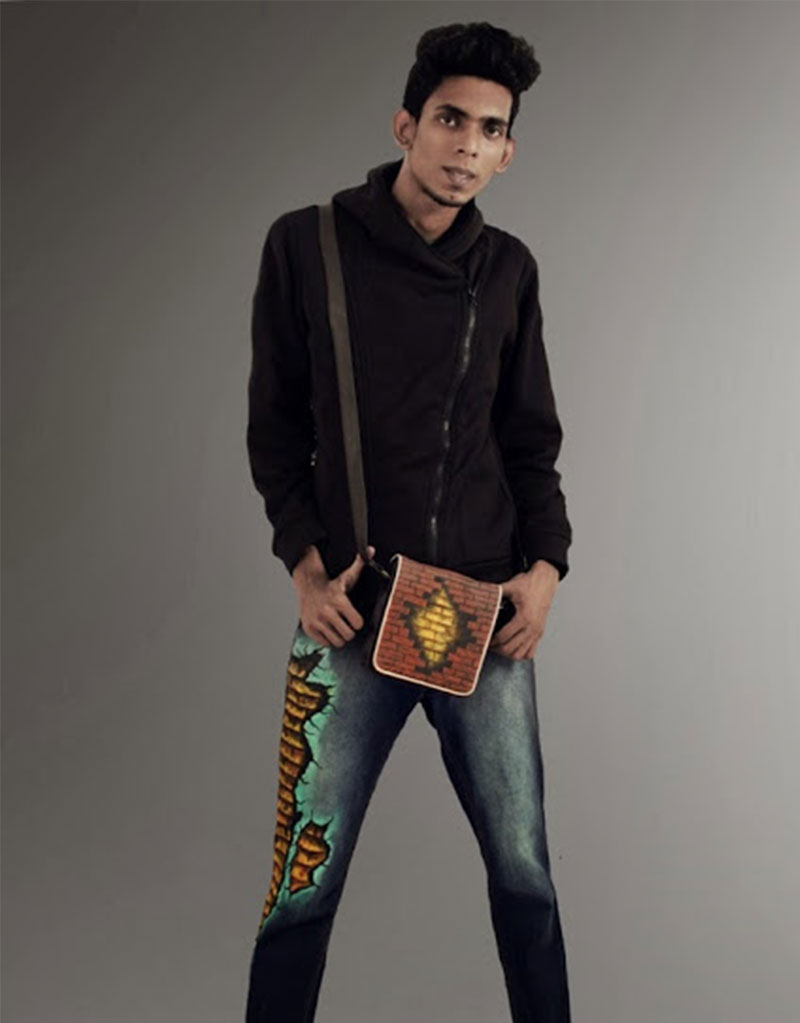 Painted by artist Palak, the denim trouser has an interesting and somewhat rebellious art depicting a torn wall in yellow and browns with cyan highlights. The sling bag, painted by artist Vibhuti, wears a rugged look, once again depicting a wall with three dimensional brick patterns in yellow and browns. Both the jeans and the sling bag, not only feature stunning and original artworks but are of fabulous quality!
It is amazing that each of these products come with a little tag that features a photograph of the artist along with a brief profile. Every time you wear one of these hand painted apparels, an unsung artist gets his/her due! My gratitude goes out to Palak & Vibhuti for the quirky artworks on the jeans and sling bag respectively.
Men's sling bag painted by 21 year old Vibhuti, a fine arts student in a fierce pursuit of finding purpose through her art. I love the depth that's happening in this artwork in particular.
Jeans painted by 24 year old Palak, a software professional whose heart dwells in brush and canvas! I was initially quite skeptical about wearing this bold and arresting artwork but changed my opinion immediately after I tried it on. The artwork really did make a remarkable difference to otherwise plain and regular denim trousers.