Links a la Mode: April 2nd Feature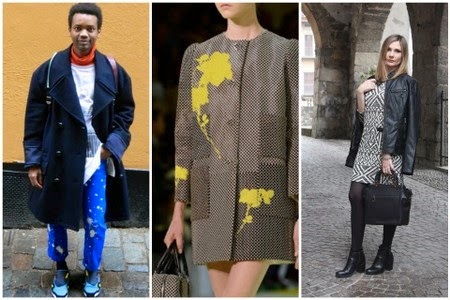 Color à la Mode
The theme for this week's Links à la Mode is COLOR. From gorgeous spring hues to monochrome in the form of leather on white to completely unexpected colored combos like gray and gold, you're in for an eye-full this week! We even have a post dedicated to the psychology of color as it relates to fashion. Oh, and don't miss the brightly-colored cat tattoo. On to the links!
Links à la Mode: April 2
Affordable: How to Groom Your Eyebrows
A Handful of Stories: Microtrend: The Bucket Hat
A La Modest: On Being Genuine
Attire Club: Color Theory and Fashion
Cat Eyes and Skinny Jeans: April Crush List
ChromoBeauty: 8 Ways You're Curling Your Hair Wrong
Funky Jungle: Five Tips for Shopping Savvy Online
Ginger Snaps: How to Dress Like Betty from Mad Men
A Glamorous Revelation: Breakfast With Bevan
Head 2 Heels: On Getting Inked, Again
Les Assorties: Paris Je T'aime: Mademoiselle Sassi
Little Luxury List: Fashion and Interiors: Gray and Gold
Purushu Arie: 7 Summer Holiday Outfits
Storybook Apothecary: 10 Brands That Prove Green Beauty Isn't Just for Crazy Hippies
Style Bizarre: Minimal Alternative Clothing
The Fashion Barbie: How to Not Look Like a Festival Cliché
The Outfit Repeater: 20+ Ways to Collaborate With Fashion Bloggers and Brands
TLV Birdie: Natural Skincare Splurge
Trends VIP: The It Bag—Worship Beyond Reason
We Are Ready Made: Hej Stockholm!
SPONSOR: Shopbop: Black Flats, Halter Dresses, and Black Wedges, Lace Ups, Lace Blouses, Black Maxi Dresses, Jelly Flats, Sperry & French Trotters