Fashion Illustrations – Oscars 2015 Red Carpet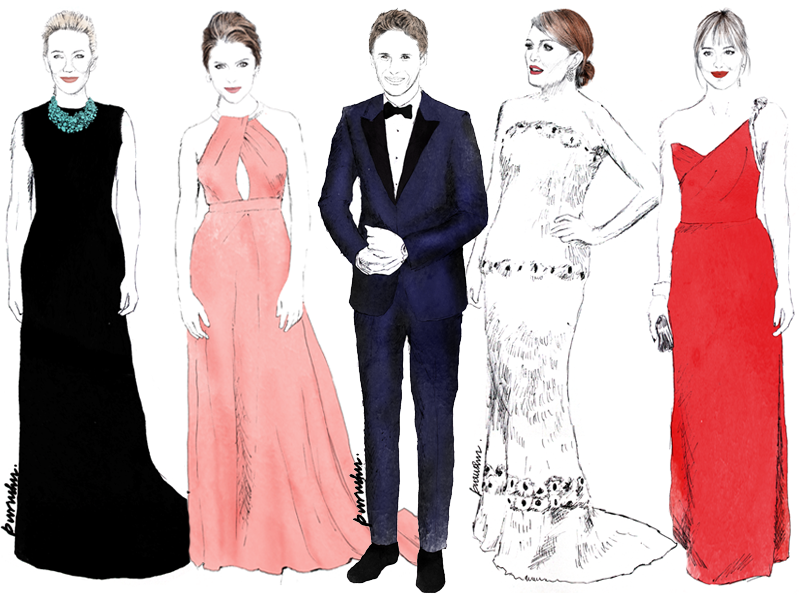 From some of the most inspirational speeches to biggest surprises (how many guessed that Boyhood would lose?), 87th Academy Awards had plenty to offer. In contrary to popular (and harsh) disapproval, Neil Patrick Harris did quite a decent job as host. Lady Gaga gave one of her finest performances ever. The Oscars 2015 red carpet also offered some experimental sartorial statements. Hollywood stars didn't go all safe with regular Cinederella gowns and instead played up a little in terms of details. Whites and pale shades clearly dominated the red carpet. Lady Gaga wore white gown with bold red rubber gloves. Lupita Nyong'o walked the red carpet with 6000 pearls adorning her body. Cate Blanchett went all simple to make one of the most striking statements of the evening. Eddie Redmayne emerged as sartorially the most dominating man at Oscars red carpet. Here are fashion illustrations of some of my favourite looks from Oscars 2015 red carpet.
ANNA KENDRICK
Anna Kendrick looked gorgeous in a salmon Thakoon dress with jewelled neckline. The beautiful dress was styled to perfection with dark eye makeup and pale lips.
P.S. Khloe Kardashian? Who?
CATE BLANCHETT
Cate Blanchett worked out a very simple accessory trick to pull of a simple yet striking statement at Oscars 2015 red carpet. In contrast to the expensive outfit she wore last year, the Australian star chose a minimal black gown designed by John Galliano for Maison Margiela. The statement turquoise necklace and minimal make up flawlessly completed her look.
DAKOTA JOHNSON
The Fifty Shades of Grey star, Dakota Johnson walked the Oscars 2015 red carpet in a stunning red Saint Laurent dress with metallic roped strap and thigh high side slit. Dakota's hair and makeup complimented her look. Unfortunately, the super awkward interview with her mom became the talking point.
EDDIE REDMAYNE
Eddie Redmayne who won the Best Actor award for his performance in The Theory of Everything, was also sartorially the most influential man on Oscars 2015 red carpet. Eddie personified the quintessential English look in a modern & youthful manner in a midnight blue Alexander McQueen tuxedo and bow tie along with his dimpled grin and endearing goofy attitude.
GWYNETH PALTROW
Gwyneth Paltrow gave us a deja-vu moment by opting a Ralph & Russo dress in pale baby pink, a colour she previously wore in 1999. The dress with giant rosette detail on shoulder was paired with ruby earrings.
JULIANNE MOORE
Julianne Moore, this year's Oscar award winner for Best Actress in Still Alice looked elegant in an appliqué white Chanel gown with linear floral details.
LADY GAGA
Lady Gaga was all about power dressing in textured white gown with a hint of romanticism in red (Ahh.. marriage on cards.) The shimmering Azzedine Alaia creation with exaggerated power shoulders was paired with bold red rubber gloves. In my opinion, Gaga's look clearly stood out as the winner at Oscars 2015 red carpet. What do you think?
LUPITA NYONG'O
Lupita Nyong'o extended her sartorial dominance this year at Oscars red carpet in a stunning white custom made Calvin Klein pearl dress. The streamline dress featured halter neck with key-hole cut and a whopping 6000 pearls that were intricately beaded vertically.
NAOMI WATTS
Birdman star Naomi Watts who had previously received two Oscars nominations, sported a metallic look in embellished Armani gown in black and silver. While Naomi looked stunning at Oscars 2015 red carpet she also admitted to starving herself prior to the Hollywood glory night. What's your say? Promoting unhealthy food habits or it's a personal choice that she's entitled to?