Beyond Penis And Nudity – Rick Owens Menswear AW2015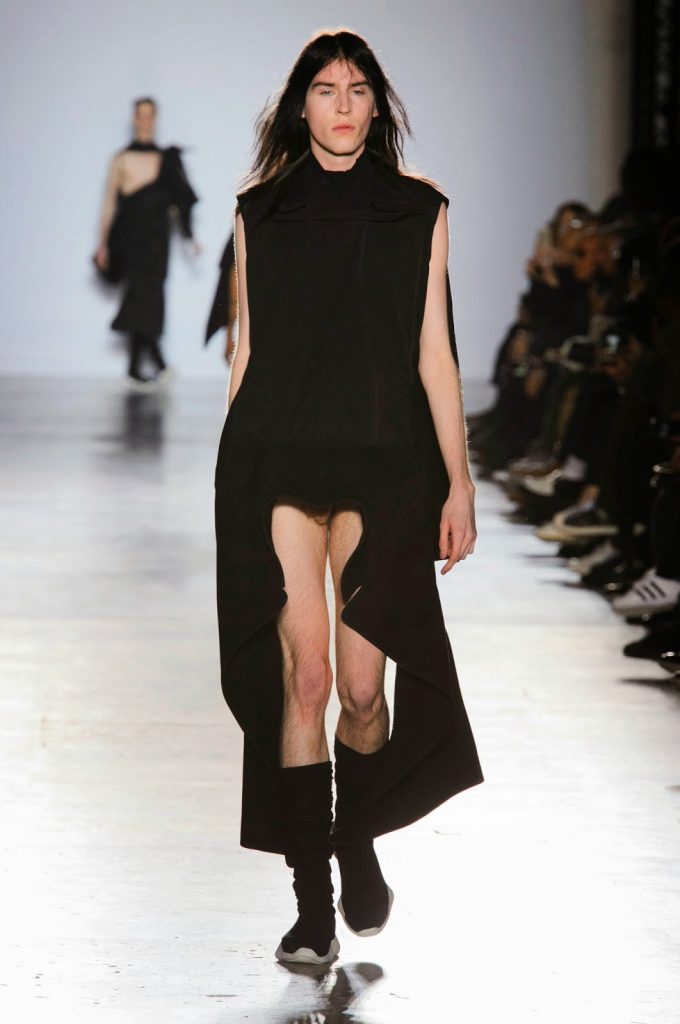 Rick Owens AW2015
It is said that the less you say, the more people will listen, given that you say. Likewise, the less it shows, the more people will see, given it shows. When Rick Owens surprised us with garments revealing hint of penis at his menswear show in Paris, it raised the eyebrows of the entire fashion fraternity who aren't any strangers to naked breasts, exposed bottoms and nipples. Social media called him Dick Owens with #DickOwens trending in Twitter and Instagram. Some discussed about who'll be the first celebrity to wear the poncho like garment with glory hole cut out. Penises were never really the point of the show but then it was one of fashion's first and quite evidently became the talking point. Rick Owens went balls out, made the most provocative statement of the season, broke taboos associated with male nudity and radicalized menswear!
May be the crotch went uncovered on few occasions but Rick Owens otherwise covered the body beautifully in heavily deconstructed garments. For those of you who are suckers for deconstructed outfits like I am, it's an absolute delight to have Rick Owens enthrall us with unusual forms and seam lines just few weeks after John Galliano played with rawness of deconstruction for Maison Margiela artisanal collection.
A black peacoat with shorts over leggings opened the show followed by woollen duffle coat featuring splatter like pattern. Heavy cable knit body suits and hand woven Berber blankets that were beautifully transformed into coats with artistic twist at the back had Rick Owen's trademark dark neo-gothic aesthetics. Rick Owens went on to turn his garments sideways, slantways and finally upside-down with the neck holes gathered down around the crotch area, revealing the model's manhood assets. Some of these body-defying silhouettes had metallic chimes like elements which are (possibly?) adding spiritual aspects to the mysteriously twisted robes. Structured and boxy outerwear with heavy padding concluded the collection range that pushes boundaries, celebrates creativity, challenges taboos associated with male nudity and eventually got everybody talking!
RICK OWENS MENSWEAR AUTUMN/WINTER 2015 – TOP 10 LOOKS