Notes From A 20-Something Year Old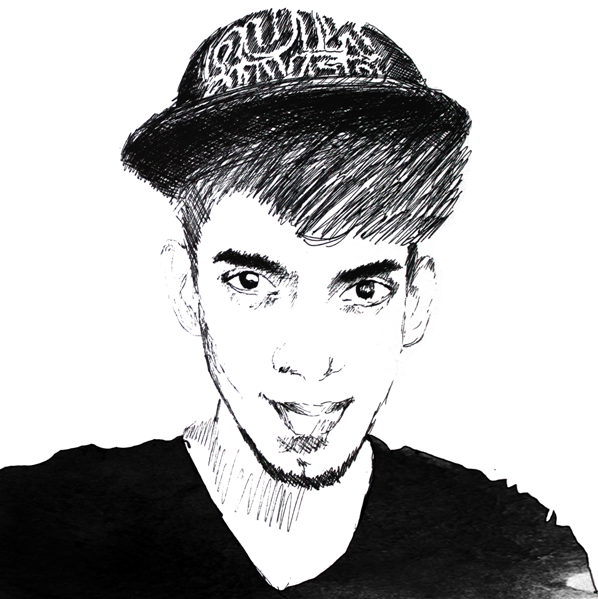 Self Portrait | Pen Illustration
'I will be what I will be – and I am now what I am. Here is where I will devote my energy. My power is with me, not with tomorrow.'


I had partially written my assessments on 2014 back in December and don't really have the clichéd new-year-new-me rants to recapitulate. The brevity being that it's your actions that propel new beginnings than a particular date in calendar. It takes lot more courage to change yourself than turn the calendar to a new page. However, the New Year comes with yesterday's errors and regrets which carry message of hope for today. Like it or not, we are creatures of hope and we celebrate the New Year for what it offers – HOPE.
I take this opportunity to wish all my readers, PR friends and brands a very happy and prosperous New Year.
What the new year brings to you will depend a great deal on what you bring to the new year. Here are 20 notes to 20-something self that I carried on from the year that was.
It's your family members who'll stand by and offer support even when entire universe turned its back on you.
Avoid having misplaced expectations to reduce unnecessary frustration. Unrealistic expectations of how something should be will eventually disappoint you. Lesser the expectations that you have from others, the more peace of mind that you enjoy.
This is the age when you can make most of your energy. It's important to work HARD, even more important to work SMART. You may not have the money right now, but utilise your time and energy smartly.
Eat healthy.
Don't indulge in excess. Be it fags, alcohol, drugs, food, people et al.
Minimize expenditure concerned with material possessions. Instead spend on experiences and knowledge. Travel more and expose yourself to different people, cultures and experiences.
Find what you love & let it kill you.
Earning just enough to pay your basic necessities and have respectable savings by doing something you really like doing will keep you happier than earning a bomb while you're struck in a job/atmosphere that you hate.
Don't live the same routine for next 30 years. Do not get comfortable with you routine. Keep rolling. Ask yourself about what's the last thing you did for the first time.
Jot down your fleeting thoughts and other alternative perspectives in a diary or at least in a phone app.
Accept that nobody is perfect. You are not perfect. Nothing will be perfect. Nothing you do will be perfect. Learn to accept imperfections.
Don't judge others & do not let other's judgements affect you. You cannot please everyone and neither can everybody please you. You are answerable to your own conscience more than anybody else. Live and let live.
Being right is not the goal. Make errors. Errors of assessments, errors of hope, errors of despair, errors of optimism, errors of pessimism. Errors that makes you more human. Errors that teach you what's right.
DO NOT FOLLOW YOUR HEART BLINDLY, especially at times when you're emotionally vulnerable. Your mind does rationalize your fears or other people's behaviour towards you while the heart wants what it wants. You feel as well as think a certain way for a reason. Grow up and learn to make wise decisions that your heart and mind agrees in unison.
Keep drama away from you. If an adult can't be reasonable and mature enough to handle themselves, avoid the person.
Everyone says love hurts. It doesn't. Rejection hurts. Losing someone hurts. Loneliness hurts. It's not to be confused with love. Love is just endorphin flow. Spread love. You need it. I need it. The world needs it.
Nothing is permanent. The world is transient. Sometimes you are the statue, other times you are the bird. Don't get too comfortable with anything and prepare yourself to deal with unexpected and sour goodbyes.
A warm cuddle evokes the purest of emotions that love can educe.
Happiness comes from within. You can either appreciate the moment for what it is, take responsibility and work towards a change, or endlessly rant about how your life sucks. Life is what's happening to you while you're busy making other plans.
Be genuine, polite and kind. Happiness is contagious. Being the reason for somebody to cherish itself gives you a reason to cherish.
Links à la Mode Feature: January 1st
On that note, I stepped into 2015 on a positive note by getting featured in IFB Links a la Mode. Check out the 20 best articles of the week.
SPONSOR: East Dane House of Holland, Fendi Sun, Time's Arrow, Keepsake, One Pieces , Tigerlily swim, Ferragamo Pumps, Ferragni, Sonix, Monday clothing & Veronica Beard
Want to be featured in Links à la Mode?
1. Read the clarified rules and submit your links on this page: Links à la Mode.
2. If your link was selected and you need this week's code, visit this page: Links à la Mode Code.