Significance of Celine Ad Campagin starring 80yrs old Joan Didion
Fashion glossies are generally packed with young and skinny models, relatively old but photoshopped-to-look-young supermodels and darlings of reality television who are again young and often photoshopped to look skinny. It seems like old ladies are finally having their moment as 80yrs old literary prodigy Joan Didion adorned Celine's latest ad campaign dressed in black sweater, large sunglasses and her trademark too-cool-to-care charm. Joan Didion dominated the social media and (possibly) broke the internet drawing approval in a way that Kim Kardashian never will. So what does Phoebe Philo's decision to feature Joan Didion in Celine ad campaign signify?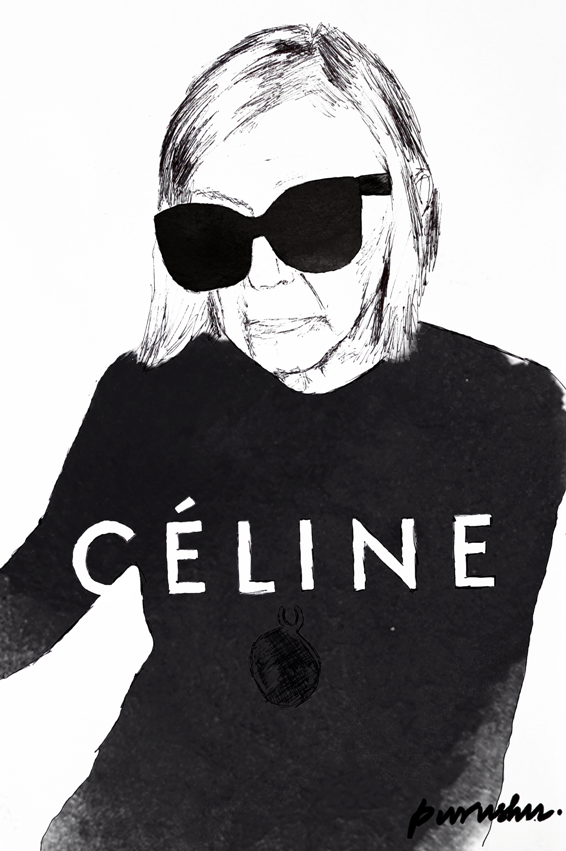 Joan Didion for Celine | Pen illustration by Purushu Arie
SHIFT IN PORTRAYAL OF AGEING
The most obvious observation is the shift in portrayal of ageing in fashion which also signifies a change in social attitude and treatment towards elderly people. Casting Joan Didion, whose age is almost the same as the combined age of Jourdan Dunn, Kendall Jenner, Cara Delevingne and Karlie Kloss is refreshingly unconventional for an industry which finally seems to have grasped the fact that women don't give up shopping the moment they turn 40. Apart from Joan Didion, 71yrs old Joni Mitchell has starred in Saint Lauren ad campaign. Diane Keaton and Helen Mirren, both in late 60s appeared in L'Oreal ads. 64yrs old Jessica Lange was the muse of Marc Jacobs in 2014. Ari Seth Cohen of Advanced Style chronicled the style of senior citizens to fire up the revolution in cyberspace which is slowly being adopted on a broader spectrum. It is indeed a very progressive to start 2015 by welcoming older ladies who're ageing gracefully!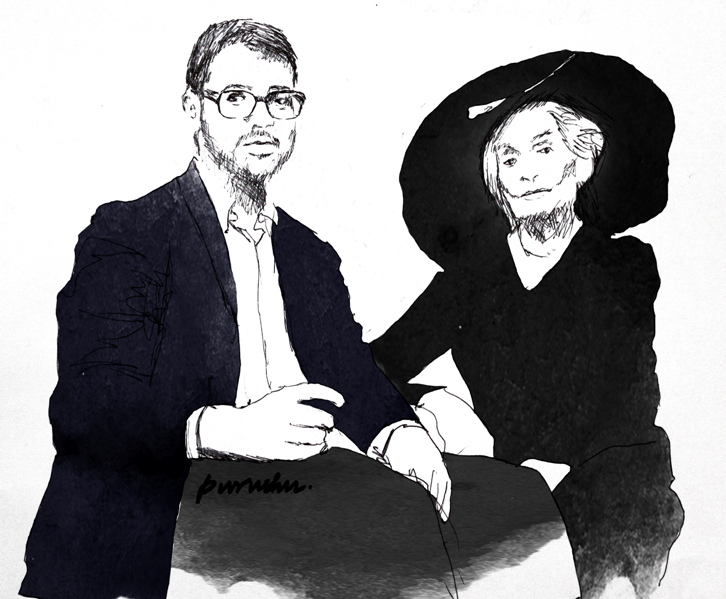 Ari Seth Cohen of Advanced Style | Pen illustration by Purushu Arie
EQUATES BRAINS WITH BEAUTY
What's as interesting as Joan Didion's age is her status as an acclaimed and bestselling author. Phoebe Philo has sent out a clear message to the industry where you can get away by insulting one's brain but not the outlook. Having a book in your oversized tote is probably just as important as carrying a moisturizer.
NOT AFRAID OF SO-CALLED-FLAWS
At times when even a young
Justin Bieber is photoshopped
for CK's new ad campaign in order to come across as an object of sexual desire, Joan Didion looks elegant in a photoshop-and-make-up-free look, flat combed hair and wrinkles which is
probably not pretty
, but definitely beautiful. The ad embraces the notion of increased willingness to embrace wrinkles, spots and imperfections which only makes us more human. After all, beautiful hair may also come in shades of grey. The irony being that the ad will probably find its way in a fashion magazine, which in one of its pages will also feature a hair-dying product which will promise natural black shine instead of grey!
ADS ARE TARGETED AT SOCIAL MEDIA
All said and done, lets face it… Why would anyone aspire to become old and welcome wrinkles like Joan does in the ad? Or may be the whole purpose of the ad campaign is to celebrate ageing, intellect and natural beauty to derive inspiration more than aspiration and more importantly grab attention in the process. The image is striking, headline-grabbing and Tumblr-perfect! Apart from adorning the glossy pages of a fashion magazine, an increasing number of advertisements are smarly aimed at viral marketing and Celine spring/summer 2015 ad campaign is the latest addition.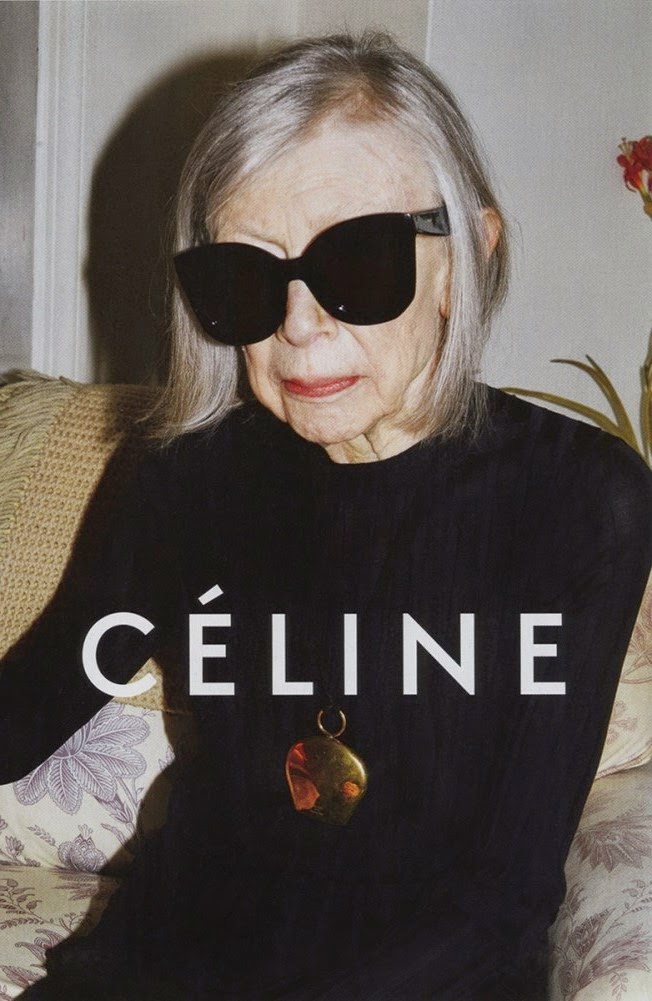 Celine spring/summer 2015 ad campagin