Illustrations – Favourite Looks Lakme Fashion Week Winter/Festive 2014
While there are many looks seen on ramp which tries too hard and is still often lost among the several others trying too hard, there are other few looks which may or may not try too hard and yet stands out and commands attention. These runway looks stand as testimony to your memory of fact that you've even attended the fashion week. When the subject of a particular fashion week pops into discussion, these are the very first looks that immediately hits your mind. Here are illustrations of some of such looks from Lakme Fashion Week Winter/Festive 2014 that still remains my favourite.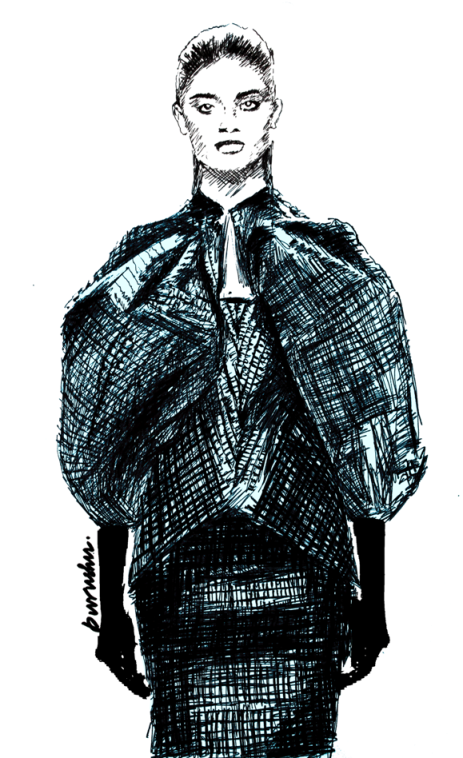 AMIT AGGARWAL: Amit's futuristic interpretation of a bride resulted in structured garments which appeared more like moulded than worn. I have always been in awe of Amit Aggarwal's shape defying forms and his collection in Lakme Fashion Week Winter/Festive 2014 incorporated tribal influences amalgamating androgyny with femininity.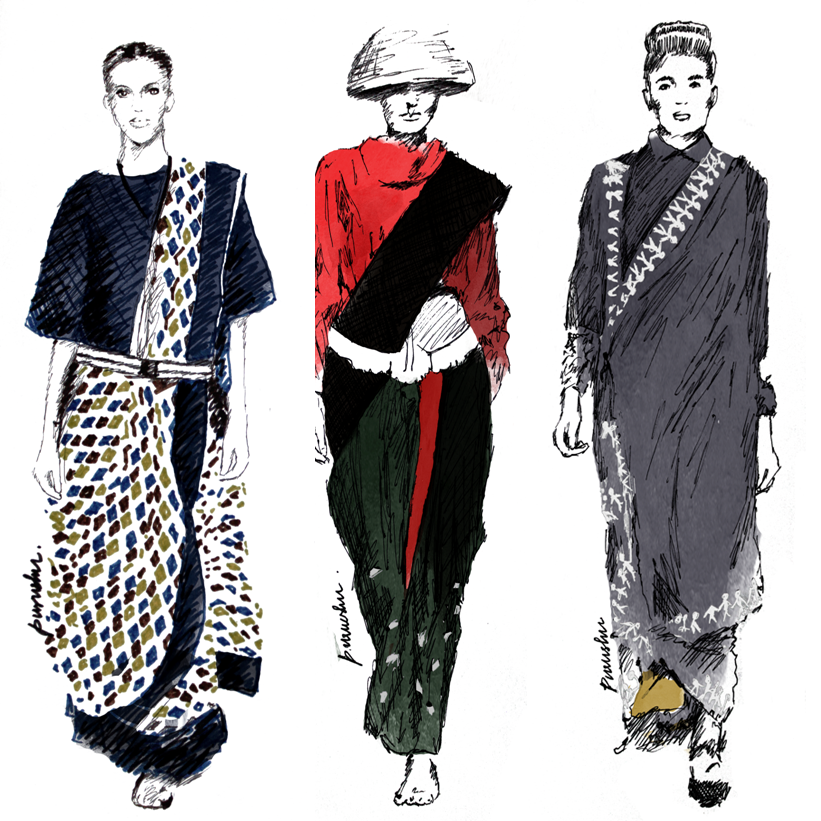 (From Left to Right) Anavila Mishra, Rouka by Sreejith Jeevan and ILK by Shikha & Vinita
ANAVILA MISHRA: Anavila's hand-woven ensembles that she showcased in her debut, a season ago at Lakme Fashion Week Spring/Summer 2014 left a lasting impression that I was eagerly looking forward to her Winter/Festive 2015 showing. For her latest runway show, the designer showcased rustic saris featuring ajrak printing along with over-dyeing and printing techniques on handloom linen, cotton and silk. Her styles were modern yet modest with rustic rural influences.
ROUKA by SREEJITH JEEVAN: Lakme Fashion Week has played an instrumental role in introducing young and talented designers to Indian fashion industry and Sreejith is one of the latest addition. His scintillating collection titled 'Strung Together' was inspired from the garland makers in South India. What really stood out for me was the way quirky methods that were used to translate the theme into garments – floral basket transformed into a headgear, a gathered frill around the neckline like a garland, illustrations made out of embroidery and gathers depicting a strung floral garland.
ILK by SHIKHA & VINITA: The charcoal saree ensemble from the house of ILK by Shikha & Vinita features holding hand prints which was the central theme of the collection signifying the need to cement relationships, shun societal norms and, instead, adopt love and unity for all.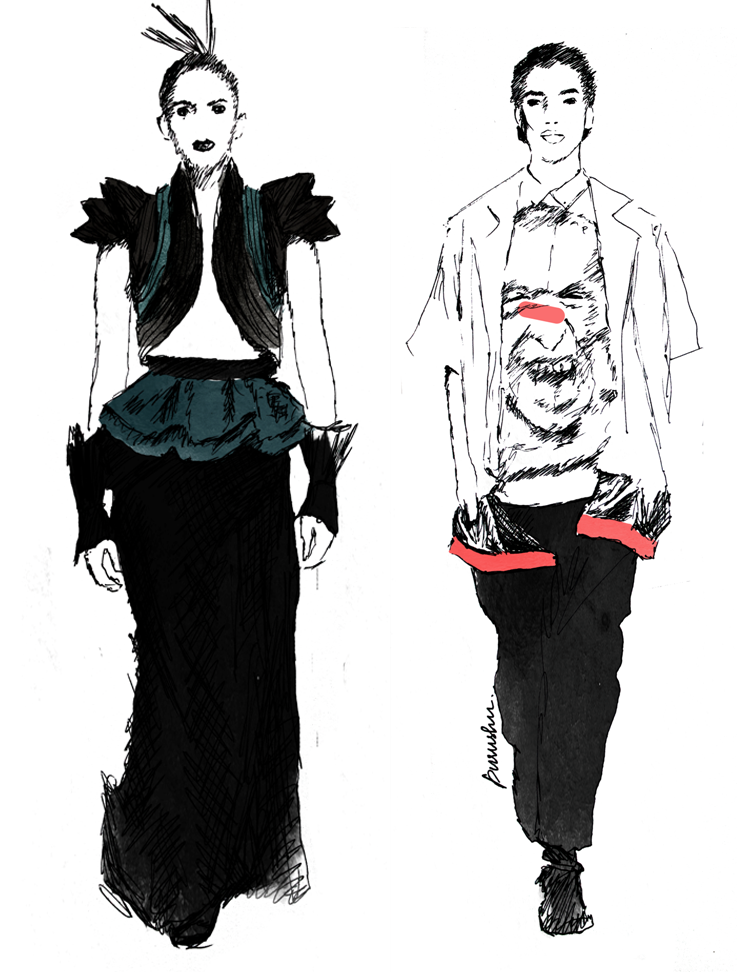 Asa Kazingmei and Huemn by Pranav Mishra & Shyama Shetty
ASA KAZINGMEI: Asa Kazingmei's collection titled 'chanvei' drew inspiration from the shield of a naga warrior. Asa Kazingmei used textures, rivets, leather and multiple panelling to bring out the toughness and an angst against chaos to fight back. The entire collection in black depicted a chaotic journey while the showstopper draped in white portrayed the ultimate destination.
HUEMN by PRANAV MISHRA & SHYAMA SHETTY: Huemn's style are clinical, contemporary, young and bang on trend. The show was androgyny meets sport-luxe inspired styling at its best among Indian runways. Leather/vinyl textures and pop tones sprang into life in neutral base palette. This monochrome ensemble with a pop of vermilion teamed with printed shirt is my personal favourite.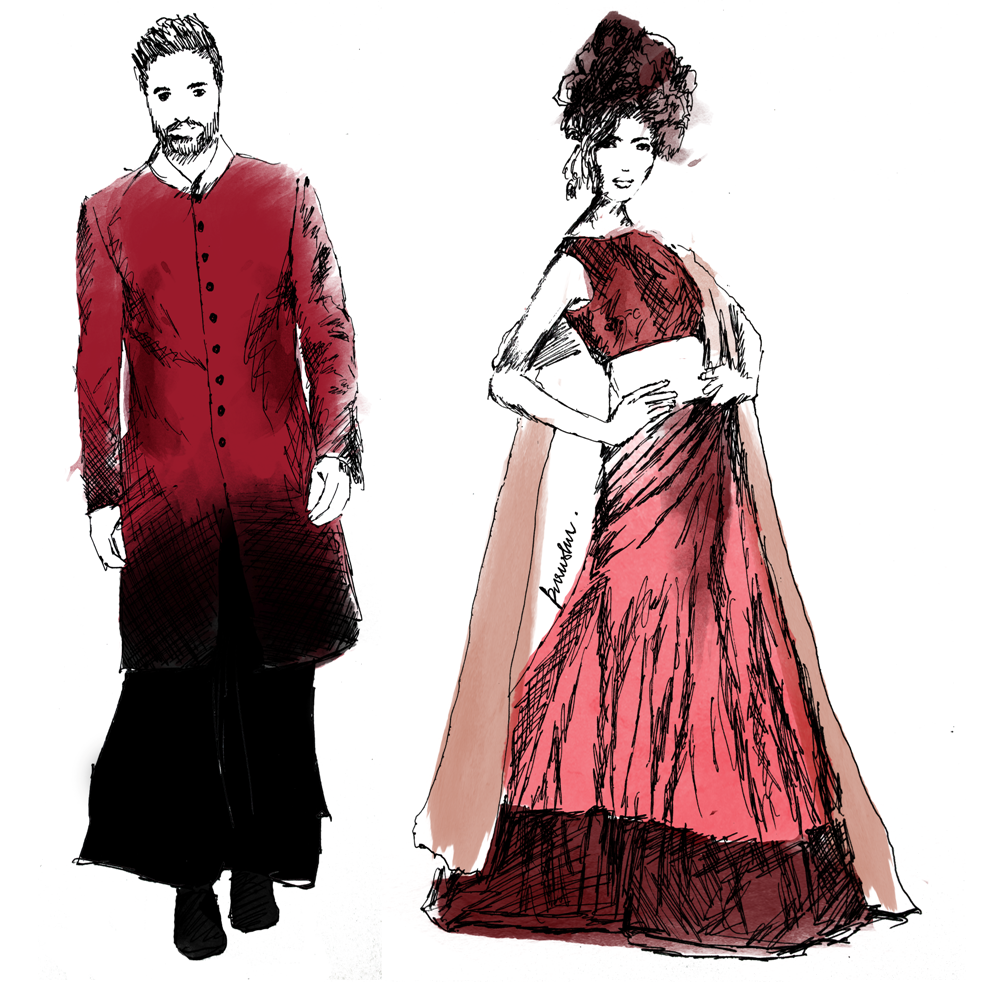 The list concludes with evening looks: an ombre dyed ensemble by Shantanu & Nikhil and wine hue lenenga-blouse combination by Manish Malhotra.