Easy & Practical New Year Eve Party Style Guide
Cash in on these sartorial ideas for stylish New Year's Eve party. Illustrations by Purushu Arie.

From the big night out with friends to formal office party, New Year's Eve festivity guarantees several opportunities to hang out and socialize. These varied events require different variety of looks to suit the instance. From looking preppy best in a casual night out with friends, to fairly formal cocktail parties, read on for handy style advice for every party occasion.
CASUAL HOUSE PARTY
Beginning the New Year with a beer in your friend's couch isn't really calling for extravagant sartorial feats. While starting the New Year with booze and best buds itself never goes out of style, you can bring along a bit of class with your preppy vibe.
FOR HER:
If you ever had reservations about rocking a maxi dress, an upscale occasion like New Year's Eve party is a perfect opportunity to sport a floor length style. The key to looking bang on trend is to experiment with patterns. Try out quirky stripes, floral motifs or even animal prints if you are particularly daring. Avoid rioting colours and keep the look under-saturated to suit the occasion. Matching the maxi dress with bold accessories will add spark to the look.
FOR HIM:
One of the easiest way out to pull off a party look is by jazzing up your everyday dressing attire with statement accessories. A little colour never hurt the eye as long as you keep it mellow. Sport a preppy belt and scarf with well-fitted grey textured shirt and tapered navy trousers. Complete the look with leather chukka shoes to leave a lasting impression on New Year's Eve.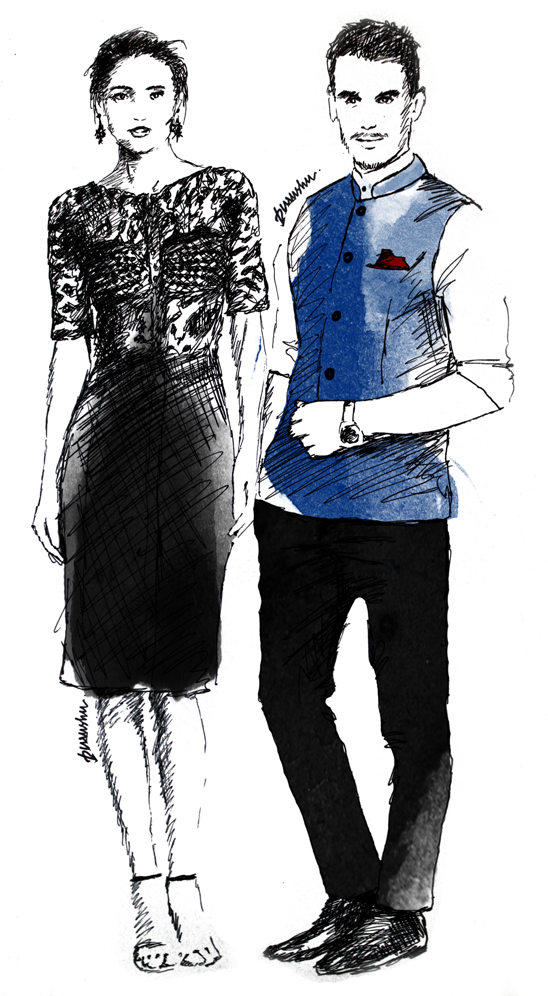 FORMAL EVENT
Classic occasions like a formal cocktail party or office bash requires a bit of panache while still adhering to a possible dress code. However there is always a room to slightly bend the rules and smartly avoid the party dressing clichés.
FOR HER:
Playing with sheer-or-opaque look by opting for lace is an effortless way to revive a LBD outlook. Lace fabrics are still dominating the trend cycle and make a perfect choice for anyone who wants to cover up the top of their arms. You don't have to stick to black either and alternatively opt for jewel tones of ruby, emerald and teal. Matching the lace dress with snakeskin clutch and statement jewellery will add fierce to the outlook.
FOR HIM:
Instead of repeating your regular blazer, get creative and opt for a well fitted Nehru jacket to make heads turn with your charismatic arrival. Keep the shirt and trousers toned down in monochromatic hues and let your Nehru jacket do the talking. Don't shy away from getting a little playful with colours to add vibrancy to your NYE party. A neatly folded handkerchief and polished shoes will be suggestive of your good manners.
CLUBS & BARS
The countdown by dazzling disco ball has to be the most anticipated moment of the night. It's all about being looking your sexy best and still comfortably shaking a leg as your groove on the dance floor. NYE parties come with plenty of possibilities for post-midnight plans and a safe bet will be to sport versatile styles.
FOR HER:
Some things are simply meant to be: bread and butter, Brad and Angie, sparkle and New Year's Eve. The night is all about getting gilded. A shimmery ensemble that leaves you extra fabulous is the secret weapon to a successful night. A sequin dress is an obvious choice but a pair of sequined pants or jumpsuit is not just unexpected but will also save you from the hassles of accessorizing. What else? You can comfortably hop around the bar and dance your way off like tomorrow doesn't exist while the DJ plays Chandelier!
FOR HIM:
A pop of colour will help you stylishly get into the festive spirit this season. Wear a burgundy or maroon bomber jacket that are not just festive, but versatile enough that you can still wear them long after you've attended the party. Pair it with a monochrome slim fit polka dot shirt and black tapered trousers to ensure that the hues don't clash. Complete the look with black wayfarers and oxfords for a sleek and sharp outlook.