Illustration – Rajinikanth in Lingaa | Happy Birthday Thalaivaa!
The madness begins! Lingaa hits the screens on 12-12-2014 as Superstar Rajinikanth celebrates his 64th birthday. If I ever happen to meet Nikhaar Dhawan (who styled Thalaivar in Lingaa), I'd give her a BIG hi-five for giving him a look that effortlessly packs a panache.
I am currently super excited to have tickets booked for first day first show.
HAPPY BIRTHDAY THALAIVAAA! LONG LIVE RAJINIKANTH!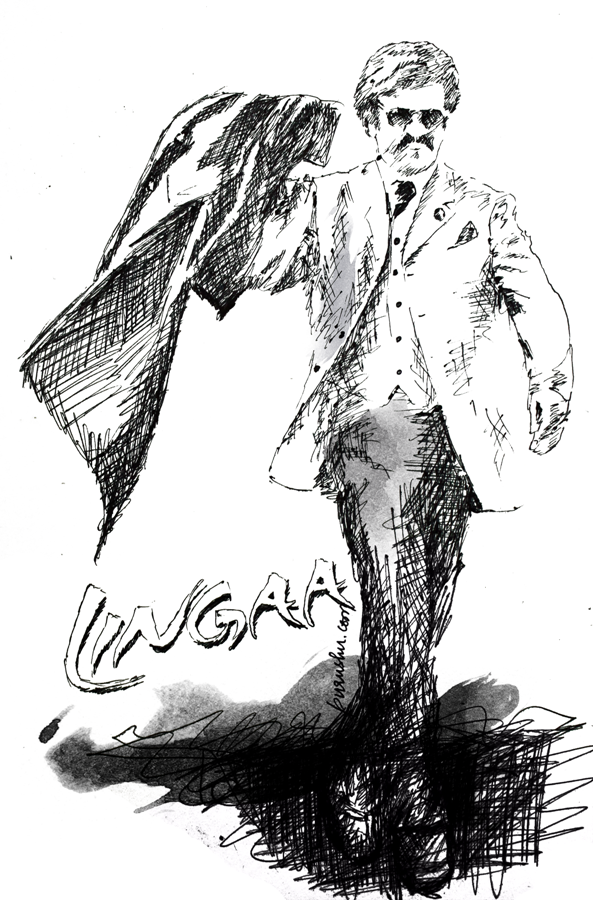 AND SOME LIVE TWEETS FROM LINGAA FDFS
"Vaazhkai la edhum easy Ella, muyachi panna edhum kashtam Ella" #punch #lingaa #lingaafdfs @RajiniFC #rajinikanth
— Purushu Arie (@purushuarie) December 12, 2014
Thalaivar entry set in 1939 reading Joseph Campbell! (Not sure bt guess the book released much later :P) Oly Rajini can do it. #LingaaFDFS
— Purushu Arie (@purushuarie) December 12, 2014
Thalaivar cuts birthday cake on screen on 12-12-14! Epic moment! #lingaa #lingaafdfs
— Purushu Arie (@purushuarie) December 12, 2014
Dams cant b built overnight bt definitely over a song in Indian films 😀 & u enjoy wen it's ARR's powerful voice & beats #Lingaa #LingaaFDFS
— Purushu Arie (@purushuarie) December 12, 2014
@sonakshisinha is terrific in her 1st Tamil film. Given her expressions no1'll believe that she dsnt know the language #lingaa #lingaafdfs

— Purushu Arie (@purushuarie) December 12, 2014
OMG! I want a #Lingaa pen drive! #LingaaFDFS Theri(fic)
— Purushu Arie (@purushuarie) December 12, 2014
Lengthy but worth watching especially fr thalaivar who still doesn't fail to entertain at 64! Long live #Rajinikanth #Lingaa #LingaaFDFS
— Purushu Arie (@purushuarie) December 12, 2014
I finish watching the film & stop by coffee stall. Every1 in groups are discussing abt #Lingaa , dam & #Rajinikanth of course. #LingaaFever
— Purushu Arie (@purushuarie) December 12, 2014
Trivia: All elephants in #Lingaa are computer generated! How many cud guess? #lingaafever #happybirthdaythalaiva @lingafdfs
— Purushu Arie (@purushuarie) December 12, 2014
AND THIS ONE SUMS UP MY VIEWS ON LINGAA
Lingaa little longaa but DAM good. Super engaging social/period drama despite the length. Superstar rocks it with sheer presence. Thalaivaa!
— Sudhish Kamath (@SudhishKamath) December 12, 2014