Why I Support John Galliano's Return
The fashion industry has once again come under scanner on moral grounds and perhaps judged for being immoral as greatest undisputed talents of all time, fashion designer John Galliano is set to make a comeback three years after his trial for anti-Semitic remarks.
Fashion bloggers took on internet to express their divided opinion when it was announced that John Galliano would return at the creative helm of Maison Martin Margiela. One of the first things I did on hearing about John Galliano's comeback was to make an illustration – my way of celebrating the return of a man whose creative explorations had no boundaries.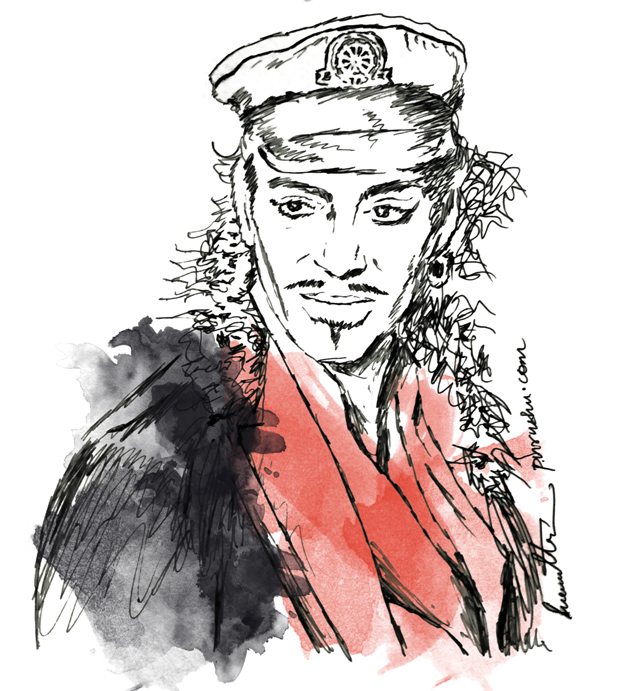 John Galliano illustration by Purushu Arie | Medium: Pen
I have been outspoken about my support for John Galliano's possible comeback even three years ago, immediately after his expulsion from the house of Dior in an article titled, '
To err is human, to forgive is divine
'. John Galliano paid the price for his mistake and has approached new beginnings after making amends. He was respected not just for the subversive talent but his integrity towards work and is set to re-emerge in the fashion world with a healthier mind and body. I am delighted to learn about his comeback at a time when fashion is having a dull moment.
FANTASY IN FASHION IS DEAD
Yes, you heard that. Fashion is having a deadly dull moment. The fantasy is dead. The dreams are dead. Couture is dead. No fashion magazine will write about it in any of their glossy pages and offend any insider since fashion involves money and you ought to glorify even the dullest of roadblocks that fashion hits. Hence, I might as well say it loud…. FANTASY IN FASHION IS DEAD.
I looked through major runway collections couple of months ago and could not help but get the feeling that I saw what I had already seen in the past. Boring, to be brutally honest. The direction lacked progression as creativity was controlled and designs lacked confidence, shouting out loud – BUY ME, BUY ME. I immediately posted an update in my Facebook page and Twitter stating that, "Demise of Lee McQueen cast an eclipse on fantasy in fashion. The fantasy got expelled with John Galliano. Paid red carpet is further killing it….The fantasy is just breathing at Comme des Garcons and Viktor & Rolf runway."
All the high fashion that you see now is a parade of half naked women clad in oodles of shimmer and see-thru mesh at red carpet – plain glamour that clearly lacks fantasy. Of course, fashion has taken a more refined and wearable direction than ever before but where are we headed to from here? Things have been in standstill for quite some time now and the industry is begging for a facelift from a revolutionary force to shake things up. Raf was a revolutionary force three years ago when he gave Dior a modern makeover with his interpretations of future. Alexander Wang is being an instrumental force now. That's what fashion needs, a constant revival. At this hour, fashion needs designs that evoke an emotion, a push. Fashion needs John Galliano.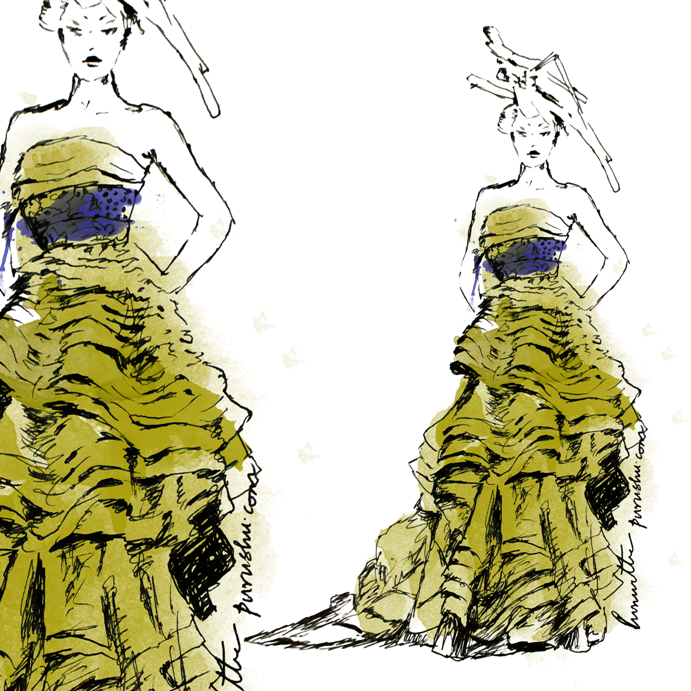 Illustration by Purushu Arie | Medium: Pen
One might argue that John Galliano, a man who deals with dreams and fantasy will not fit in at a label like Margiela which is about space, structure and classic tailoring. It pretty much sounds like asking Salvador Dali to do what Picasso does. But the answer probably lies in the very comparison. A designer might approach fashion as a form of art but a designer is never completely an artist. An artist has no limitations and is free to do what he does while a designer is clearly bound by functional and commercial limitations. Galliano had a successful stint at Dior where he took the label in a new and extravagant direction while still retaining the brand's heritage. May be we should just wait for Galliano's creations at Margiela to do the answering. Galliano is a changed man and his perspective on the industry has changed. Fashion industry is set for a much needed change.
The fashion industry isn't any stranger to criticism on moral high grounds. Accounted for being an instrumental device of capitalism, fashion industry has been targeted for a variety of issues like excessive consumption, exploiting developing-world, promoting unhealthy eating habits and so on. The industry has developed a thick skin toward the criticism, often carries a burden of guilt and has most importantly taken responsibility when it required. It is tough being in fashion these days and the industry has only gotten tougher and defensive with pouring criticism everyday. In this case of John Galliano's return, those who acknowledge his talent will be happy to have him back in the fashion world and those who aren't happy won't be happy.
I would love to hear about your take on the subject and if possible have a discussion on FB, Twitter or simply the comments below.