Glamorizing Violence is More Shock Than Chic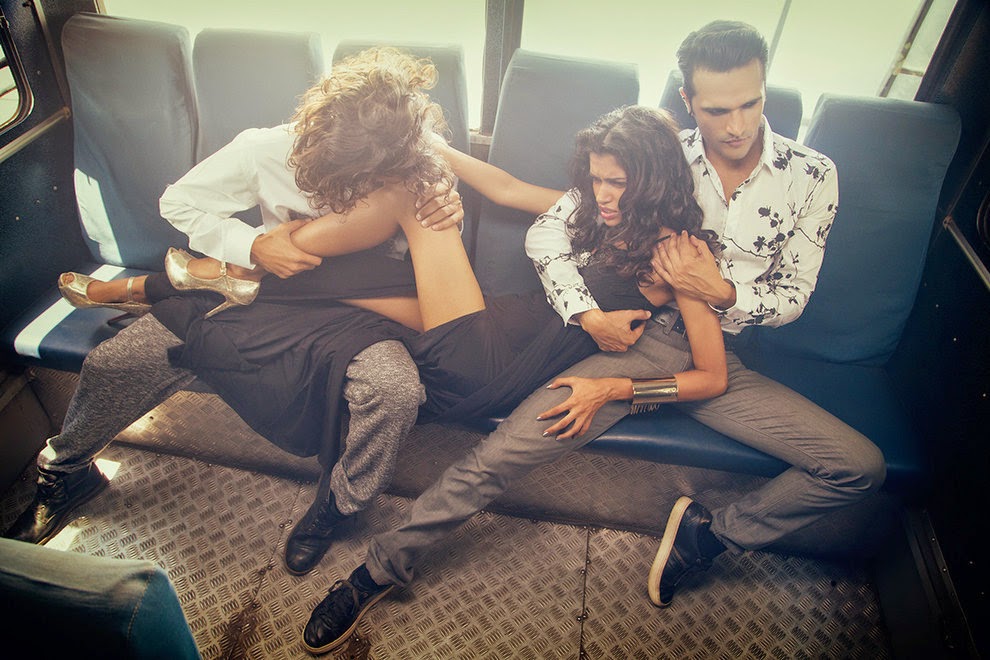 A fashion photographer and self proclaimed human rights activist drew inspiration from the gruesome
2012 Nirbhaya gang rape
incident that still hits a raw nerve in India.
MORE SHOCKING THAN CHIC
Fashion celebrates creativity and the thrill of the imagery. But dressing up a brutal and horrifying crime scene with lights, expensive designer clothes and cosmetics comes across as a fetish rather than an artistic form of expression that's intended to create awareness. Fashion, even as a form of art is a medium to advertise or promote a commodity – be it a brand name or product or the artist himself. Fashion is fantasy. Glamour is a medium to celebrate something that we look up to and it probably takes 20% sexual perversion, 30% insensitivity and 50% infantile attention seeking desperation to glamorize a gruesome rape scene that shook the nation!
STEREOTYPING MEN & WOMEN
The photographer might have drawn inspiration from a crime that happened in reality but the photo shoot further promotes stereotypes that women are victims and men are sexual predators.
GLAMORIZING VIOLENCE IN PAST
While this is one of the first such cases in India where violence has been translated into glossy fashion photo shoot, many big fashion brands and photographers in the West have come under severe criticism in the past for glamorizing violence.
A Bill Blass AD from 1966
Duncan Quinn Ad campaign
New Zealand boutique Superette ad campaign
Steven Meisel's September, 2007, "Make Love Not War" spread for Vogue Italia is clearly midst of a violent attack while the theme was inspired from Army invasion in Middle-East.
Vogue Italia depicts domestic violence with a glam photo shoot
Whitney Cunningham – Crime scene victims photo shoot – Cycle 8 – America's Next Top Model.
Calvin Klein Jeans ad campaign, starring David Walliams' supermodel wife Lara Stone, was banned in Australia for being 'suggestive of violence and rape'
Dolce & Gabbana – Probably the most famous ad campaign that was banned for being provocative and provoking
GLAMORIZING VIOLENCE IS NOT RAISING AWARENESS!
Yes, you heard it. Glamorizing violence is not raising awareness against a social issue but it is the cheapest and most insensitive way to cash in on the social construct that sex sells and controversy give you easy fame. Right from the photographer who recreated Nirbhaya gang rape incident to Vogue Italia that depicted domestic violence with glam photo shoot – claim that the photo shoot was to create awareness. Dear super-concerned-fashion-labels-and-photographers, try creating a photo shoot with slave market as a theme and see if you can get Lupita Nyongo (who is a biggest IN celebrity now) to wear avant garde rags (say Viktor & Rolf or Rei Kawakubo), clad in chains and handcuffs for a glamorized portrayal of the slave trade violence to 'raise awareness' like you claim. Of course, you can't! I sincerely hope that this will the last of those ads where we never see the male model's face, but there is always a close-up of women's faces as they are raped. Yes, we are assured that your products are high end and you don't have to advertise it by recreating a rape scene to show that her lipstick or mascara does not necessarily smudge even in the course of violence.
HOPE WE SOON PROTEST AND RAISE OUR VOICE AGAINST THESE ADS THAT OPENLY PROMOTES RACISM AND DISCRIMINATION BASED ON SKIN COLOUR.