My Draupadi Strips
Off late, there has been too much noise about how we need to rediscover our roots and value the 'Indianness' for our subcontinent's flashback reveals a great civilization where someone did something some 2000 years ago. Everyone among us must have received this tid bit of wisdom – from a politican who was further misquoted by the media or from the perturbed boss in workplace or from the bald-headed lecturer in college or from that distance cousin's wife's uncle who has an opinion about everything.
With every passing day, the cultural moral policing in our country surpasses its own illicit standards as everything from the person we date, the clothes we wear, the food we eat, the language we speak, the way we celebrate and sometimes even the religion we follow is unfortunately not 'Indian' enough.
How could the docile bharatiya naari who'd once pay homage to her other half by practicing 'sati' put on a mini-skirt and party till late in night? Shouldn't Sania Mirza set an example by picking sari over skirts while playing tennis? Shouldn't Bollywood churn out more films like Cocktail to illustrate that a mama's-boy-desi-at-heart Saif Ali Khan will not settle for a fun-loving-spoilt Deepika? How could our 21yr old 'kids' check in at night-clubs? How could they date? Shouldn't we get them married at a 'mature' age of five like we did for centuries (Five sounds exaggerated? Should we settle for 12? 15?). Will that keep a check on rape counts? Perhaps the next Indian government can issue 'Indianness' cards (like adhaar card) which estimates our Indianness score depending upon our language, lifestyle, fashion, religion etc. It is overdue for us to retract ourselves from economic dynamics such as globalization, FDI, shopping mall culture etc as videshi goods are available easily now. Taking a leaf from our neighbours' book we should ban internet for it made world a very small place to stay in. The most important factor contributing to the deteriorating Indian culture – English education!! Now we have a standard language that everyone communicates from Manipur to Mysore to Manchester? Isn't English adding up to our insecurities over endurance of local languages?
The present day wanna-be-Vivekanandas live in an isolated well, who most likely grew up fifty years ago in an under-developed (than what it's today) chauvinist ambiance, going through an extended mid-life crisis and cannot help but stain others' mind with their (folly) wisdom which has been rotting for decades now. Don't judge them for they find it hard to acknowledge the modern Indian society given the dramatic changes our nation witnessed over the years. Our society progressed while their minds never did. Pity their poor children who regrettably acquired their parents' prejudiced virtues.
Our culture has been constantly influenced by foreign elements and vice-versa for centuries now. The Greco-Roman toga and traditional Indian sari share the same roots. Salwar suits can be dated back to the Islamic invasions. Terms like blouse and petticoat are no longer a western concept as they have penetrated even into the remotest of Indian households. The theory doesn't just end with costumes but the very fact that we are offered a paneer-tikka burger in McDonalds illustrates how much we have progressed culturally.
After sixty seven years of independence, we citizens are still denied the liberty of being individualistic. We are deprived of the autonomy to do things the way we would like to. We cannot let a sect of society and handful of babus to hijack our cultural freedom. The Indian culture has always changed and will continue to evolve and it is the transition which makes us a progressive nation both culturally and economically.
The following visual taken from my graduate design collection at NIFT New Delhi depicts transformation of a traditional Indian sari into a notch collared top.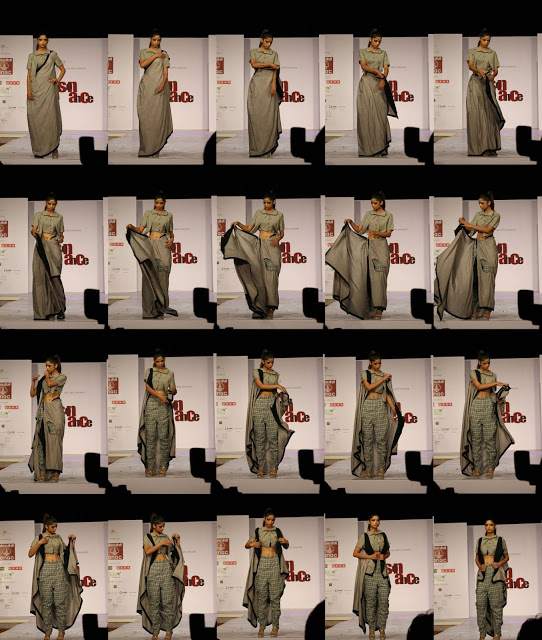 The convertible garment not just reflects the change in Indian costume history during the colonial raj, but the changing mindsets and the changing Indian women. It denotes the cultural construct that women should not speak up, or speak out, that is so well-entrenched in our minds that we are still fighting it in the 21st century.
I conclude my musings with Meena's wise lines, "My Kali kills. My Draupadi strips. My Sita climbs on a stranger's lap. All my women militate. They brave bombs, belittle kings, take on the sun, and take after me."
Let's challenge all forms of oppression out there. Happy Independence Day!