Wills Lifestyle India Fashion Week AW 2013 – Day 1
It was about two years ago that I started reviewing fashion shows for FDCI Designer Mode magazine and it was a nostalgic 'the-last-lesson' moment when I signed up for the assignment for one last time before I relocate to Mumbai.
Wills Lifestyle India Fashion Week AW 2013 season opened with the much-hyped Satya Paul show with Masaba Gupta as the brand's new creative director. The show opened with garments featuring interesting neon lip-stick prints in neutral base fabric (styled with funky accessories). But unfortunately transforms from this to that in a span of 2 minutes!
Masaba Gupta for Satya Paul, Wills Lifestyle India Fashion Week – Autumn/Winter 2013.
The 2nd show of the day featured Anupama Dayal's resort autumn/winter collection which begins on black/white boho note and ends in some-what balika-vadhu style!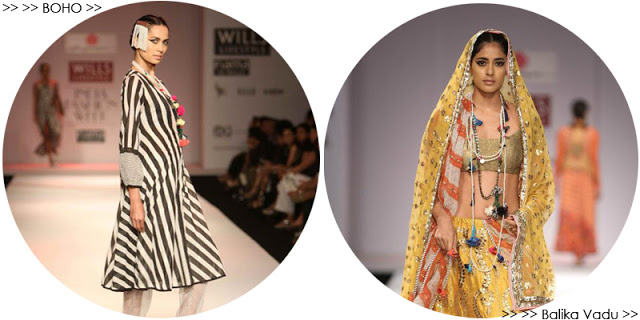 The first look at Annaikka by Kanika Saluja featured nude evening dresses, bejeweled in copper which were followed by dresses in blacks and deep red with Annaikka's signature metallic embellishments. Kanika Saluja combined leather along with bling elements to create powerful evening wear line for the autumn/winter 2013 season. For the third season in a row, the young and talented fashion designer finished in style with jaw-dropping showstopper outfit.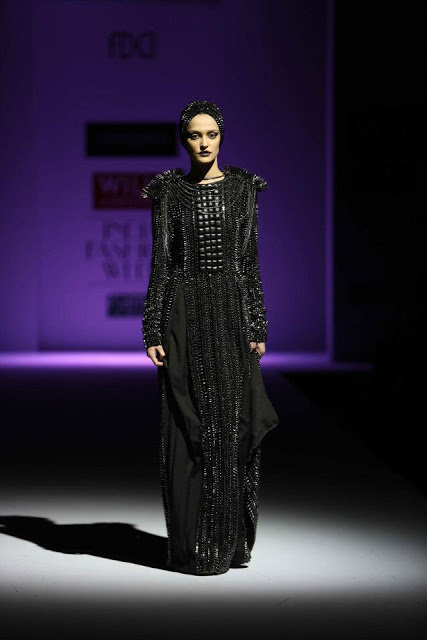 Show stopper at Annaikka
Siddartha Tytler's autumn/winter 2013 show started on a dark gothic note set in Victorian era. Quilted jackets, Victorian collars and brocades set high standards and expectations for the show which only got hijacked by commercial designs with nothing but oodles of sequins & crystals smeared all over. Nevertheless, the fashion designer is crystal-clear with his design aesthetics and few ensembles from the collection will be an ideal companion for a winter evening that lies ahead!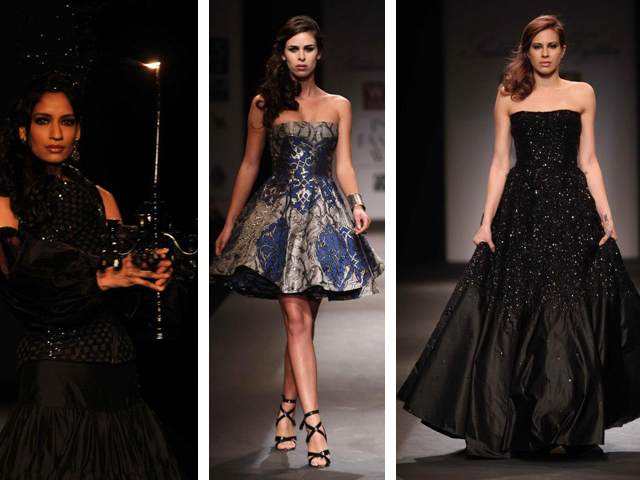 Siddartha Tytler, Autumn/Winter 2013
You know that it is an awkward start when a model has just opened the show and you hear people discussing from behind, 'Vineet Bahl ki kaam wali bai is on the ramp'.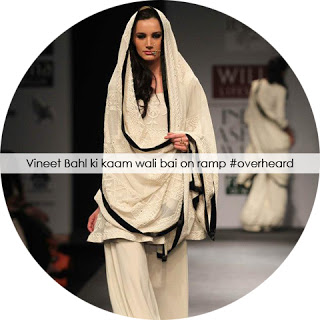 Vineet Bahl is undoubtedly one of my favourite ethnic wear designers, but I could not help but compare his present autumn/winter 2013 collection with the ones he presented previously. Vineet Bahl's outfits generally feature strategically placed embroidery motifs which are both intricate and delightful. The garments from his autumn/winter 2013 however speaks a different story altogether, in terms of fabrics, colour palette and styling (seriously! STYLING)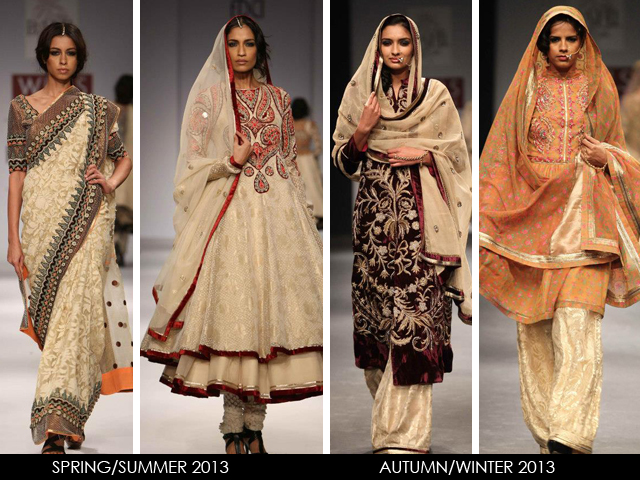 Fashion designer Surily Goel got the gorgeous Preity Zinta to walk the ramp for her, but what really caught my attention was a black top with honeycomb pattern that carried uncanny resemblance to Gucci SS 2013 ensemble (Read: http://www.purushu.com/2013/03/surily-goel-inspired-from-gucci.html)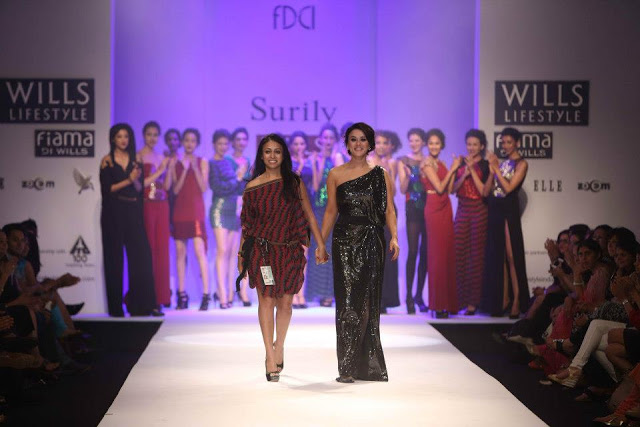 Preity Zinta walking the ramp for Surily Goel, Autumn/Winter 2013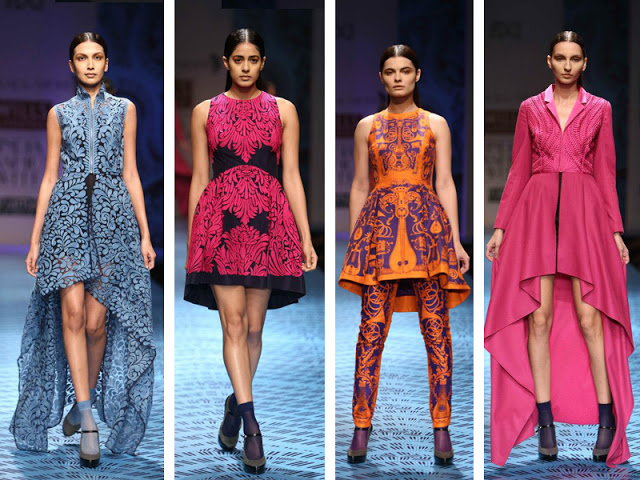 Pankaj and Nidhi, Autumn/Winter 2013
The autumn/winter 2013 runway at Namrata Joshipura was decorated with angel wings on both sides hinting that the collection was about a free spirited modern woman who's simply herself. The collection had the designer's signature edgy touch with hints of street inspired elements and sequins. Namrata Joshipura also remains the only designer to have used cashmere wool so far on day one. A variety of textiles including woolens, leather, polytex and georgette were used to craft highly wearable separates in tones of murky blacks, browns and bold red.