Is GREEN really the new BLACK?
Legendary actress Meryl Streep collected her iconic award for the Best Acress, wearing Lanvin's eco-friendly gown at the 84th annual Academy awards. With designers like Stella McCartney and Yves Saint Laurent offering eco-friendly clothing line, Lecoanet Hemant launching a range of Ayurvedic clothing line here in India, the term 'sustainable fashion' has created quite a stir around.
This discussion aroused a couple of weeks in college when we were learning 'Ethical Fashion'.The term 'ethical fashion' represents an approach to the design, sourcing and manufacture of clothing which maximises benefits to people and communities while minimising impact on the environment.
"If you describe something as ethical, you mean that it is morally right or morally acceptable." Collins English Dictionary.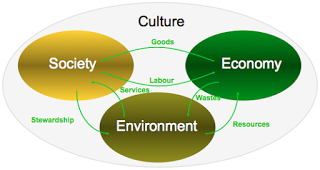 We were taught that a business or initiative is not sustainable unless the triple bottom line is integrated at the core of business practices and policy, from board level to studio, shop, or factory floor.
1. SOCIAL
Deals with increasing the capacity and well-being of the people and communities behind fashion. In a broader context, poverty and exploitation of the human workforce behind fashion affects the stability of the industry itself.
2. ENVIRONMENTAL
Minimising the environmental impact of all business operations, throughout the supply chain. Creating and acting upon opportunities to reduce environmental issues beyond the immediate operations- such as awareness raising , investment in and support of environmental initiatives.
3. COMMERCIAL
Without a robust financial business model, none of the above can be achieved. Good intentions without an effective business structure can backfire. A sustainable approach includes quality products or services that meet market needs and demands and are fairly marketed.
Eco-friendly clothing of sweaters, for example, are usually made from either cotton or wool. Wool might be a great renewable resource. But sustainable fashion is also about minimising the carbon footprint that we leave. While wool is a renewable resource, the methods used to "grow" and harvest that wool are not free of controversy. Sheep used in the production of wool are often treated with chemical pesticides to ward off insects such as lice and fleas or mange. These pesticides don't stay on the sheep; they can harm the environment by contaminating groundwater and are highly toxic to fish and amphibians. Chemicals are also used in the food sheep are fed. These additives are used to boost growth rates but they also contaminate water resources – surface, ground and drinking water – primarily through the residual chemicals in sheep faeces.
Large-scale livestock operations have huge eco-friendly clothing environmental impacts. Soil erosion, run off and water contamination are just a few of the environmental issues associated with livestock farming. Another, perhaps larger environmental issue, is enteric fermentation. Otherwise known as livestock gas and burps. The methane released by these bodily functions is a primary contributor to global warming.
Cotton poses an even bigger concern for the environment. Conventional cotton, that is. Conventionally raised cotton is highly pesticide and water intensive. In fact, cotton is often considered the world's most pesticide-intensive crop, responsible for 24 percent and 11 percent of global insecticide and pesticide sales, respectively. Of the estimated $2 billion worth of chemicals used on cotton crops each year, over half are considered hazardous by the World Health Organization.
The use of leather and fur has also created plenty of controversies. Various fashion designers and celebrities have angered organizations such as PETA etc.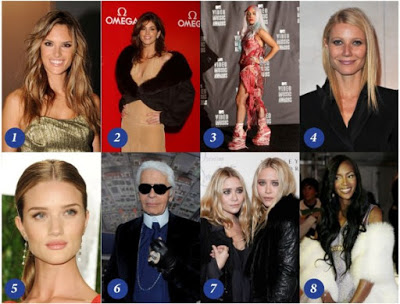 1. Alessandra Ambrosio The model admitted that she dyed her Maltese dog, Buddha in blue. According to PETA, dyeing animals is cruel and unhealthy.
2. Cindy Crawford She posed for an anti-fur PETA ad in her early years. But in 2004, she modeled for a fur company. PETA sees her as a sell-out.
3. Lady Gaga Her unusual outfits are fine as long as she doesn't use meat in them. But on two occasions the star has worn meat as an outfit. Not cool in PETA's book.
4. Gwyneth Paltrow She and her husband, Chris Martin, refused to walk four houses down the road to attend a party. Instead, they had to be driven to the event. Talk about a big carbon footprint!
5. Rosie Huntington-Whiteley She is not afraid to say that she's a farm girl, and she'll shoot livestock. Not what PETA wants to hear.
6. Karl Lagerfeld He's no stranger to fur and leather. He loves using fur in his collections.
7. Mary-Kate and Ashley Olsen (yes, they count as one) The twins have been on PETA's bad side for years for the amount of leather and fur they wear.
8. Naomi Campbell She also did an ad for PETA, in which she appeared naked. But in 2009, she was the face for the fur designer Dennis Basso's campaigns.
Being eco-friendly is about sustainability in environment. I don't see use of leather, fur or Lady Gaga's infamous meat dress violating the code of sustainability in any manner!
Eco-fashion clothes:
-are made using organic raw materials, such as cotton grown without pesticides and silk made by worms fed on organic trees
-do not involve the use of harmful chemicals and bleaches to colour fabrics
-are often made from recycled and reused textiles. High-quality garments can be made from second-hand clothes and even recycled plastic bottles
-are made to last, so that people keep them for longer
-come from fair trade – the people who make them are paid a fair price and have decent working conditions.
I am pretty much sure that Lady Gaga's meat dress or Karl Lagerfeld's glamorous fur is completely renewable and doesn't leave carbon foot prints like synthetic alternatives do! It it's legal to eat steak for dinner, why stop use of fur or leather.