WIFW AW 2012 – 5 unanswered questions
The Wills Lifestyle India Fashion Week's AW 2012 edition is over and I still keep pondering over certain questions.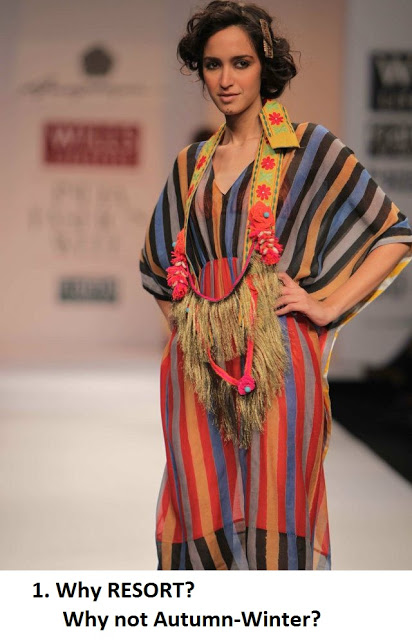 Image: Anupamaa by Anupama Dayal
I have been in the arena for all the five days and have watched almost every show. It comes as a mild letdown to see that most of the collection falls in the resort/summer line. I do understand that India doesn't have fierce winters and fur collared trench coats are probably irrelevant. But is light weight chiffon and crepe all we're left with? Fashion  is directly dependent on the season for which it is being offered. Trends like cable knits, layering and statement jackets are hot favourites in Indian winters. However, a handful of designers totally rocked the winter vibe. Anju Modi's ethnic line was almost completely in wool. The garments were beautifully layered at Pero. The fuchsia hearts on back of knitted woollens were totally chic. Something that the label will be remembered for. Meera Ali's functional separates were very much autumn/winter. Rahul Mishra showcased a trench coat with beautiful piping detail in reds.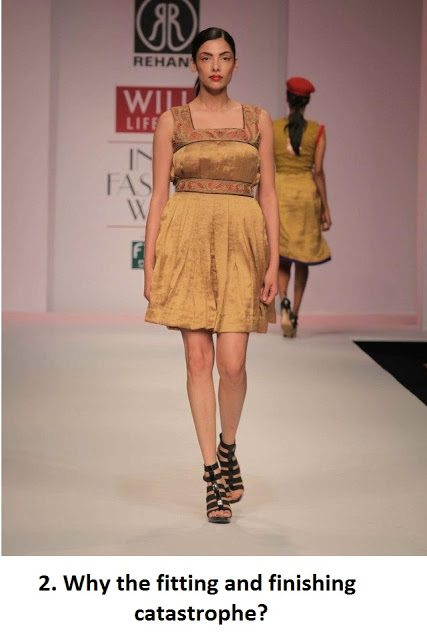 Image: Rehane
This is a serious issue. The garments which are showcased in the ramp, do not just talk about the designers, but the entire Indian fashion industry. The outfits on the runway is an acknowledgement to our industry's ability. In our college, some faculties even rip off the entire garment when they find a small pucker or considerable ease in our assignments. FIT and CONSTRUCTION comes ahead of the 'aesthetics' in design. It was really hard to digest the fact that more than one designer had got the BASIC fit and construction wrong. May be FDCI should step in and have a preview of the garments before they are showcased in the ramp. We can avoid displaying undone garments to the buyers and media.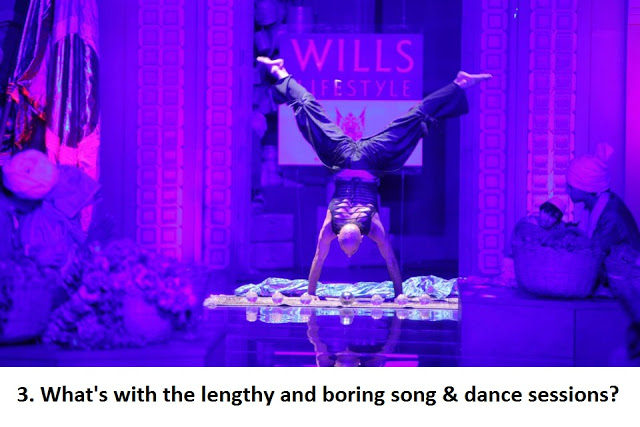 Image: J J Valaya
I agree with the fact that the live performances add extra oomph to the fashion shows. But sometimes they get really really lengthy and bore the audience to the death. C'mon! We are here to see the garments.
It comes down to the relevance once again. An almost-couture-range in ready-to-wear week? There weren't many, but still a considerable number of designers who showed bridal and couture garments in a  prêt week!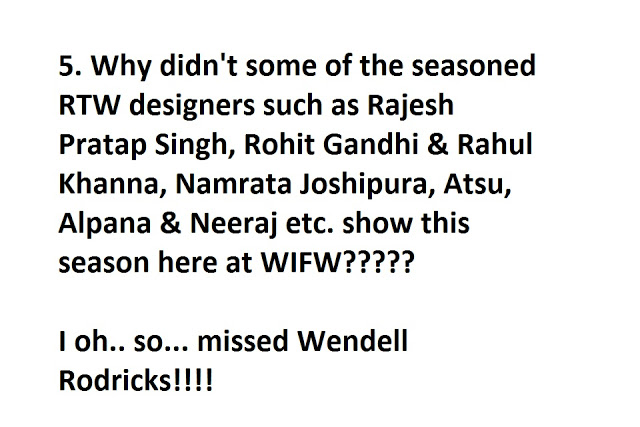 Well.. That makes it FIVE. I am not done yet. Have two more visuals to share. Share your thoughts in comments.