TREND REPORT – SPRING/SUMMER 2012
Summer 2012, A Season of Commitment
Faced with multiple "crises" of all types and of all times – social, economic, ecological. The human being has always had the formidable capacity of resisting, on one hand, and committing, on the other. Commitment is a marvelous force, rooted in the deepest part of the self, where conviction and our sense of responsibility draw upon the strengths and legitimacy of belonging to a group. Summer 2012 is a season under the sign of Commitment, as four themes illustrate this positive movement of individual and collective involvement.
STORY BOARD FOR SPRING/SUMMER 2012

GENESIS – The Naturalist Visionaries The enormous focus on ecology is inciting designers of objects and garments alike to address the importance and richness of the organic world. A creative orientation that invites us to re-discover the foundations of Naturalism.
ITINERANCE

– The Humanitarian Artisans Today's economic crisis is generating an overall increase in the insecurity of humans, which in turn, engages designers to create innovative products taking into account the limited resources of peoples in difficulty. Itinerance explores humanitarian design as it strives to maximise the limited capacities for economic and stylistic adaptation inspired by nomadic lifestyles.
OXYGEN – The Emotional Purists The growing awareness of the world in light of the multiplication of health threats is stimulating the design of reassuring objects that may also contribute to improving the overall health of users. Oxygen explores the notions of purity and well-being that are giving rise to a trend for design that is simultaneously romantic and clinical.
COLOURS: PASTELS AND NATURALS

A spread of pastels associated with two, very soft naturals. A desire to accumulate and collect moments of innocence – like we might compose a wardrobe of wild and crazy layers in candid shades of colours. Baby blue and pink break free of their stereotypes!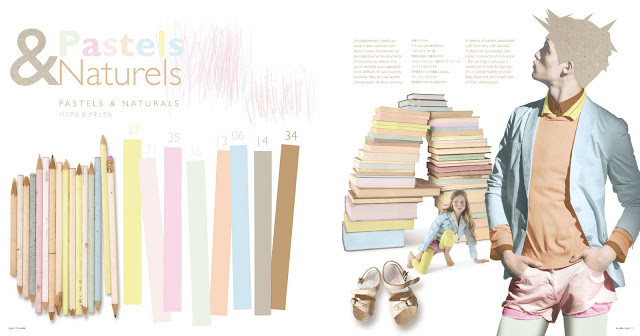 FROM SS 2012 RUNWAY:
SURFACES:


The season that is being forwarded by naturalism has witnessed plenty of surface treatment in the forms of prints, laser cut work, applique, shine, shimmer and glitz.
PRINTS:
Key concept in prints were graphic, nature inspired animal, fruits and floral, paisley and graphic. While florals were seen at every third show this season, the ones seen at Christopher Kane, Giambattista Valli and Prada stood out in distinction. Animal prints were seen at Carolina Herrera and Manish Arora. Nature inspired paisley decorated the fabrics at Stella McCartney, Haider Ackermann, Jil Sander and JW Anderson. Mary Katrantzou's show was in fact a colourful riot of animal and aquatic inspired prints.
BELOW:
1. Parrots at Carolina Herrera
2. Florals at Chloe
3. Delicous fruits and vegetables at Dolce & Gabbana
4. Donna Karan's tribe
5. Graphic prints at Yves Saint Laurent
6. Paisley motifs seen at Haider Ackermann, Jil Sander, JW Anderson and Stella McCartney.
APPLIQUE WORK:
Fashion designers chose to deliciously decorate the surface using applique work. Applique surface details were seen in many shows this season including those of Christopher Kane, Dolce & Gabbana, Nicole Farhi, Prada and Valentino.


NEAT, CLEAN AND CUT!
Pristine white cottons were laser cut keeping everything minimalistic yet highly interesting.
SHINE, GLITZ & GLAMOUR:
The models at Chanel, Manish Arora, Chanel, Christopher Kane, Marc Jacobs, MaxMara and Reed Krakoff were adorned in shine and shimmer.
SILHOUETTES:


Spring/Summer 2012 has predominantly witnessed inspiration from various decades of the 20th century. Silhouettes from the 20s art-deco and 50s dominated the ramps. Dolce & Gabbana and Emilio Pucci pioneered in exposing the mid-riff like never before. Moving ahead from the lady-like dressing, sports inspired chic look has emerged as one of the biggest trends this season.
50S INSPIRED: Phoebe Philo's peplums and Dries Van Noten's sculptural silhouettes were clearly recalling the 1950s fashion era. 50s silhouettes were seen at likes of Gareth Pugh, Burberry, Carven, Donna Karan, Rick Owens and Meadham Kirchhkoff.
ART DECO: Electric form of elegant and stylish modernism flourished at Alberta Ferretti, Etro, Prada, Marchesa and Ralph Lauren.
FLASH THE ABS: Mid riffs exposed at Dolce & Gabbana, Emilio Pucci, Prada, Christopher Kane, Versace etc.
SPORTSTAR: Outerwear with a sporty spin!
IMAGE COURTESY:
Story board images: PROMOSTYL
Runway images: VOGUE.CO.UK
THE FOLLOWING POST IS ALSO A GUEST POST I HAD WRITTEN FOR INDIAN FASHION BLOGGERS COMMUNITY.