Milan Fashion Week –Menswear Fall Winter 2012
Author: Sylefluid Trendz
Milan Fashion Week for Fall Winter 2012 Menswear was definitely a trend setter in many ways. Milan was a revival of classic, military and luxurious fashion with a strong essence of Edwardian era in the world of men's fashion . In a way or other, Milan Fashion Week sent a strong message to all the boys that Fall Winter 2012 is all about celebrating the gentlemen in you.Here is a pick on some of my favourites from the week.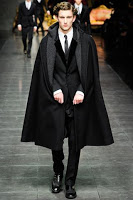 1. Dolce & Gabbana – The collection was just the right example of luxury. One could see a strong influence of traditional East European & Matador style embroidery on coats and jackets.The sleek lines and classic masculine tailoring with gold embellishments on the sleeves and lapels were dramatic, stylish and truly classic.
2. Bottega Veneta – Tomas Maier opted for geometry in his silhouettes for Fall Winter 2012 collection.The clothes are a fine example of contrast and compliments male body to the fullest.Some of the key pieces of the collection were short jackets that can make any men look taller, skinny trousers that extends the legs,sports jackets and leather coats.The collection in innovative fabrics also played around with color blocking. Indeed a ultraluxurious collection .
3. Burberry Prorsum – With its entourage of fitted suits,heritage trench,mustard-tipped trenches, two and three button wool suits,sleek double breasted jackets, quilted army green flight jacket, black polka-dotted tie, with herringbone patterned tweed cap, Burberry Signature Navajo-inspired patterns, owl and cat-face bundle-necked knitwear and with fabrics ranging from corduroy to velvet, the collection was an amazing fusion of heritage and contemporary British fashion. The show was rightly named as "The Gentlemen"
4. Roberto Cavalli – Go bold go adventerous and bring out the animal instinct – Yes that is the Style Mantra from Roberto Cavalli for Fall Winter 2012 Menswear.The collection had animal prints from spot to tiger-stripe,bright colors for winter,bold prints, leather moto jackets, stark-white contrast piping, velvet smoking blazer with croc pattern,snake skin belts and shawl collared suit. Indeed a very smart collection which brings out the modern and timeless elegance of men's fashion.
5. Prada – The military-inspred collection was presented by real A listed actors, which was dramatic,powerful, eccentric , mysterious with a strong element of old-school masculine feel to it. The collection featured long,black overcoat,double breasted red overcoat with a black velvet collar and fur trimmed lapel,high stiff collar on white shirt and wire trimmed sunglasses.All in all the collection featured strong masculine silhouettes and hardlines.
6. Ermenegildo Zegna – Zegna went classic for Fall Winter 2012 with good amount of layering. The collection featured houndstooth ,Glen plaid,Fair Isle suits which were worn under layers of loosely cut capes and jackets. The colors of the collection were in midnight blue,camel and brown with lot of texture.One could also see cotton turtlenecks, plaid-lined denims which were worn with suits and silky tuxedos.The other key items of the collection were carry-ons clad in plaid,large, flat leather messenger bags , duffels and textured gloves.
7. Canali – The collection had a strong feel of The Swinging Sixties.With its sharp Italian tailoring the prints on suits,shirts,pants were inspired from William Morris house of design. The key pieces of the collection were – floral-print shirting, Chesterfield coats, double-breasted houndstooth and Bengal striped pieces with a color palette of browns,tans and rusts.
8. Salvatore Ferragamo – The collection from the House of Salvatore Ferragamo was in neutral tones and the clothes had its own unique sober personality. Massimiliano Giornetti's collection for Salvatore Ferragamo Men's Fall 2012 was all about elegance. The key pieces of the collection were suits and coats which had sharp tailoring , double breasted blazer, fine mauve and purple striped sweater ,royal blue shirt, polished two-tone dress shoes with equestrian details, double-breasted suit with peak lapels and a burgundy bomber jacket with an oversize knit collar. The fabric varied from velvet,wool,tweeds in salt and pepper to watery silk.The dominant colors of the collection were royal blue,charcoal asphalt, rusts, burgundy, purple, gray and berry tones.The collection is perfect for all you stylish city slicker.
9. Diesel Black Gold – A rocker chic collection. The key pieces of the collection were slick motorcycle jackets, suede bomber jackets,bold red velvet double-breasted suit,zipped suede vests,leather pants,pea-coats,coated knit intarsia,fur coat,thick cable knit jerseys, bravura jacket and knitted sweater in two tone.The collection was dominated by black with surprising dash of colors like deep blue,indigo,grey,burnt orange,navy,denim blue and purple.Orange leather jacket created the ultimate rocking look.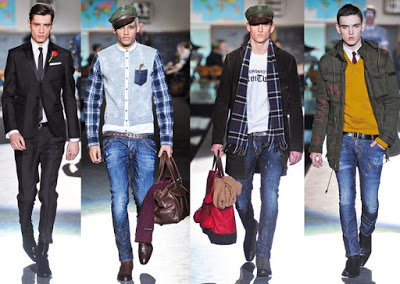 10. DSquared2 – A rebellious collection. I loved the fitted skinny jeans, short leather jackets, ultra sharp coats ,knotted neck scarf ,cropped jackets, Alpine Winter sweaters , gray tuxedos, sweater vests, schoolboy brooches on tweed jackets and oversized sequined sleeve parka. It is always good to keep the rebel in us alive.
11. Gucci – Frida Giannini's collection for Gucci Menswear Fall 2012 had a strong 60's feel to it. The collection was romantic, contemporary , elegant and just outstandingly handsome.The main features of the collection were flower prints,jacquards,velvets ,overcoats,trousers which were loose at the hips but goes skinny down the leg and to the ankle,chunky sweater .One can't miss out on the briefcases with the horn handles,carpetbags ,sunglasses and shoes. Gucci boy for Fall 2012 is ultra chic and creative.
12. Calvin Klein –For me the collection by Italo Zucchelli was a redefination of perfect masculine sportswear. With a color palete of grey,black,navy and camel the collection was a perfect fusion of sportswear,luxury and classic fashion.The sleek collection's key features were contrast paneling,color blocking, croc print pants,jumpers and jackets. Croc Print Pants – Yes,that is one must have key item for all you stylish men.
Milan Fashion Week for Fall Winter 2012 was a mirror to what a modern man should be. The collections was a reinterpration of classic fashion with a twist of contemporary touch to it.Inspite of the global economic lull, the Fall Winter 2012 collection was a celebration of positivity in life,celebration of luxury and elegance. Definitely a positive way to kick start the year,