A fashion designer's workshop : FACTS & FICTION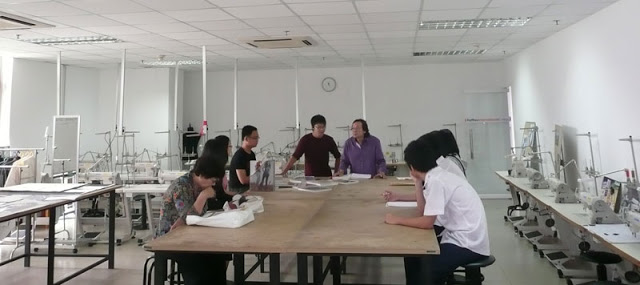 Try googling "Fashion deisgner workshop" and the images that you see is exactly how a fashion designer's workshop will NOT look like. The ambiance in the visuals are highly tampered with. They are arranged and customized for photographs.
A day in a fashion-design student's life:
1. The sound of sewing machine stitching fabric is more pleasant to hear than old faculty yelling at the front table.
2. The smell of muslin overpowers your new CK perfume.
3. You enjoy the heat that a steam iron produces, especially in winters.
4. For at least once in a day, a pin is bound to pierce your nail. You are so used to it that you simply wipe it off a muslin. First timers give TT injection a thought though!
5. A designer's workshop is more like a dustbin. You have fabric strips, pattern making papers, pencils, measuring tape and a lot more hazardous stuff including scissors and pins lying all around (Underage kids are strictly prohibited from entering a designer's workshop).
6. Body forms! They always tend to stand in your way. Some of you might also constantly punch and poke your body form (with pins) to take out your frustration.
7. "Hey! Can I borrow your scissor?" And mind you, you are never getting them back! As is the case with the endless pile of stationery you end up buying and eventually losing.
8. All your hand bags and mobile phones lie on the pattern making table. Heaven for Kleptomaniacs!
9. They style tape you put on the body form 2 months ago, still lies there… untouched.
10. The bulletin board is filled with patterns, inspirational visuals and out dated trend-boards.
11. Even if the world is about to end, all you do is religiously drape your garment.
12. Boys, you are a minority here, girls outnumber you. Go feminism!!
13. MUSIC. Head phones. A good playlist. You need it to survive all that is mentioned above.
SUPPORTING VISUALS: