Raga by Payal Jain
When you are a design student, there are a lot of things you want to do on a Friday night. And if a fashion show is on the cards, nothing like it. So there I found myself, in Payal Jain's fashion show hosted At Hyatt Regency.
The show was strategically held in the poolside lawns of Hayatt Regency, New Delhi and the ramp was constructed around the pool, a million little lamps serenading the area. The entire set, music and the garments showcased in the show had a very earthy yet contemporary feel to it, thus the title Raga.
A lot of common faces were amidst the crowd. Vinod Nair, from HT City, as charming and enthusiastic as ever, Abraham, from the designer duo Abraham and Thakore, Manish Arora, Nikhil Mehra from Shantanu and Nikhil, Ambika Pillai, Sunil Sethi among the others.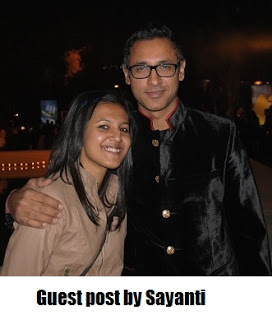 The show featured a lot of contemporary evening gowns, flowy and subtle yet dramatic, making an impact. Some of the garments had very elegant slits and slashes, which added to the impact. A lot of surfaces were used, mostly tone on tone. There was a convincing colour story, blacks, reds and whites being cynosures of attention.
The music was soft and soothing, yet upbeat to keep the show rolling. A lot of prominent faces walked the ramp like Carol Gracias, Indrani Dasgupta, Nayanika Chatterjee with their elegance and immense ramp attitude. The choreography was commendable with properly spaced out garments, giving the viewer enough time to let each garment sink in. Overall, it was a good experience and definitely a very high end closing to a long week.
*However, the question still remains, that rarely do Indian designers experiment with silhouettes. Surfaces continue to remain a constant focal point.*
Pool side ramp beautifully decorated with candle lights.
Ace designer Manish Arora was spotted chilling with friends at the fashion show by Payal Jain.
Birthday lady, Ambika Pillai flashes her trademark smile.
The floor length dresses in black, red and whites looked extremely elegant.
Carol in a white ensemble designed by Payal Jain.
Models strike a head ramp pose.
Payal Jain takes a bow.
Payal Jain and David Abraham smile for the camera.
Purushu with fashion designer Nikhil Mehra
FDCI Prez Mr. Sunil Sethi
Leena with Payal Jain
Purushu with the charming Vinod Nair.