Day 2 at Wills Lifestyle India Fashion Week Spring/Summer 2012
The action from day 1 at WIFW was carried over to day 2 with a range of traditional Indian collection presented by likes of Manoj Dubey, Dhruv and Pallavi while Surbhi Chawla gave the break with a modern collection in peppy cocktail tones. Garments were revolting in colours and prints in Preeti S Kapoor's show while Urvashi Kaur showcased subtle ombre dip-dyed fluid outfits. AM:PM by Ankur and Priyanka Modi had a variety of bright and bold outfits in midnight blue and red as Kavita Bhartia's ramp had a strong Indo-Bohemian flavour. My undisputable favourite of day 2 were Manish Gupta, Morphe by Amit Aggarwal and Samant Chauhan.
Manish Gupta:
Manish Gupta's garments were beautifully crafted out of beads and buttons. The colour palette mostly comprised of ivory dresses with hints of vibrant raspberry, lilac, oranges and pinks. The garments were finished with extreme perfection and the surfaces had beautiful embroidery and embellishments all over. It was all about the surfaces. What makes his collection uniuque is the rhythm that the surface creates making the whole garment very flowy while the silhouette still made the outfits structured and contemporary. The collection is probably one among those extremely wearable collections one can see on the ramp.
A closer look of embroidery and beadwork at his show.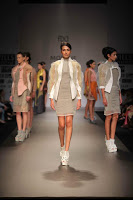 Morphe by Amit Aggarwal:
Amit Aggarwal spring/summer 2012 show had the same air that would have probably been at Comme de Garcons or Thierry Mugler! The collection saw a metamorphosis of bold and tough metallic space-age inspired stuctures slowly transforming into more passive, soft, sheer and foam like. Every other ensemble kept the audience guessing. I've never seen such 3-D stuff come out of a delicate sheer fabric! Hats off to his incredible construction skills.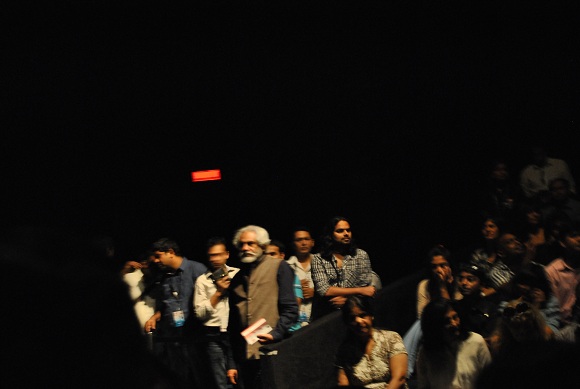 FDCI president Mr. Sunil Sethi at Amit Aggarwal spring/summer 2012 show.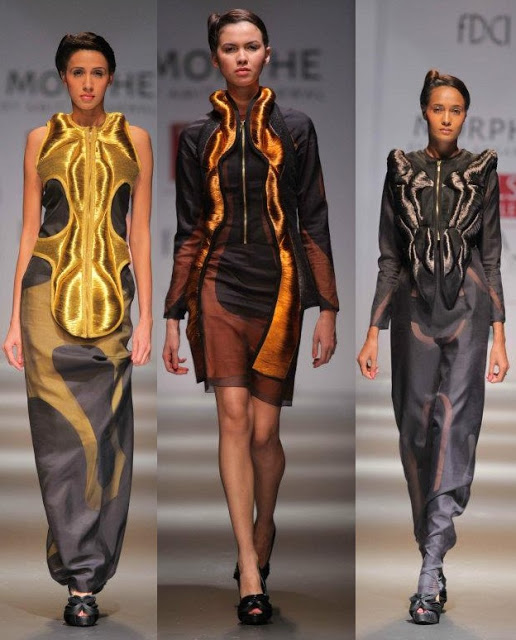 Bold structural garments with metallic details that opened Amit's show.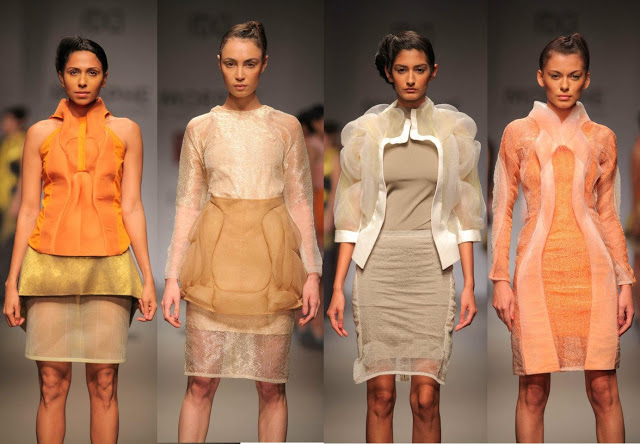 The garments later looks more softer and subtle without wandering away from the theme.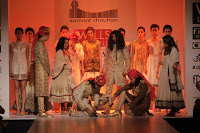 Samant Chauhan:
Samant Chauhan's is few of those Indian fashion designers who are well ahead of the lot. He has mastered the art of Indo-Western fusion giving it a new contemporary make over. Intricate hand done zardozi was embellished on delicate sheer fabrics which neatly cut and tailored in Victorian silhouettes. Apart from the incredibly beautiful garments, the designer also ensured that the show was high on drama as he recited a Rajput wedding tale on the ramp. What enthralled me the most about this collection was the muted colour palette in tones of beige, brown and whites – A clear shift from the usual bright hues used in Indo-western fusion. Samant's garments looked unique, rich and sexy!
Closer look into Samant Chauhan's garments:
Here are the show reviews I wrote for the official FDCI Designer Node magazine. Open the images to view in high resolution.
More Photographs from Day 2:
Smocking patters, the new IN thing? Left: Surbhi Chawla's smocking patterns. Right: Prabal Gurung spring/summer 2011 collection at New York Fashion Week.
Dhruv and Pallavi sent a range of traditional Indian silhouettes in monochromatic shades of green!
Loved this top sighted at Preeti S Kapoor spring/summer 2012 show.
More colours at Preeti S Kapoor spring/summer 2012
Models at Sanchita walked with these really really HEAVY headgears!
Some of the press releases I carried back home.