Wills Lifestyle India Fashion Week – Day 1
Probably the biggest fashion event in India, Wills Lifestyle India Fashion Week spring/summer 2012 commenced on 8th october at Pragati Maidan, New Delhi. Gauri and Nainika opened the event, presenting a 40s inspired collection emphasizing monochromatic look followed by Nandita Basu and Malini Ramani who created wonders in the ramp. Mumbai based fashion designer Nachiket Barve presented his collection here at New Delhi which left the audience visually hungry! Rimzim Dadu combined paper mache and acrylic with fabric while Rahul Reddy explored the style lines in a school uniform with belts at hemline! Aneeth Arora, Rina Dhaka, Rajesh Pratap Singh and Rohit Bal (Nope. He didn't show his collection but he walked for Rajesh Pratap Singh along with model turned actor Rahul Dev and Rakesh Thakore of Abraham and Thakore duo) were the other names who made news on the first day of Wills Lifestyle India Fashion Week spring/summer 2012.
My favourite picks from the day were the opening three shows of Gauri & Nainika, Nandita Basu and Malini Ramani, Rimzim Dadu, Rahul Reddy and Nachiket Barve. The following images are photographs of the official show reviews I had written for the official FDCI magazine on day 1 of the event. You can grab a free copy for yourself at the event venue. Open the images in a new window for full detailed view.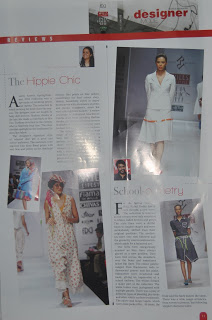 Gauri & Nainika: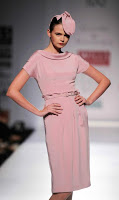 Gauri and Nainika's spring/summer 2012 show began with an audio visual tipping off that the fashion designer duo had drawn inspiration from the 40s. The designers focused on monochromatic look with occasional colour blocking in peppy tones of mauve, red, mustard, teal, faint pink, coral, black and white. All the garments were styled with narrow waist belts matching with the colour of the garment. There were abundance of ruffles as the show progressed. Ruffles added movement and rhythm to the garments creating the romantic allure. Only thing that I was skeptical about was the fact that there was too much of ruffles. Ruffles even at the back-hip!!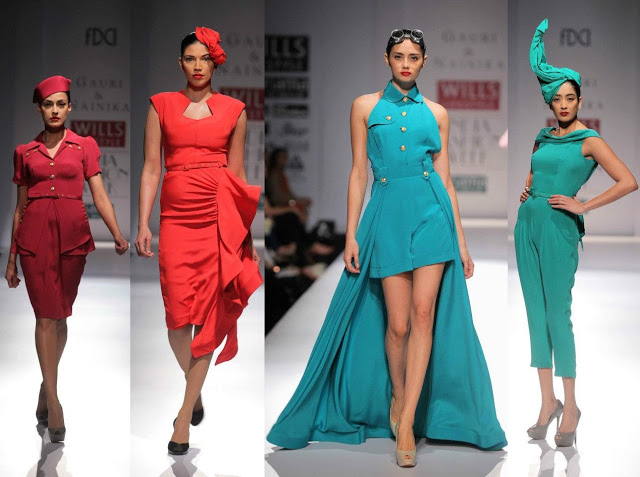 Gauri and Nainika Spring/Summer 2012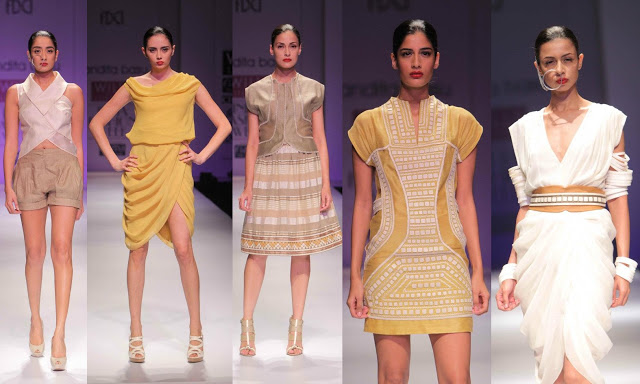 Nandita Basu Spring/Summer 2012
The Bengali fashion designer presented seven garments with each garments reciting its own new story in subtle tones of beige, mustard and white. Kantha stitch of Bengal was predominantly seen in all garments at neck line, hemline and in the form of stripes. Models were styled with Rajasthani white arm rings and nose rings. A couple of dhoti inspired cowls were seen in wrap-over skirts. What I love the most about the show was sensuous usage of traditional techniques on modern silhouettes making the entire look ethnic and enchanting.
Malini Ramani: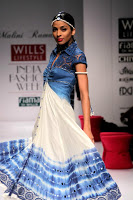 Malini Ramani left the jam-packed audience stunned with a range of multi-coloured eye-soothing outfits. The show started off with a couple of 'leharia' tie-and-dye garments before the astonishing mirror work snatched the limelight and attention which were my personal favourites too. Mirror work looked stunning as it was combined with vibrant embroidery work. One particular garment had a deep side slit as the model put her best foot forward. There was a little drama in between the show as a ballet dancer dressed in fringed dress hopped and bounced her way down the ramp. The show soon concluded with a line of draped maxi dresses and jumpsuits which were colour blocked in joyous sugar candy tones of fresh greens, red and yellows.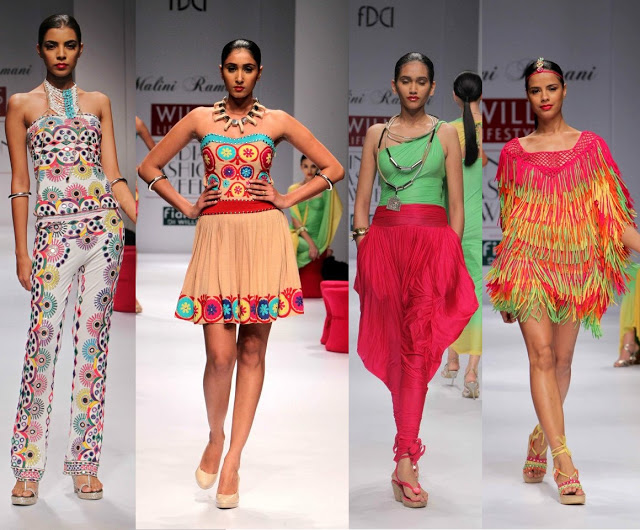 Malini Ramani Spring/Summer 2012
My Village by Rimzim Dadu: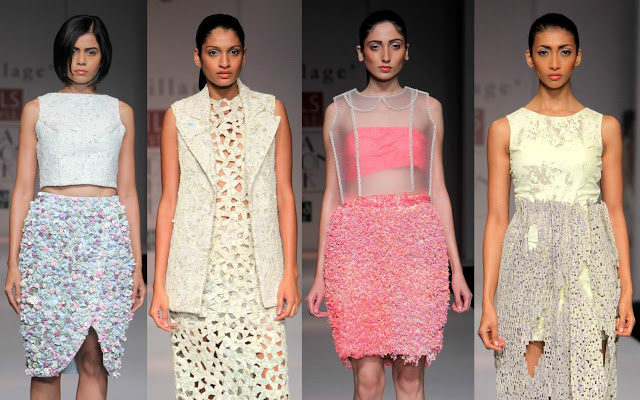 The first look at Rimzim Dadu spring/summer 2012 tipped us on paper and applique work. Paper mache was fused along with fabric to create interesting surface texture while the emphasis later moved on the cut work with textures remaining in the background. The space-age craze started as the cut work was carried forward in acrylic. There is a particular garment where abstract cuts steadily transform into birds and butterflies at the hem. A jumpsuit had oodles of dragon flies revolting in neon blue and pink. Rimzim Dadu's colour palette had washed pastels in faint tones of ivory, powder blue, mint and hot pink while eye-popping tones of bottle green and blue were seen later in the geometric cut acrylic overcoats with notched collar. The show was all about textures, pot-pourri and space-age while paper and acrylic was judiciously fused with fabric. Loved the material exploration and surfaces!!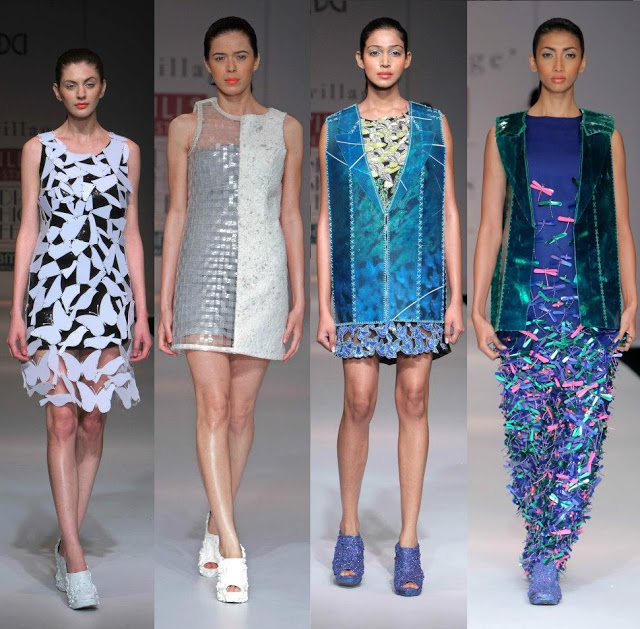 My Village by Rimzim Dadu Spring/Summer 2012
A closer look at Rimzim's surfaces: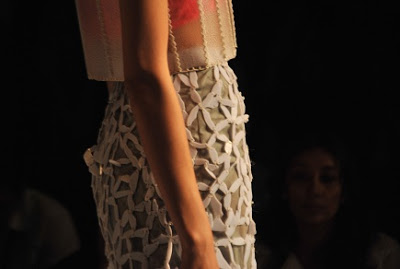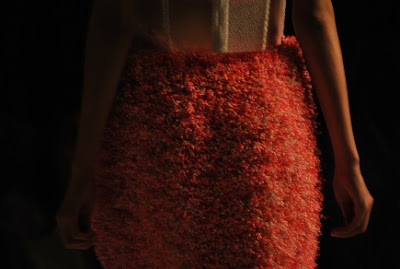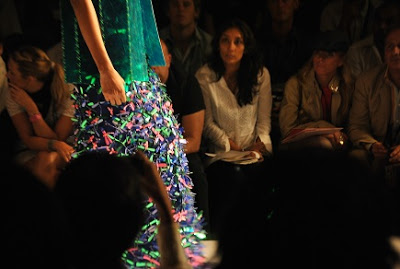 Nachiket Barve: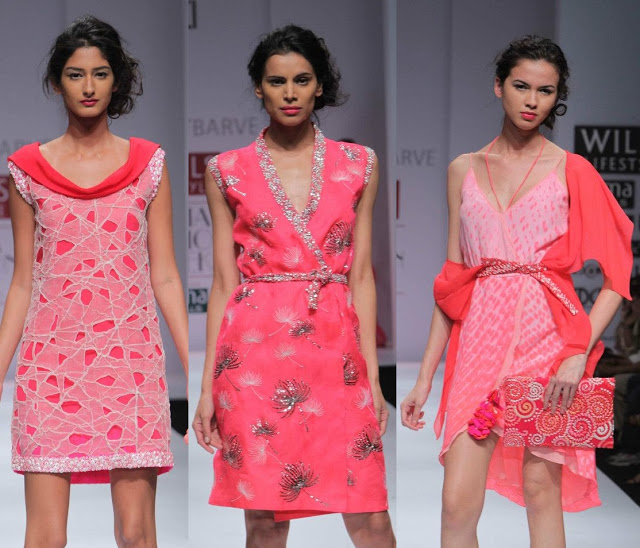 This particular show made me visually hungry and created a craving for sugar candies or anything that's edible and pink (or close to pink)! Beautiful applique details was combined with tie-and-dye and hints of sequins. I loved this show for the brilliant surfaces which remained the forte of the designer. Nachiket Brave's garments were all in pink, faint pink, dark pink with traces of orange and sea-green-blue. The collection is simply DELICIOUS!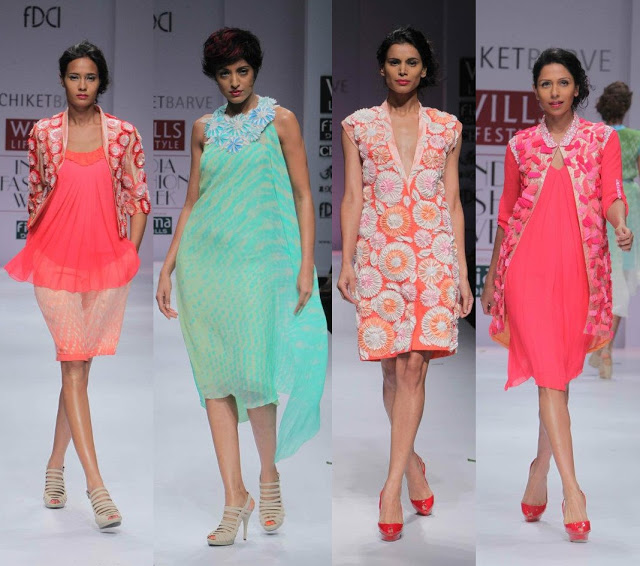 Nachiket Barve Spring/Summer 2012
Close-up shots: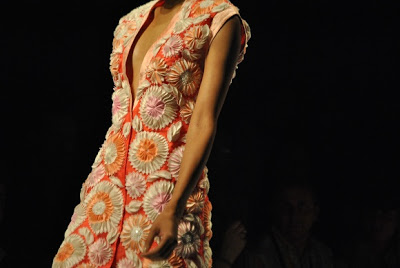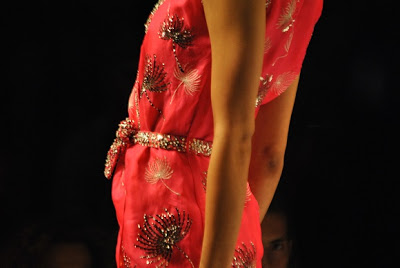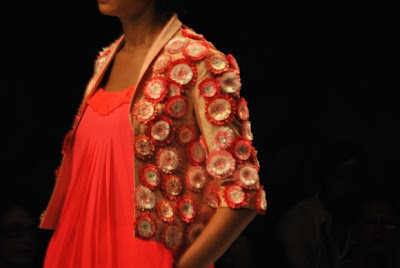 Rahul Reddy:
What I loved the most about Rahul Reddy was his ability to explore the style lines in a school pinafore in a colour palette restricted to beige, chamoisee, greys and navy. Below the knee length dresses in muted tones were styled with footwear in funky shades of blue, yellow, orange, red and green. Belts were seen not just in waist but at hem line, below the hip level and shoulders – a masterstroke by Rahul!!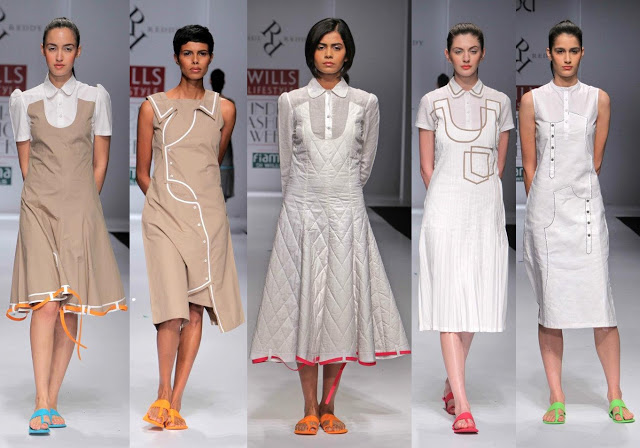 Rahul Reddy Spring/Summer 2012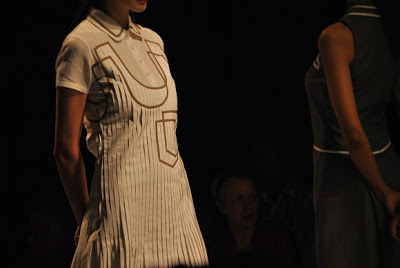 A closer look of a pleated garment at Rahul Reddy Spring/Summer 2012
Pero by Aneeth Arora:
Aneeth Arora's show witnessed some interesting layering. The show saw a revolt of checks and prints creating a 'hippie-chic' look. Checks of all forms including Madras checks, Scottish tartans and ginghams were coordinated with ditzy floral prints in red blue and yellow. Models were well styled with gypsy head gears, sun glasses and cute vegetable basket!!!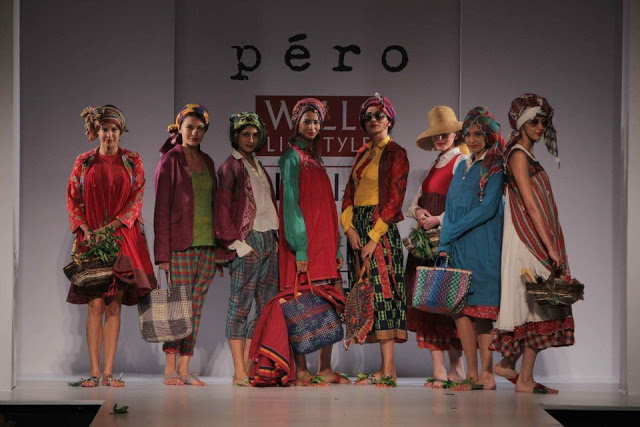 Pero by Aneeth Arora Spring/Summer 2012
Rajesh Pratap Singh:
Unfortunately I had to miss out the Rajesh Pratap Singh show on day1 but reports suggests that he created a range of beautiful garments in warm tones of red, vermilion and pink. The epic moment was when Rohit Bal, model turned actor Rahul Dev and Rakesh Thakore of Abraham and Thakore duo walked the ramp for Rajesh Pratap Singh.
Rohit Bal with Rajesh Pratap Singh Spring/Summer 2012