Rihanna – The Cover Girl
After setting the Vogue US cover ablaze with her flaming red hair earlier this year in the shape issue April 2011, the pop star has bagged her first Vogue UK cover for the November 2011 issue.
Rihanna had told Vogue UK, "Getting dressed, I want to pick the most bizarre pair of shorts so I can figure out how to make it look right, or work an outfit that will make people go, 'What the hell is she wearing?'"
Rihanna has never failed to impress the fashionistas with her inclination towards the extreme fashion. She constantly experiments with her look and has spanned every designer wear from Chanel to Christian Dior. Her hair style changes constantly. She has adorned herself in a variety of looks and has constantly looked different with changing trends and evolving fashion cycle. Chic, futuristic, 40s elegance, floral, military, Hollywood glam and retro… She has pulled it all, quite successfully.
From left (Hervy Leger white dress, Gucci red dress with colour block coat, Zac Posen tiered dress, black jumpsuit)
There are times when the process of experimentation fails and she wasn't quite convincing to the fashion police. Rihanna had earlier reported saying she would never wear bubbles or ham. But that doesn't stop her from wearing outrageous layers of chiffon from Viktor & Rolf Spring/Summer 2010 collection. Her bold red hair dye wasn't enough to compliment bold floral prints worn head to toe or to wear that asymmetric hem line jumpsuit!!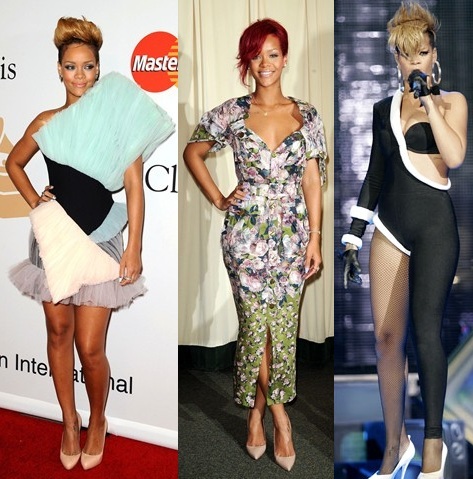 From left (Viktor & Rolf, Jean Paul Gaultier, Mariel Haenn and Rob Zangardi)
Regardless of the three looks above, Rihanna's variety of chic, glamorous and outrageous style choices makes her a definite trendsetter and there is no question that it was a much anticipated cover shoot from Vogue UK.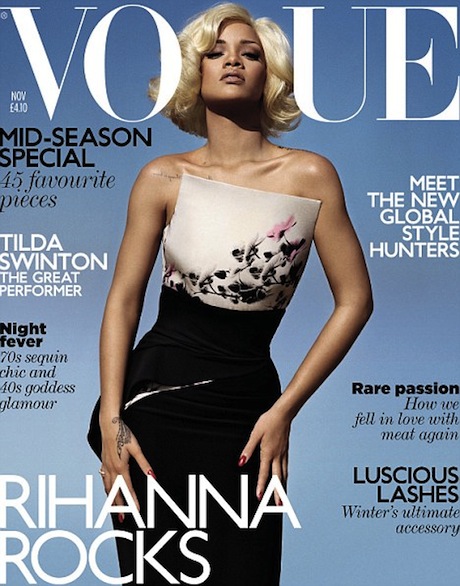 Rihanna was photographed by Alasdair McLellan wearing Armani Privé. The Vogue UK cover looks neat and clean with no overloaded non-sense text. While many would agree that Rihanna looks stunning and this makes a perfect eye-catching cover shoot, I couldn't help but throw light on the following points: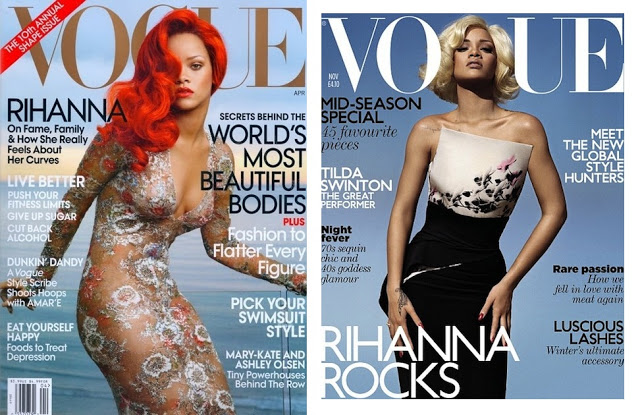 Photoshopped: The Vogue UK cover looks fake and photoshopped. We all know that Rihanna doesn't have the model-type-skinny body and that's exactly is what is great about her body. She doesn't have the typical bony figure and is yet one of the best bodies out there. The UK cover looks highly photoshopped especially around the shoulders and arms. The manually added contouring is pretty much evident while the other Vogue cover is all about SHAPE.
Hair: Rihanna's flaming hair in Vogue US cover looks red hot. Rihanna looks gorgeous being herself with the red hair while the blonde hair in Vogue UK cover can pass on as a cheap wig!
Skin: Is it only me or Rihanna actually appears 'WHITER' than her natural brown skin in the Vogue UK cover? :O
Face: While the Vogue US cover shoot captures the singer's face with smoking hot with red pout from the front angle, the Vogue UK cover bears a constipated expression with up-the-nose angle.
Which one do you like more? Rihanna's Vogue US or UK cover?