Diwali Wishlist!
Diwali is probably the only such festival which brings the entire nation together to celebrate the triumph of good over bad. Light over dark. It's my favourite festival for more than one reasons. One among the several reasons are shopping! We have high discounted sales offered everywhere and what else can be the best time of the year to spend what we have saved?
Discounts are usually available on mass and premium brands while it's relatively hard to find designer garments or high end connoisseur lines at slashed prices without compromising on quality of goods. While I was still looking for a place to make a purchase from a high end brand did I stumble upon this online shopping website QVENDO though an e-mail.The website offers ensembles from brands like Valentino, Armani, Hugo Boss, Tommy Hilfiger, Ralph Lauren, Calvin Klein etc at a jaw dropping discounts up-to around 70-80%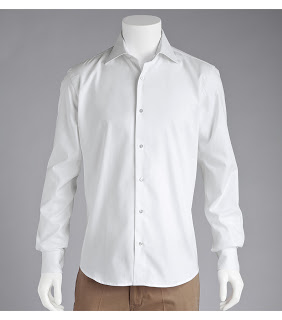 I am all set to buy this serene white Valentino shirt which has an impeccable tailoring priced at Rs. 3600 while the actual retail price of the shirt is Rs. 9700! Quite a bargain… Isn't it??
The collection is very casual aimed at a trendy fashion conscious segment who would break the conventional dressing norms.
The mens colour palette has a range of muted and subtle beige, whites and blacks. Peppy tones of pink, mint and purple add to the cheerfulness of the collection aimed at the young market segment.
What I loved the most about the womenswear collection was the prints! Digital prints are one of the biggest trend of this season which are seen in bright shades of red, mustard, pink, purple and green.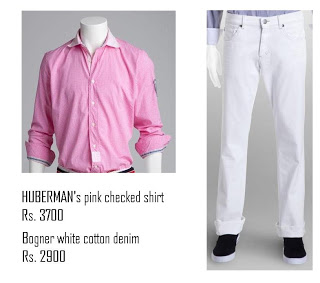 My Diwali wishlist consists of a pink checked shirt from Huberman priced at Rs. 3700 compared to a Rs. 7140 retail price! The shirt looks highly comfortable and relaxed.
The pink tone is very subtle yet peppy bringing life into the ensemble. I would team the pink checked shirt with a pristine white cotton denim from Bogner available at Rs. 2900 only. The white trouser would take the back seat and bring the emphasis on the beautiful pink shirt.
On second thoughts, I would also taper the trouser and fold it till my ankles. I would love to accessorize this ensemble with a Hugo Boss black sunglasses, Black hamlet slip-in shoes, and a Calvin Klein black leather belt.
Here is a fashion illustration that I sketched out for the same ensemble.
Let me know what you think about my Diwali wishlist. You can also make your wishlist by simply signing up for free at QVENDO. Let me know what you liked the most from the collection.
Happy Diwali,
Purushu