Interview with Anushka Sharma and Wendell Rodricks at Blenders Pride Fashion Tour 2011 New Delhi
Bollywood siren Anushka Sharma walked the ramp for Goa based fashion designer Wendell Rodricks on the final day of Blenders Pride Fashion Tour 2011, New Delhi. The Bollywood actress looked effortlessly gorgeous in a flowing red dress with ruffle details. Here are some encrypts from the post show press conference with Anushka Sharma and Wendell Rodricks.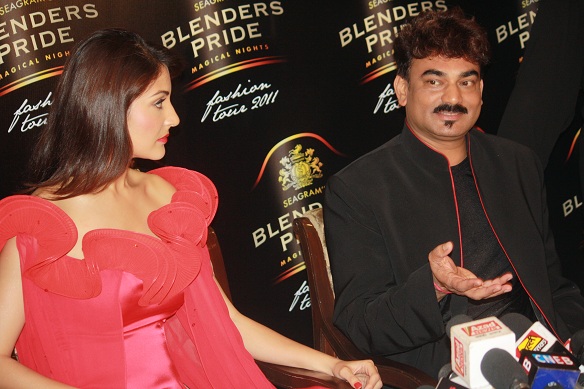 Me (To Wendell Rodricks): What is the source of inspiration behind those rhythmic dresses flowing over your models?
Wendell Rodricks: I have taken inspiration from the pool side. Flow of the water, the cocktails, mixing drinks…. LIQUIDITY has been a major source of inspiration.
Me (To Wendell Rodricks): There was lots of colour blocking happening in the ramp. Can you talk about colour blocking as the trend for the season?
Wendell Rodricks: If you had been following my collection, you would have noticed that this is not the first time I have used colour blocking. I have been doing it right since 1992. Colour blocking is one of my all time favourite trend. It is probably getting noticed in my show now since colour blocking has become a big international fashion trend at the moment. It's nothing new to me. It is something I have always done and will continue to do.
Me (To Anushka Sharma): Anushka, can you talk about the dress Wendell has created for you?
Anushka Sharma: I feel amazing in this red satin dress he has designed for me. It's comfortable and is a gorgeous evening wear. He understands my body shape more than anyone else do. In fact, it was Wendell Rodricks who gave me the initial kick-start. I was a showstopper at his show when I was still nothing… Not even a famous model at that time. I was still a nobody then when he put faith in me and it's he who gave me the start. I will always remain thankful to him….
(Wendell Rodricks takes over from there….)
Wendell Rodricks: Actually… Anushka's confidence is what amazed me. I am happy for where she is today. I am sure she will go on to become one among the biggest names in the industry. I wish her all success.
The interview with fashion bloggers and reporters concluded with a couple of Bollywood oriented questions.