Best and Worst dressed – MTV Music Video awards 2011
'To-be mama' Beyonce, who is pregnant with her first child stole the show in red one shouldered crepe cut-away Lavin dress and Lorraine Schwartz jewellery. Britney Spears and Selena Gomez were clad in black, working on the fetish trend. Justin Beiber continued to sport the ruched sleeve jackets. He paired YSL shawl collared coat with red trousers.
Katy Perry surprised the fashion police in a pink blouse with cube in head to receive an award, a look taken straight away from the Christian Dior runway.
Lady Gaga's crazy fashion choices took a new leap as she dressed as her bequiffed alter-ego Joe Calderone. She also tried to bring back the 2003 Madonna moment with Britney Spears. It went kinda awkward when Britney Spears refused to return the kiss!!!
Beyonce Knowles looks absolutely stunning in this one-shouldered Lanvin red dress. Beyonce showed off her pregnancy in this beautiful flowy draped dress. She styled her hair elegantly with statement earrings.
Britneyyyyyy! Britneyyyy! Oh, I love you. It's great to see Britney Spears in social circuit after a long time. Britney Spears  seems to work the fetish trend in the glazing black sequined dress from Moschino and black leather boots.
The young Selena Gomez was also working on the fetish trend. She looked stunning in this black Julien MacDonald dress and Lorraine Schwartz jewellery.
Selena's boyfriend, Justin Beiber looked smart and effortless in this red trouser and black YSL shawl collared coat with ruched sleeve.
THE WORST DRESSED???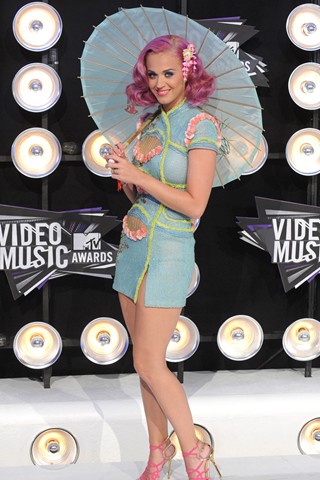 Geisha styled powder blue mini dress from Atelier Versace, Jimmy Choo beak sandals and Lorrain Schwartz jewellery. Sounds good right? Some how it doesn't look all that great in picture.
The Christian Dior Fall Winter 2011 collection was a disaster. I don't remember a single fashion critic/editor/blogger speaking any good about the collection. Katy Perry went to the extent of wearing the look straight from the runway for collection the award. The yellow cube, pink hair, pink blouse, black skirt with white shapes, pink and yellow shoes just didn't work!
That is LADY GAGA! Best or worst? You decide!
Dear Miley Cyrus, this loud yet dull animal/floral printed gown from Roberto Cavalli may not be the best for your rather energetic personality.