Department of Fashion Design, NIFT New Delhi
After a lot of struggles in foundation programme, I am finally doing what I actually wanted to do. Playing with the fall of muslin, stitching the seams, the juki machine, music in lab next to a pile of pattern making sheets, copying and sketching the poses of almost-nude women in fashion illustration and some of the most awesome faculties any fashion college must have ever had! Yes… I am finally there… the department of fashion design, NIFT New Delhi!
The year started with draping sessions in which the fabric is draped over the dress form. It's already one of my favourite subject considering the fall and flow that we give an outfit through draping. It's fun to gently pat and gather, tuck or pleat the fabric to fit the dress form to create on of those hot evening gowns you'll find in Donna Karan ramp or Elie Saab's. Later followed the pattern making classes where we make 2D patterns on sheets, trace it onto a muslin later and make 3D clothes! In fashion illustration classes, we are taught the basic proportions of the fashion figure, poses, balance and later draping the figure and so on. Garment Construction is yet another core subject where you'll learn handling the sewing machine and stitching out the fabric that you've made in draping or via pattern making. Other theory subjects include Suruface Design (here we're taught about the basic surface technique, weaves etc), History of Fashion (as the name says!), Fashion Studies (Basics fashion terminologies, designers, trends and implementing elements of design in fashion), Elements of Textiles etc.
It's been a month since I've joined my department and now I am already used to being an FDian – Basically you smell like muslin and there are threads all over your clothes, lol! And anyway, I'd say the department is better than foundation programme. That doesn't mean that you've got less work in FD compared to FP, it's only that you work out like donkeys in lab (literally! you've got to stand all the day from 9:15AM to 5:30PM and go on till you're done for the day) and you get to sleep, later when you reach your apartment.
Apart from the academic part, We had freshers week in college where Time of India Fresh Face 2010 auditions took place (click the links to view photos LINK1 LINK2)  I did interact with few juniors who were pretty much came with familiar excitements, doubts and questions.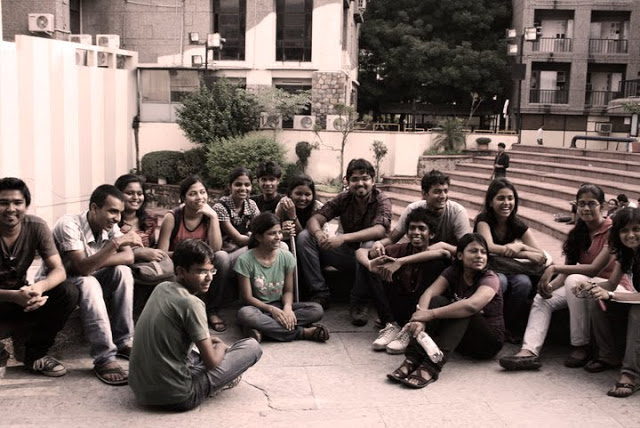 Fellow batchmates interacting with fresher 🙂