Style Icon – Michael Jackson
The king of pop, apart from influencing music and dance, had a huge impact on fashion with his unique glitzy style of dressing. The military trend that he set in mid-90s during the height of his fame remains a music festival stage favourites till date.
Michael Jackson burst into the pop scene in early 70s wearing fringed shirts, bell bottoms and platform heels. The young Jackson reached adulthood and opted more sleeker look. The stark white socks, tuxedo suits, pegged pants and black shoes that he wore paved way for more sophisticated, elegant and minimalist style.
The signature style of Michael Jackson came into existence with the release of the album "thriller" which remains the best-selling album ever. Michael Jackson's Billie Jean look comprising of black leather tudexo jacket, pant, the glittering glove and ankle socks inspired men evening looks. The flamboyant red leather jacket was a big hit over-night!
.
The set in left is inspired from the jacko's red jacket look that he carried off in the beat it song.
It comprises of a red cropped biker jacket, narrow fitting black jeans, white t shirt, yellow leather belt with gold tone dome and pyramids, black ankle boots, elschia bag, biker gloves and black sunglasses.
The red jacket with zipper details, the narrow fitting parachute pants, the white sequin glove dominated the 80s fashion scene. He was celebrated for his theatrical dressing often featuring the sequinned glove, fedora hat, dynamite socks and aviators.
Michael Jackson was a big fan of sequins and swarovski elements and throughout 1990s he wore jackets with swarovski crystals & sequins. He was one of the first to wear clothes entirely encrusted with swarovski crystals.
The above set inspired from the sequin look consists of a sequin blazer with bat-wings, Gareth Pugh leather and knitted panel trousers, white jersey tank, Yves Saint Laurent platform pumps, black leather belt with embellishments and black aviators. Matching black with silver crystal elements would add to the sophistication and richness of the look.
The look is inspired from Michael Jackson's outfits in the song Black or White. It consists of white cropped t shirt, black leather trousers, black studded belt, chain waist belt and glittering leather ankle boots.
Michael Jackson's Billie Jean look wiith black sequin jacket, white shirt, tuxedo pants, glittering ankle socks and single sequinned glove.
Jacko continued to sparkle in glitters throughout 1990s with military insignia and fedora hat. He no longer sported the minimalist texedo suits he wore in 70s during the "off the wall" period. The braid and button necked military jackets he wore proved iconic. The glitzy suits were teamed with his trademark arm bands and other military inspired accessories. Embellished jackets became his uniform with brass buttons and golden braiding, a trend that has inspired celebrities like Rihanna, Lady Gaga etc.
Military Brigade – Set items include Jackson's custom made military jacket, Emilio Pucci pants, white jersey t shirt, leather peep toe shoes, cross body tote, metallic bracelet and chain belts.
Michael Jackson did not shy off from borrowing womenswear pieces. He effortlessly pulled of tops and coats from womenswear runway.
Michael Jackson wearing a Balmain Fall 2009 black top with silver embellishments.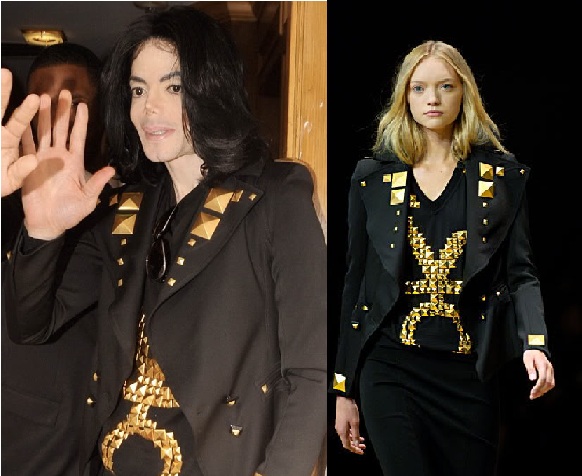 Jacko wearing a gold studded top and jacket from Givenchy Fall 2007 collection.
The king of pop's unique and intriguing sartorial choices will live on with his legend. Love you MJ! RIP!