Paris Fashion Week, Autumn/Winter 2010
Look at the names – Alexander McQueen, John Galliano, Christian Dior, Rei Kawakubo! Looks like all the legends decided to show up at one place – PARIS!! Finally, here I write about my favourite collections from the fashion week.
The company decided show in Paris following the tragic death of Lee McQueen. The 16 outfits inspired from baroque romanticism spoke the final honours to the legend. McQueen's models were draped in outfits with gold foil embroidery teamed with crocodile skin thigh high boots. Paintings of Botticelli, Hugo van der Goes, church angels were digitally printed on silk bodice. Golden feathers peep out of the layered tulle skirt while the pleated skirt redefines the feminine curves. Read more about the collection.
SMART… Extreme simplicity, yet sexy and powerful… Retail friendly too. Phoebe Philo used natural fabrics such as tweed, soft wool, mohair in shades of black, navy, cream, tan and khaki.
The show started with narrow funnel necked doubled breasted coats in navy, narrow cropped pants, heavy skirt teamed with big golden buckled belt and sheer top, a cream blouse with untied neck tie and a full sleeve lace blouse. Leather coats and knitted coats in navy were followed by a narrow black dress with huge leather pockets.
It was followed by couple of outfits in sap green and mustard.
Fur capes with leather lining were teamed with knee length riding boots.
Right from the ruffled chiffon dresses to the floor length georgette outfits, everything was flowy and frilly. Models walked in classy hats teamed with leather coats and suede jackets in brown, cream and deep burgundy with ruffled chiffon dresses and thigh high boots. Equestrian glam meets brown goth!Check out more about the collection.
Bold and stiff leather outfits looked neatly constructed in black-grey colour palette. It looked an ideal winter collection with futuristic appeal especially the leather batman capes and jackets with funnel neck. Asymmetric hem lines, softened shoulders, long knitted cardigans, a-line silhouette and funnel neck jackets were part of designer's experimentation.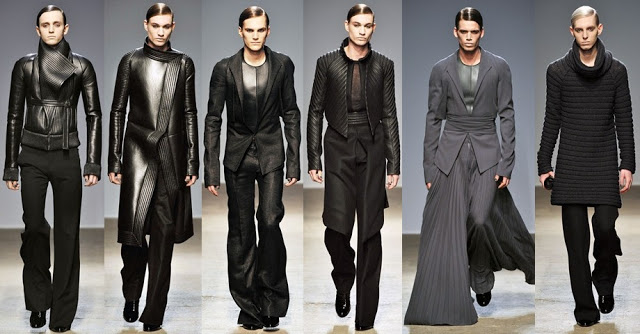 Menswear
John Galliano
Galliano's show never falls short of drama. Models wore bizarre fur afro hats and wigs and walk through trail of silver glitters. Voluminous skirts with a dash of fur swept the floor. Jackets were well fitted and woollens were teamed with chiffon trousers. John Galliano's models looked like they escaped out of Egypt/gulf countries!
Stella McCartney
I put it like this. It is the same brand which made this the previous season:
that came out with this collection!! :O :O
Alright, the outfits are no-nonsense and are sharply tailored. But it didn't need a designer to make all this, I mean you can find these in Pantaloons or forever21.com right? I don't say the collection is bad, but definitely didn't live up to the expectations 🙁