Is your room as messy as mine? :O
Reached New Delhi yesterday. It felt good to be back in Delhi after 2 months!! Everything was just the same, the station, auto-rickshaws, roads… just the same that were 2 months ago. Oh, even the Commonwealth Games Stadium was just the same I saw 2 months before (except for the lighting fixtures that's being added now I guess :P). Hope… we'll host the games successfully. And the real horror struck when I entered my room! I mean… the room looked like every other room when I left the place 2 months ago. Now, it is nothing less to a warehouse. I mean.. It look so messy 🙁 And worse?? I opened my cupboard only to find a termite hill! I mean, termites have built their home inside my cupboard and have been munching over my assignments comfortably all alone in my room for the past two months!! Holly f**k! Now that's 6 months of hard work they happily ate away x( Not just my assignments, buy few of my sketchbooks and my quilt too. I seriously want to use my axe deo and set fire on those tiny white pests x( Couple of hours later, I regained courage to clean up the mess. lol. Cleaning process.. something I hate.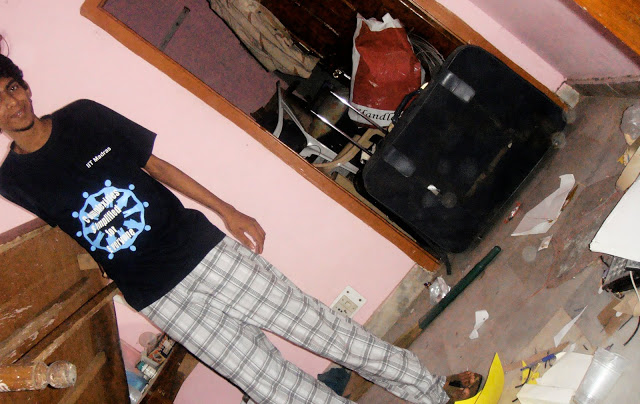 That's unfortunately my room 🙁
Why am I smiling in the pic? Well, like I had an option otherwise 😛 lol! It was already 3'O clock by the time I finished cleaning. I decided to take a walk to the college. It's been 2 months since I had the college food. Probably, it's one rare scenario when I would willingly want to taste the food from college canteen! Walked through the moist Gautam Nagar road towards my college. (It's raining here and Delhi is unusually moist for a change). The watchman stopped me at the college entrance and I had to flash my ID card. That man has seen me for a full straight year at college and there, he still demands me to have ID proof. He explained me in Hindi, "ol-ed es-tudents andar nahi jana hai". I was like… wtf!! I am a bonafide student of this college and I am not allowed inside?? :O It's seems it's an order from the top officials to not let the old students in while the orientation programme is on (a measure to prevent ragging). lol. I mean, the watch man thinks, of all students, I AM gonna rag the juniors?? 😛
I had my lunch in a restaurant nearby and later met some old students in sutta-point. And when you meet your old peeps, well..what else would follow other than FUN? You know what I mean?