Manish Arora Ready To Wear Autumn/Winter 2010, Paris Fashion Week
You can relate him tothis:
or this
or this…
the fish fry collection for Reebok.
Bright, bold & colourful drama continues to rule Manish Arora's collection season after season. Crystals, geometric patterns, futuristic silhouettes and electric hair-do were salient features of this bollywood-meets-sci-fiction show at Paris Fashion Week.
The crystal studded multi-coloured legging in hot pink, aqua green and bright yellow stripes speak of a carnival. The armour with mosaic details hints space-age connections from his previous creations.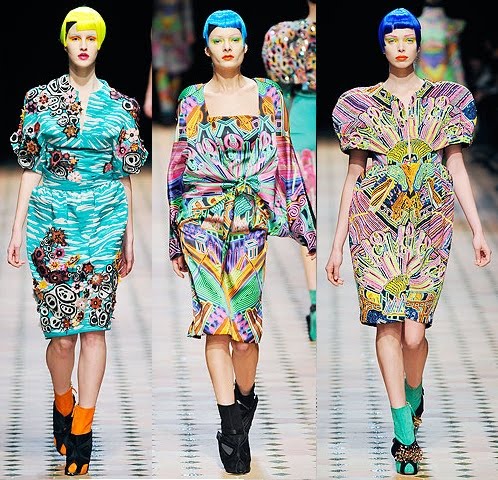 The silhouettes of the outfits were inspired from architectural fantasies, whereas the prints depicted futuristic cityscapes and neon lights from the buildings. The collection taking inspiration from 20s art deco, showcased signature Manish Arora warrior shoulders with bright and bold embellishments in orange, yellow, aqua, pink, red, purple decorated the futuristic silhouettes that models sported in neon-lights-inspired hair-do.
The last three models were accessorized in LED head dresses along with their fluorescent bob hair.